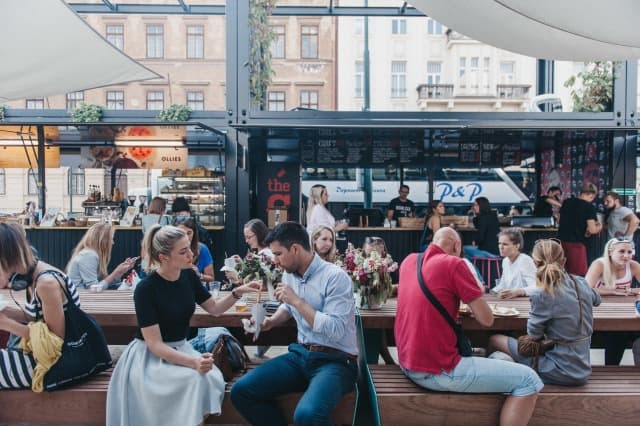 2 months in, reSITE's Manifesto Market is a New Magnet in Prague
Two months since its opening, Manifesto Market has made it to the hotlist of main attractions in the city of Prague. According to visitors and media, it's made Prague a cooler place to be.
"Evaluating the first weeks of existence of Manifesto that opened on June 8th, 2018, everything has come together beyond our dreams. The place is buzzing with interesting stories and life since the very first night. Everyday, we welcome a very diverse cross section of visitors – as many locals as foreigners – and we counted more than 25 nationalities working at Manifesto. All those people are crucial to making a now landmark destination in Prague, which came together seemingly overnight. With unexpectedly huge demand, we are now rolling-out special experiences like tasting dinners, food tours, and special events like birthday parties and wedding brunches. We want to offer everyone a special experience at Manifesto, tell them the secrets behind the food specialties and meet our Michelin-starred chefs in person," explains Martin Barry, Manifesto's Founder and the Chairman of reSITE.
The story of Manifesto has been all about opportunities: an unused wasteland being one. We estimate that about 150 jobs were created with more jobs opportunities open. In addition, we gave the opportunity to three young female architects to design the market and 20+ vendors were offered the opportunity to test brand new food concepts. All this happened as a bottom-up venture, with no public subsidies, only thanks to partnerships and several open-minded collaborators. We have always thought about this place from the design perspective, however to create a great experience with economic sustainability is equally important. People are crucial to this change - the people who work here, who come here, and their passion. They are the life we wanted to bring here.
Manifesto is a truly collaborative project, connecting good ideas with resources, and was initiated by the founder of the non-profit organization reSITE, Martin Barry, in collaboration with local cultural powerhouse, Aerofilms. Penta Real Estate lent the former brownfield as they await the permanent redevelopment designed by Zaha Hadid Architects. Manifesto Market is the first fully cashless place in the Czech Republic and one of the first in Central Europe, thanks to a partnership with Mastercard. Another private partner is the design brand mmcité.
Manifesto is open daily from 11 am to 10 pm with several breakfast spots opening during weekdays from 8 am. 20 well curated food and drinks concessions offer street food-style concepts from Czech to global specialities: Argentinian menu from Michelin star awarded chef Miguel Nicolás Innella at Gran Fierro. Authentic Asian food can be found at Yazu and Israeli-Mediterranean flavors at Kapara. The best of Czech recipes, reinvented at CK Knodelrei and Chlobicek, classic open-faced sandwiches with a gourmet twist. Not to mention the very popular Poke Haus with first-in-Prague Hawaiian-style bowls. There are options for vegetarians and vegans, such as Dosas and Etnosvet, some of the best gelato in city, Angelato, and three bars serving local microbrews, fresh lemonades and straw-free seasonal cocktails.
Visitors can also find a selection of products from Czech designers and artists at Czech Labels and The Chemistry Gallery plus a stylish paper shop Kaš-mi-daš. Only cards and mobile payment apps are accepted at Manifesto.
In August, Manifesto is testing a limited series of new fine-dining experiences. Tasting dinners will be curated by the best chefs operating at Manifesto such as Michelin star-awarded chef, Miguel Nicolás Innella. One custom designed table will soon be ready for booking with 20 available dates in 2018 for this high-end experience. Another new concept will be guided food tasting tours of the market. Reservations for private events and product launches will also be accepted in response to a growing demand.
More from reSITE's urban project, Manifesto Market