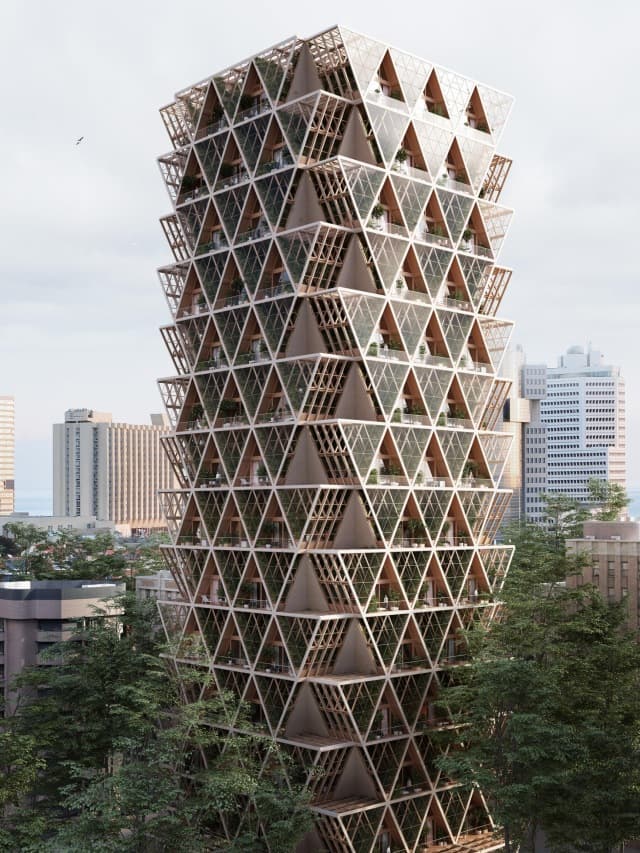 Chris Precht on Architecture Driven by Fictional Stories
Chris Precht's projects seek to synthesize the two biggest polluting industries—architecture and agriculture—by imagining a world where cities are designed to give back space to nature and reconnect our lives back to our sources of vitality through the utilization of natural materials with a low carbon footprint.
When it comes to regenerating our cities, Chris Precht's holistic approach rethinks what is at the heart of our cities altogether, and if that system can be changed to be based on health and vitality. His influences are not-so-hidden in plain sight—his late but accomplished freeform rock climbing father, Albert Precht, time spent working in Beijing under his previous studio Penda and his roots in the Austrian Alps where he has since returned to practice off-the-grid along with his co-founder and wife, Fei Precht.
Watch: Chris Precht on Connecting Architecture and Agriculture
Studio Precht's work is best recognized by its stunning images and renderings of his projects and projections that don't seem to define themselves as 'sustainable' or 'green architecture'. His work is thoughtful and intentional. He has leveraged it to build a social media presence that reaches beyond the images' eye-catching qualities to something more accessible and inclusive, paired with engaging questions via #letstalkarch that stimulates genuine conversation among his audience. Chris represents a new generation of architects.
Chris Precht's lecture from REGENERATE is palpable, resonating across industry, speaking to something bigger. We've compiled a list of our biggest takeaways still reverberating in our minds of how we can and should be rethinking our cities.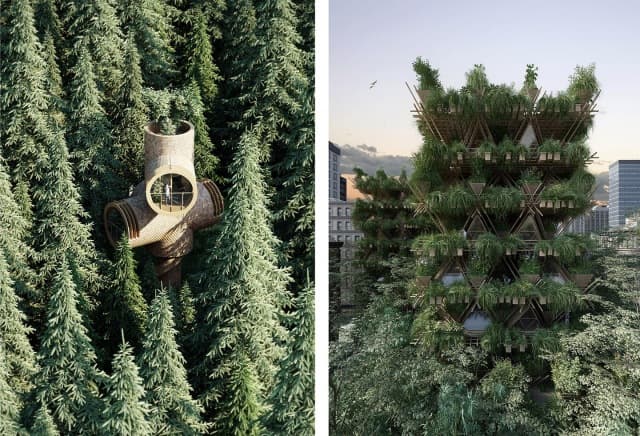 Architecture is driven by fictional stories.
Chris draws on Yuval Noah Harari hypothesis of fictional stories, stories that humans invented, "stories that exist because we all agree that they exist, like money, religions, nations, and social orders", and applys it to architecture. "Architecture was always driven by fictional stories. We built the pyramids for Gods. We built castles for kings. We built palaces for queens and now we are building mostly to make a profit in a kind of an economic system."
He continued "so, we all care about the stories. But our planet doesn't. And I think if we are not able to connect ourselves to this really objective reality, then I don't see any chance that we are able to solve the problems of our time". He argues that some of these stories we've built for ourselves have turned out to be less than sustainable. Chris questions this foundation entirely.
Architecture needs to inspire 
"If everything looks the same, who is really inspired by architecture? If people are not inspired by architecture, they don't care for architecture. And if they don't care for architecture, they won't maintain our buildings," Precht is commenting on the global style of uniform architecture that has been adopted in recent decades, but it could be appropriated to something bigger. Encouraging people to take responsiblity for the spaces in which they inhabit, space that will survive beyond their lifetimes, it needs to possess qualities that can do just that.
Architecture needs to connect to our senses
He also reminds us of the responsibility architects have to create spaces that offer that inspiration and connection to place, and also stimulate curiosity. "I think to discover and to explore is something so fundamental, that is somehow stuck in our DNA, like my dad did for 67 years."
Chris sees this attained through the creation of balance with nature where we "create spaces that really connect to all of our senses, we create spaces that we want to touch because we use haptic materials. We can listen to the birds and bees nesting into our buildings, and we can smell, taste, and eat parts of our buildings." His ideas construct a fluidity in between humans and nature, allowing more effortless integration of sustainability into daily life through architecture.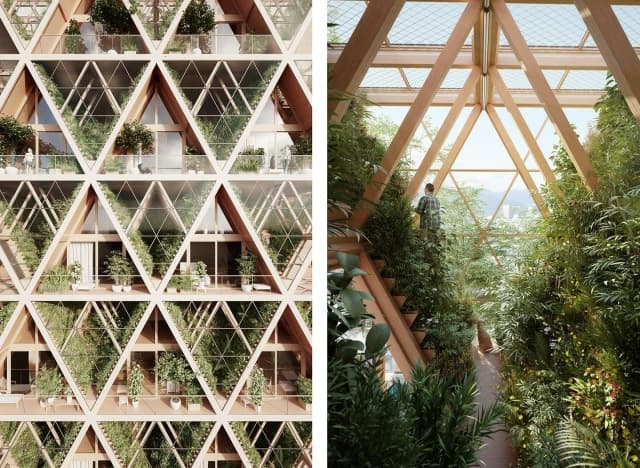 Cities need to be part of the food production of the future 
Civilizations and city centers were once shaped by food, and it might be the key to the future of regenerating cities. Chris's "Farmhouse" is a self-sustaining building designed to tackle two of the biggest polluting industries—construction and agriculture—through a kind of circular economic model. The structure is an independent micro-ecosystem in itself, creating organic loops within its structure. Food waste can be transported to the basement to be composted and turned into soil which will grow more food.
Chris argues that "it is very unsustainable how we grow our food but also what we eat". However, his solution reconnects our cities to our food, and our food consumption to our minds. "I think cities need to be part of the food production of the future, because in the next 30 years, more food will become consumed than in the last 10,000 years combined. And 80% will be consumed in cities.
He contends that in order to make urban agriculture a possibiliy, cities need to play a part of stimulating means to grow our food closer to its consumption. "And it actually makes sense to grow food on our buildings because we can think of the building of the future differently. We can think of it as an ecosystem by itself." Chris's solution solves many problems of our generation, such as the unecological and inefficient industries of construction and agriculture.
We can rethink what defines city centers and build for an objective reality 
"We can create different city centers—that are not defined by banks, or corporations, but rather by health and vitality." Here, Chris reimagines urban priorities all together. By redefining this, we can work towards a more sustainable, holistic, diverse, creative, inclusive urban environment.
He continues on with some inspiring words on our generation of architects. One that "is not driven anymore by styles, forms or intellectual theories." He makes the case that our generation has much bigger problems with climate change, global warming, pollution, urbanization and AI—all falling under the jurisdiction of an architect.
He ends with confident words that left us feeling optimistic to redirect the status quo. "I think that we are a generation of strategic dreamers, we are a generation that asks what is possible and not necessarily what is profitable. And so I have a big hope that we are a generation of architects that actually builds, not for fictional stories, but for an objective reality."
More Ideas on Creating Sustainable Cities