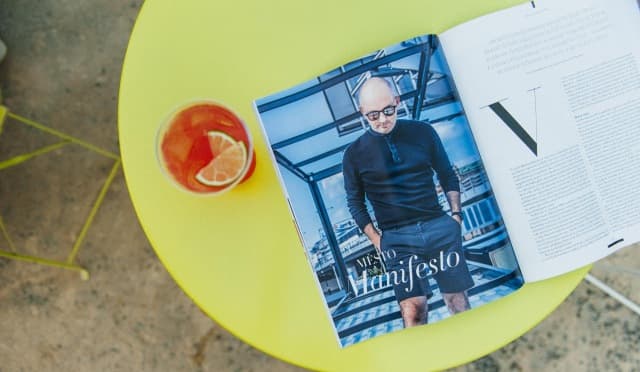 Architect Martin Barry has dedicated years of his professional career to finding ways of improving life in cities. Now he has decided to put the theory into practice and turn one neglected corner of Prague into an unconventional gastronomic oasis - with the help of dozens of shipping containers, cultural events, and great food, bringing together several collaborators to make it happen. Original story by Veronika Miskovska for Proc Ne?! lifestyle magazine.
Text by Veronika Miskovska, Proc Ne!? magazine, has been translated from Czech, and published on June 11, 2018.
There is a tiredness in Martin Barry's eyes. The founder and chairman of the non-profit organization, reSITE is facing the peak of the season. The seventh edition of his international conference on architecture and urbanism, this year entitled ACCOMMODATE is about to begin. By the time you hold this magazine in your hands, the event will have started. As a Fulbright scholar and native New Yorker, Barry would prepare the early conferences on nights and weekends. It has gradually grown to become one of the largest professional events of its kind, globally. It has brought to Prague leading architects and planners plus thousands of visitors. Now, Barry wants to attract crowds again. This time not to lecture halls, but to a forgotten corner of Prague.
The project, which started quite literally out of nothing, has ambitions to turn the edge of the historical center of Prague into the focal point of the local gastro scene. We meet at the EMA café overlooking the Masaryk Train Station and all the clutter that surrounds it. This New York-style cafe seems to be on the wrong side of the tracks. While close to Namesti Republiky square, which is full of well known international companies and hotel chains that have been settling-in for years, the opposite direction is in the process of revitalization of this increasingly fragmented part of the city, and it has hardly begun.
Four years ago one ray of hope appeared, in the form of the EMA café, now bustling with life all through the day. "This venture is proof that just one place is enough to change the character of the whole neighbourhood," says Barry, trying to make himself heard above the noise of coffee machines, trams and police sirens. Changing the face of Prague and other cities, so as to make them better places in which to live and work, is central to Barry and the entire reSITE nonprofit organization and conference. Now he has decided that it is time to put theory into practice, creating Manifesto - a long-term pop-up concept, somewhere between a marketplace and a small town, with the best street food in town being served, cultural events taking place and art given a prominent position. He hopes the shipping containers will stay in place until the owner of land, Penta Real Estate, implements its plans to build a business district here according to the design by Zaha Hadid Architects. "Manifesto is an experiment. It's not just about food or culture, but about trying to bring life to places that for many years have been considered no-go zones," Barry explains.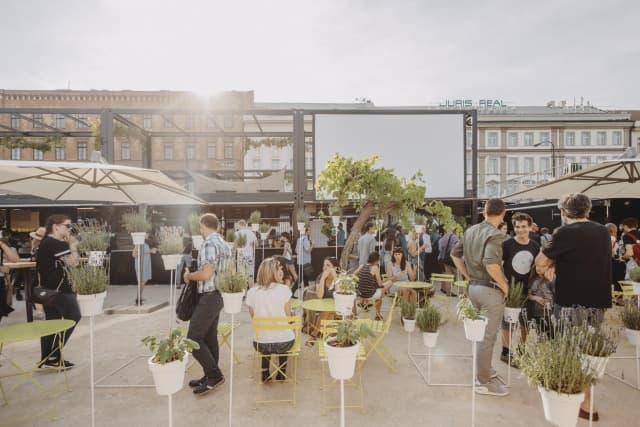 There is a highway above your head, and behind the nearby fence a hole marking the perimeter of the first building of the planned complex. You are within sight of an ugly intersection with a "Mickey D's" squeezed between the bridge columns. Now, three dozen containers form a marketplace with its own high-street, a little square, piazza and cozy corners found where the Na Florenci street bends. Special street-food menus will be presented here by twenty carefully selected food purveyor and some of the best Prague's chefs. The cultural programme, bars and the operation itself are in the care of the allied Aerofilms team that stands behind several independent Prague cinemas and the popular Cobra Bar. At the time of our visit, just before the printing deadline, the installation works were still under way. By the time you read this article, Manifesto will have been open to visitors for several days. You can leave your cash at home. The whole area is a cashless zone, thanks to one of the partners, Mastercard.
"It started about four or five years ago," explains the American who found his second home in Prague. "At about that time, I came up with an idea of ​​a public space built from containers. It was intended as co-working place, and a café at that time. I offered it to several companies, but no one was interested in such a thing then. Containers in the middle of the city seemed a stupid idea, and so the project was put on ice." Barry was inspired by a similar San Francisco container project named Proxy, which temporarily occupied two blocks and became a centre for cultural events, but also for restaurants and independent shops.
Less than two years later, however, the idea of ​​a container market was once again revived as part of a EU co-funded project Shared Cities: Creative Momentum aimed at sharing - both culture and economics - and Barry decided to try again. Dropping co-working, he decided to concentrate on food this time. "The pace at which new businesses have been opening up in the Czech Republic in recent years is unbelievable. I think we chose the right moment for Manifesto this time around," adds Barry, who has degrees in business, history, and also landscape architecture. Before moving to Prague, he was leading multi-disciplinary teams and major projects at W Architecture and Landscape Architecture firm in Manhattan, New York City. He originally invisioned the containers to be located in Karlín, but could not reach agreement with any of the landlords. "Finally, I realized that I had the main partner right under my nose. We cooperate with Penta during reSITE conferences, so one phone call was enough and just two hours later we stood at this place. "That set the wheels in motion. The project got the auspices of the Mayor of Prague 1 Oldřich Lomecký and the city councilor Jan Wolf.
The design of Manifesto came out of a student architectural competition organized by the Superstudio platform, in which the second prize was given to Nikola Karabcová and Lucie Červená. This team with another young architect Elvira Islas, who works for reSITE, designed also the final plans. Only five containers were originally planned, but the organizers soon realized that such a small number would make Manifesto yet another beneficial but economically unattractive project, so the number of containers grew to nearly thirty. According to Barry, the cost of implementation rose to about twelve million Czech crowns in the end, some of which was covered by loans, small investors and further reduced by donated equipment, as in the case of the world-renowned furniture designer and manufacturer mmcité who contributed with high-quality outdoor furniture sets.
The goal of Barry and his partners is to show both the inhabitants of Prague, and visitors to the area, that the location around Florence is not at all dead, and in fact to surprise them. "It's something that has not been done in the Czech Republic as yet. Maybe people can see it somewhere on their travels, in Lisbon, New York or Taiwan, but it is a unique experience for people in Prague," says Barry and adds that the varied composition of street food is one of the cornerstones of the Manifesto concept. "It's actually an experience that combines street food with fine dining. Our condition was that all suppliers prepare a unique menu for Manifesto. Here they can try to find out what works best for their customers, and use this knowledge to fine-tune their business. I very much appreciate the fact that the big names of the Prague gastro scene are involved in Manifesto."
Thanks to Manifesto, the famed Sasazu restaurant ​​will step out of its home territory of the Holešovice market and will offer two types of menus - one based on traditional Asian cuisine, which won the restaurant Bib Gourmand recommendations in Michelin guides. The other, Kapara, draws mainly on Mediterranean and Middle Eastern cuisine.
For those who do not like the taste of Asia, there is the chance to try Argentinian. "We serve empanadas - calzone-like dumplings filled with minced meat and other goodies, popular at any family or social event in Argentina. Try choripan - grilled Argentine sausages with chimichurri sauce, mainly served at football stadiums. For something sweet, sample dulce de leche, caramel milk drizzeled onto a crepe, and then of course there will be grilled steaks," says Juan Cruz Pacin, owner of the Argentine restaurant Gran Fierro, describing the menu created especially for Manifesto. "The biggest challenge was not just the menu, but also to find a way to serve the food in a way that reduces waste by avoiding plastic packaging," adds Pacin, who, like everyone else, has had to adapt to the conditions presented by the street food market.
Lovers of Italian cuisine can then head toward the Wine Food stand. "Until recently in the Czech Republic, street food has been synonymous with cheap, junk food. We want to show people that street food can be done well and taste great, you just need to use quality ingredients," says Roxana Pfeffermann. The Wine Food Market comes from its home territory of Smichov on the other side of the river, serving for example Venetian cicéti - the Venetian version of tapas with various dishes, or an Italian sandwich filled with roast pork - porchetta.
For those who particularly enjoy Central European cuisine, you can visit CK Knödelrei serving, as the name suggests, anything to do with dumplings, amongst other things.
There will also be stands representing a wide range of domestic microbreweries. At the time of the deadline of this issue, it was already confirmed that Angelato Ice Cream Parlour, Doubleshot café, The Craft Burger shop, and sweet-shop Ollies from Ostrava will be there.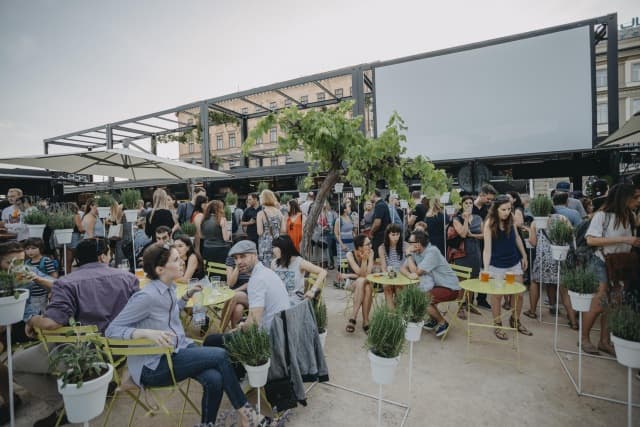 With Prague's rivefront called Náplavka paralyzed by a construction, and Jiri z Podebrad square bursting at the seams, Prague will acquire yet another place with a concentrated gastronomic experience. The Manifesto team has been inspired by, among other things, the Lisbon TimeOut market, where there are four dozen businesses in the historic marketplace, offering anything from classical Portuguese cuisine to sushi and pizzas. Suppliers there must first pass through a team of gastro-curators. Every year, over three million people visit the place – it has quickly become one of the city's largest tourist attractions, where there are only half a million permanent inhabitants. Soon, similar projects should open in New York, Miami and in 2019 in Boston and Chicago.
Manifesto has plans to go global and Barry already has offers on the table, not only from the aforementioned Lisbon, but also from other parts of Prague. "I think it's an important project. We want to show everyone that you can attract people without the use of large international names," he explains. According to Barry, it is equally important for developers to focus not only on how buildings will look and how they will communicate with the environment, but also on what kind of tenants will occupy them. "You cannot just open banks, pharmacies and dry-cleaners at the street level, because those places close at five and the streets are empty afterwards. You need small cafes and businesses where you can go for a drink or dinner after work, to attract different kinds of people. These do not necessarily need to be big café and restaurant chains." adds Barry. As an example, he names the Barclays Center in Brooklyn - a commercial project by developer Bruce Rettner that serves hockey matches and big concerts, whose food court is, however, filled with a mix of branches of mostly Brooklyn businesses.
In the winter months, Manifesto's remit will be adjusted so that the cluster of containers turns into an unconventional Christmas market. Manifesto wants to stay on its site for at least two years before construction works begin on the architectural dream of Zaha Hadid.
The ambitious project, financed by Penta, has been denounced as a cluster of buildings that is overwhelming and arrogant. Barry shakes his head. "I swear I'm not paid to say this, but I honestly think that the criticism is not entirely fair. It is quite normal for large cities to commission projects by famous architects, and it is natural for different parts of the city to change. In Prague, any new project in the historic centre is automatically refused," he says, recalling that it is more than twenty years since the last work by an internationally renowned architect was built in the capital, namely Frank Gehry's Dancing House. "But the Czechs have a tradition of refusing anything new. Especially when it comes to places in the city centre," he says, adding that if the developer takes care to use space in a meaningful way, it will definitely be a big step forward for the entire district. "It will be a hundred times better than what has been here until now," he says.
In Prague, there are still a large number of unused plots that are in private hands, that have been waiting for years for better conditions, or just for lengthy bureaucratic machinery to end before the start of construction works. It is exactly at these places that similar pop-up projects like Manifesto can take place and bring new life to the area, and reflect favorably on the owners. "There are more than enough places in Prague that are waiting for their opportunity."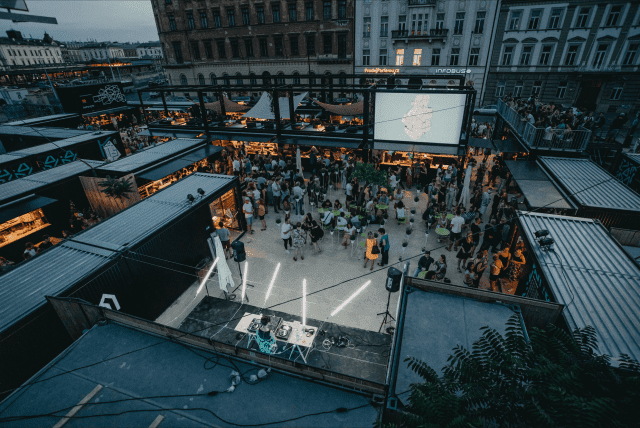 Head to Manifesto for Food, Culture + Design
Every day there will be DJs and unusual musical events by Czech and foreign musicians. One unit will be in the care of The Chemistry Gallery, and every Monday films will be screened based on careful selections by Aerofilms. You can attend creative workshops and more programs to come!
More from reSITE's urban project, Manifesto Market