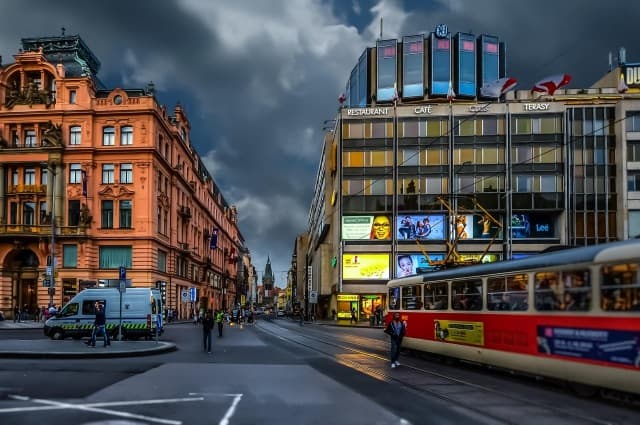 Comprehen&shysive Trans&shyport Plan Needed In Prague
The City of Prague needs to create an integrated and comprehensive transportation plan that reduces the need for parking and the use of personal cars. Martin Barry
Reducing the amount of parking spaces due to already congested streets and record levels of personal car ownership will improve mobility in the city.
Prior to introducing new parking zones in Prague 5 and 6, the City of Prague might first study the need for such parking zones and create an integrated and comprehensive transportation plan that reduces the need for parking and the use of personal cars. Reducing the amount of parking spaces due to already congested streets and record levels of personal car ownership will improve mobility in the city.
Progressive and functional cities like Copenhagen, Helsinki and Vienna, among others, are now focused on comprehensive and integrated transport plans that prioritize public transit, cycling, pedestrian movement and car-sharing in order to reduce personal car use in the city, which solves congestion and parking problems.
The City of Prague desperately needs such planning, which has now become conventional in similar cities, in order to make informed transport decisions. Most cities now are planning for automonus vehicles and therefore reduced parking requirements.
Helsinki, for example, will enable citizens to purchase mobility in real time via an app, that will allow them to access a variety of transit options such as bike share, car share and conventional public transit options. The city has also focused on improving it's pedestrian and cycling infrastructure in order to limit the use of personal cars and to improve the aesthetics and business environment in the city.
It is long proven now that thoughtfully planned pedestrianized spaces provide huge returns on investment for cities, as pedestrians can spend as much as 63% more in the local economy than drivers.
There are undoubtedly challenges relative to parking and traffic in Prague. Many critics might say that parking is too expensive and unfairly taxes citizens. However, compared to other cities, parking is nearly free. It can cost up to 12,000 czk per hour in some parking garages in New York City, for example. It is not uncommon to pay fees like this in major European cities, as well.
Where does it say in the bill of rights that the city should provide free or cheap parking, or any parking for private cars? As the famous Mayor of Bogota, Enrique Penalosa says:
"This is like asking the city to provide drawers for people's socks."
Copenhagen, another model city for Prague, has been an international leader in parking reform for over four decades. Little-by-little, the city has reduces the number of parking spaces in the city, almost without anyone noticing because the plan was implemented over decades. Since 2003, Paris has reduced its on-street parking supply by more than 10% while also charging for 95% of all the parking spots left, which used to be free.
According to Rachel Weinberger, assistant professor of city and regional planning at the University of Pennsylvania:
"There is no demand for parking, per se. There is demand for access to a location."
In Prague, there are many other ways to get to nearly every location, and if the city can create a comprehensive plan with more 21st century shared options, we could transition from a conversation about parking spots to a conversation about world-class mobility options, where we no longer need parking.
©Martin Joseph Barry 2016, ASLA, MLA, Fulbright / Prague, Czech Republic