Could a Car Company have the Solutions to an Urban Rent Crisis?
Oke Hauser, Creative Lead of MINI Living, an initiative by MINI that aims to address the shortage of affordable urban housing and public spaces.
Oke Hauser is an architect, urbanist, winner of the Bruno Taut Award and creative director at MINI Living. Here, Oke talks about why the car company has decided to venture into the housing market, and about how they plan to use creative space and transformative architecture to bring a city's residents closer together.
Why is MINI—an automotive company—creating its own brand of housing?
Oke Hauser: I am the creative lead of Mini Living, I am also an architect. You may wonder what an architect is doing at a car company. When MINI was invented in 1959, it was based on 3 ideas. One was the creative use of space. The second one was iconic design, and then of course a fun experience.
With MINI Living we are translating those ideas and principles to innovate housing the same way that we innovated mobility back then. That's the reason that we started MINI living 3 years ago. We communicated interesting topics that are based around a big life on a small footprint. I am super excited that we are going to have 3 projects opening up next year, in Shanghai, Berlin, and New York, where people can really live at MINI Living.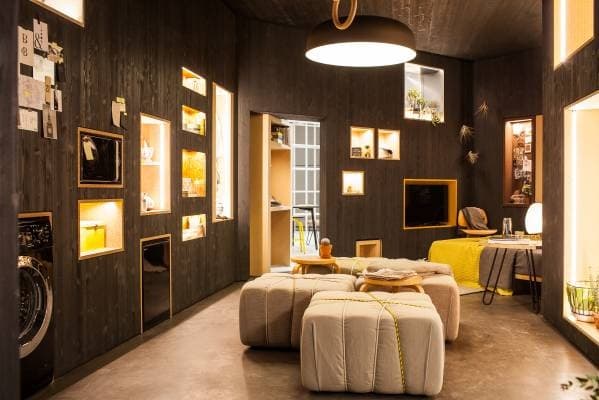 MINI's core principle is "the creative use of space." What new uses have you found? Which parts of a home can be shared, and which should be kept private?
Hauser: With MINI Living we on one hand focused on small apartments, and how to design them in new and clever ways. On the other hand, we are very interested in the flexible lifestyle-- so you can actually add additional spaces to those small space to create the most flexible life that you can imagine, and to really have a big life on a small footprint.
With MINI Living, we are always interested in blurring the lines between private and public. This is something that we have been investigating in all of our design concepts and installations so far. What can be shared and what must be kept private is a super interesting topic to us. That's why we have always had the idea of transformative architecture, that can open up or close down, so you can have your moment of privacy when you need it. If you want to open up and share ideas with each other, the architecture always provides a way to do that. We believe if you share, you get more out of it. You find moments of inspiration, you get new insights, you find new friends, and that's the general thinking behind MINI Living as a concept.
What happens when housing becomes a service, or monthly membership? What does membership include? What are the advantages and disadvantages?
Hauser: The question of housing as a service is always something that we are really interested in, because we don't believe in housing as just a service. We feel that housing should feel as a home. We want to create space that really feels like your own, even if you are there for just a short time. For example, this year we are starting a project where everyone can design their own space. This is an idea that we want to integrate into our real living projects in the future. If you move into MINI Living next year, you will be able to design the space and create an atmosphere that is really yours, even if you are there for just a short time.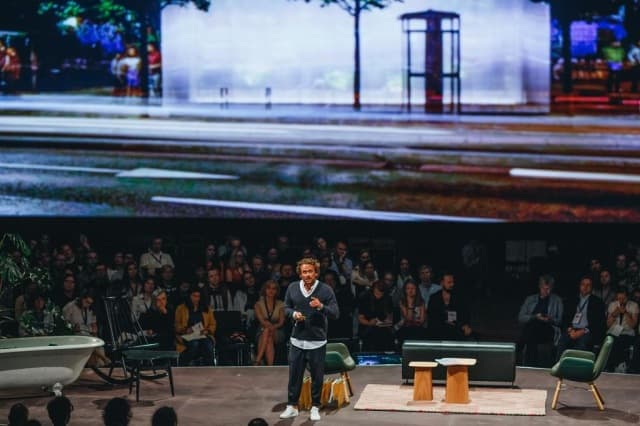 Who is the customer for MINI Living? Is it the same as the cars?
Hauser: Hopefully we create a concept that engages people to move in that share a similar mindset, that are really into opening up and sharing ideas, connecting with neighbors, and connecting with the city. I think these people will share a similar mindset with people who also love the MINI cars.
MINI Living is one of several "co-living" companies to present at reSITE. How big can co-living be?
Hauser: With MINI Living, we are trying to create space that really connects you to the city. We are not interested in automatic solutions that a lot of other companies provide on the market. We want to provide spaces and projects that open up on an architectural scale to the city itself, That engages the public to connect and to also move in.
That's why for instance in Shanghai, we are going to integrate in a lot of cultural spaces that are open to the public. I think in the future, the sharing concept is super interesting. I think it creates new ideas about architecture and how we can live in the future. Especially in big cities, where rent is rising, I think co-living and shared concepts provide a solution to the crisis that we suffer in cities with high rents and other unaffordable places.
More ideas from reSITE 2018 ACCOMMODATE