Fighting Gentrification, Berlin-Style with Leona Lynen
A vast, unoccupied administration building in the heart of Berlin at Alexanderplatz - Haus der Statistik - has become a prototype for gentrification done right. Hear from Leona, a member of the cooperative, ZUsammenKUNFT, as she discusses how they are developing a mixed-use urban space oriented towards the common good. Photo courtesy of Nils Koenning
Leona Lynen at reSITE: Apparently I live in a city - what I learned yesterday at the party - that many of you love. Many of you love Berlin because it's so creative, it's so diverse and it's open. However, this Berlin, with all of its bars and its ramshackle places and former working class neighborhoods, with all its creativity, second-hand stores and diversity on its streets, with it's very creative club culture and club scene that, as we speak is running a massive rave demonstration throughout Berlin on the occasion of today's climate strike. This Berlin is in danger of disappearing.
reSITE: She is right. Berlin is well-loved for all of those reasons, but that sort of creativity found in cities tends to make it a victim of its own success. Now, it's taking a collective to engineer a method of combating gentrification in parts of a city where creativity and the arts reign.
Leona Lynen is a city-maker advocating for the collaboration between civil society and administration as a member of ZUsammenKUNFT Berlin – a cooperative aimed at building a different quality of city through co-creation and is one of the many driving forces behind their current urban redevelopment project.
Leona Lynen: My name is Leona Lynen, I'm a member of the Co-operative ZUsammenKUNFT Berlin cooperative for urban development, and I'm part of the project Haus der Statistik in Berlin. My background is that of an urbanist so I researched in the past many projects that were initiated by civil society that bring about the different quality of cities and are active in the immediate environment and neighborhoods. Haus der Statistik is actually quite on a different scale I flip the side so to say I changed the sides and now I'm becoming active myself in changing a mass of 50,000 square meter house that is empty since 11 years right in the center of Berlin.
reSITE: That house is Haus der Statistik - a vast, unoccupied administration building found in the heart of Berlin's Alexanderplatz. It is currently being turned into a model project for a co-operative, mixed-use urban development that is oriented towards the common good. Leona presented the project at the reSITE conference.
Leona Lynen at reSITE: Berlin, like many cities that you know, is becoming more and more commercialized. As artists and other more vulnerable groups of our societies are being pushed out to the fringes of the city, Berlin is becoming very banal. However, just opposite the image that I just showed you (on the left you see the Berlin TV tower), there is a space circled in yellow that offers hope. It's maybe one of the very few remaining spaces where the aforementioned statistics can be bettered.
House of Statistics (pun intended) was built in the 1960s as the national office of statistics for the former German Democratic Republic also known as Eastern Germany. The four-block large building complex totals to about 50,000 square meters. Since the last administration users moved out in 2008, the building has been empty. It's right in the center of Berlin. There are very large scale urban regeneration plans for Alexanderplatz also to make it as the image of reunified Germany already since the 1990s.
Within these plans and an urban design competition that was launched in 2012, the demolition of the House of Statistic was also foreseen, it was supposed to be torn down and replaced with private offices and apartments. Luckily, both Berlin city was very indecisive as to what to do with Alexanderplatz as a historic center and the investors who were needed to realise this kind of project were not to be found in the aftermath of the financial crisis.
For us, luckily, nothing happened and Haus der Statistik stood empty for another few years until 2015. Exactly last week 4 years ago a group of artists from the Alliance of Berlin threatened studio houses rented spider lift, they put on high visibility vests to look very official, and they hang up a poster on the facade of House der Statistik. It says: "Here in the centre of Berlin affordable spaces for art, culture, and social affairs will be created". What looked as a construction poster was actually a remarkable intervention that very easily brought back the attention about the future of Haus der Statistik back to the public eye.
After this artistic stand an initiative formed that developed a concept for the entire site, they foresaw to integrate into Haus der Statistik all those users that had been pushed out of the inner city. Also, let's not forget 2015 being a year when thousands and millions of people came to Germany and to Berlin (in Berlin alone -- 65 thousands of refugees in 2015).
So Haus der Statistik should become a space where all those people and all this diversity should meet. The initiative was made up of people, architects, planners but also members from social and cultural association, and individuals that for years have been very active and actually fighting against the sale of the city. From a very early stage on, they organised open network meetings for open questions about the concept and the future of the house have been discussed collectively.
The concept was consecutively developed with up to 300 people per meeting. In the days after these meetings, the initiative started to develop feasibility studies in order to prove to the city of Berlin that actually their concept was viable, and they started to lobby on various political levels. Since access to the house remained denied, they started to prototype the concept of mixed use and a variety of people that should meet at this Haus der Statistik with a refugee shelter and various educational and artistic formats.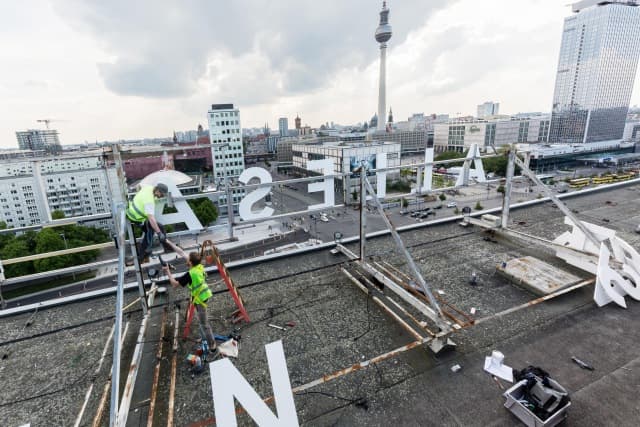 reSITE: Haus der Statistik is a special project in the sense that its run by five partners with varying levels of resources, which, as you can imagine, makes navigating a project on this scale incredibly challenging. While Leona is an expert when it comes to mediating between different people, disciplines, and interests, it is not without its challenges.
Lynen: With the project there are continuous challenges but which we are also continuously resolving with our four partners. So one of the biggest challenges was to secure the house in the very first place which was done in 2017. And since 2018 we're working collaboratively with these four partners from administration and political level. A challenge that remains is the very unequal distribution of resources among the five partners because obviously, we don't have taxpayers' money for the work we do. We are [only] being paid for some of the activities that we do.
For example, we run space Haus der Statistik, where we've run several forms of involvement and where people can get engaged and involved in the actual planning process. But for the project development of our own 25000 square metres, basically for our actual project, there are no funds because for this kind of an active engaged civil society, [funds]don't really exist any to pay [for] that. So our partners are very much aware of it and they're trying now to reinstate these public budgets but this remains a challenge on a daily basis that we can only manage and address because we are so many.
reSITE: The collective's goal in placemaking with Haus der Statistik is, as Leona puts it, orientated towards the "common good", with aims like securing affordability and accessibility in the long-term. Another, being inclusivity. WERKSTATT Haus der Statistik is an on-site center offering a space where people can get engaged and involved in the actual planning process. We asked Leona what this kind of space means to the collective, as well as Berlin and its inhabitants.
Lynen: We're trying to achieve a model project for the common good. That means that Haus der Statistik, where there were plans to actually tear it down and replace it with private apartments and offices, should become a very lively and diverse urban neighborhood right in the center of the city. And it should give place to those that have been pushed out of the city through rising rents and sale of publicly owned land.
So should become a very diverse neighborhood for everyday people, where a diversity of people can meet and interact, where there's housing, where there are offices but there are also workshops and social counseling; where also challenges that we have in Berlin like homelessness and drug abusers where they can find their place, because they also belong to our city.
reSITE: It is this massive regeneration project that will not only change the face of Alexanderplatz but will shift the power dynamics within Berlin's urban development. As Leona said, it is a 50,000 square foot building that has sat vacant for over 11 years in a city that has been known to transform through urban regeneration. And, their bottom-up approach is setting a new precedent of citizens having the agency to shape that built environment.
Lynen: I mean, we're trying really to set a benchmark on what urban regeneration can look like and particularly also from an organizational point of view like to have a very active organized civil society that enters a collaboration with the administration and thereby amplifying and complementing each other.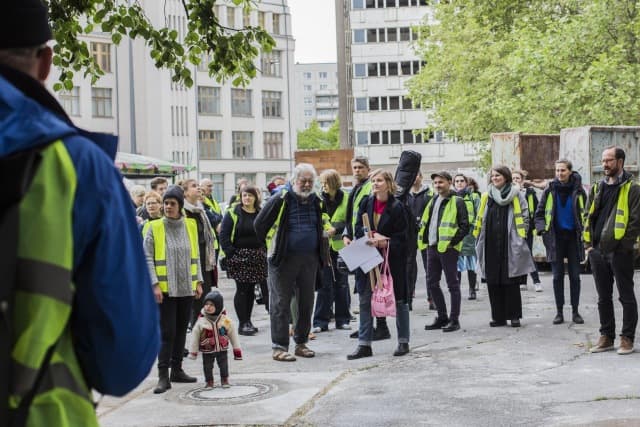 reSITE: To reestablish life within the building and its campus, the collective put out a call for so-called "pioneers" to create various programs for the space. Leona describes how this experiment demonstrated the need to decentralize regenerative efforts resulting in authentic programming at the reSITE conference.
Lynen at reSITE: We started a public call for pioneer users from the fields of art, culture, education, and social affairs. Through these pioneer users that are not interim users (so they're not going to become victims to their own success but rather they are going to prototype and test for sharing of resources and spaces work) we're testing how to select the people who can actually use Haus der Statistik in the future.
Now they have chosen the first fifty pioneers who've started to move [in] in the summer. They range from a summer school which lasted until last week and brought a lot of energy and life into the house. [From] tango evenings and milonga nights that we hold in the former bumpers car space in the courtyard to the "Choir of Statistics" that gives voice to those people who would usually not be included in planning processes, and who actually is going to sing tonight at Alexanderplatz on the occasion of the climate strike.
reSITE: Urban regeneration tends to bring a space from one extreme to another, like turning an abandoned industrial facility into a world-class cultural institution. It is quite rare that we see cases of "humble" regeneration on this scale in the heart a European capital. We asked Leona for other examples that have inspired her vision for this project.
Lynen: Well I think on a very small scale a project that I visited and researched a few years back was Leeszaal in Rotterdam. It's a very small project that was initiated by a group of neighbors after the local council decided to close down a public library and instead of protesting which they tried initially, they decided to take matters into their own hands and they transformed the [former bath house] into a very lively reading room, as they call it. It's a fascinating space that really brought a lot of life back into the neighborhood and where there are now over 100 volunteers ranging from the age of 8 to the age of 93 that are collaboratively running the space, and creating really a space of encounter.
reSITE: We love Berlin too, for all the reasons Leona described, but know all too well it is beginning to suffer from being a victim of its own success. We asked Leona what she thinks needs to happen in order to counter this seemingly-inevitable impact of gentrification.
Lynen: Well I mean, there are a lot of challenges that Berlin has. I mean, as we speak there is a massive climate strike going on in Berlin and I'm really bummed to miss it. Of course, there are lots of environmental challenges that the city but also we as a society of such have. And at the same time, like still on a daily basis, lots of small creative spaces are being kicked out of the city. Basically, their contracts are being canceled. So what is really missing is an even greater awareness from all parties involved, politicians, local administration to really allow for these users, and users to stay within the city because otherwise, Berlin is becoming more banal by the day.
reSITE: That is exactly what we do at reSITE - bring all parties involved in city-making to have conversations that address a city's problems. One of those impending issues is a topic that has just about everyone talking - climate change, so, we were curious what actions she thinks Berlin should take to combat the crisis.
Lynen: Well I mean basically they can alleviate it for people to use bicycles. They can cut down their funding on car-based infrastructure. Berlin has seen the transformation slowly starting but I think it's also important not only to allow young people like me, I mean I'm completely fine to use my bike, but also for older people to make it safer to move around the city. So to have more funding and public infrastructure and to make commuting on public transportation free for example.
reSITE: Inhabitants and interested parties of a city tend to be inherently diverse in one way or another, but all sharing a common thread of calling a singular place home. At reSITE we believe that in order to create real change in our cities, we have to work across industry as well as that diversity, sometimes with views that vastly differ from one another. But, it is the kind of conversation that needs to happen in order to seek effective and lasting solutions.
Lynen: I was really interested to share our story with a different audience. Different not in the sense that we're not in Berlin, where we present a project a lot, but also different in terms of it's not a leftist urbanist conference that we're here at. So I am always really interested to engage with people for whom this product might be a bit uncomfortable or not heard of. So I'm very interested to engage in a conversation about regeneration with planners but also developers and investors.
reSITE: Leona, and the cooperative, have made the case for creating and fostering spaces with intention. We will wrap up some thoughts from Leona during her talk at reSITE about the qualities needed to preserve the mecca of creativity and experimentation that Berlin is known for, and, how other cities can facilitate the creation of that community through their own application - whether it be preserving an existing culture, or stimulating it.
Lynen at reSITE: Recently we put a sign on top of the house, it says "Allesandersplatz"—the Everything-Different Square. What sounds like a drunken version of Alexanderplatz, is actually the foundation of what we do here. I think if we want to regenerate our cities we need to enter new collaborations that might be a bit uncomfortable at first, we need to end the phase of centralized urban regeneration by the so-called experts and include people that have a say in the everyday environment. I think we truly do complement and amplify each other's strengths and each other's tactics. I think if we enter into these collaborations we can make a way for open, alive, diverse, and incomplete cities. Thank you very much.
Listen to more from Design and the City