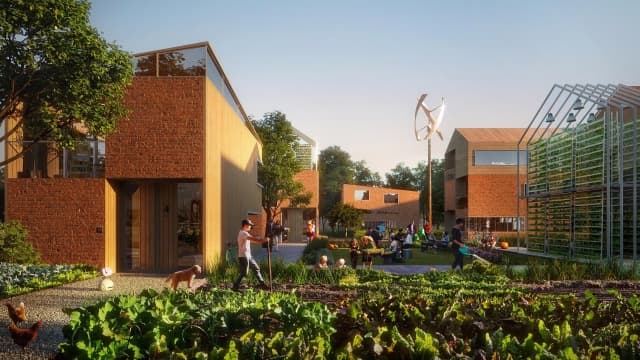 Human-Centered Smart Cities with Marianthi Tatari
Associate Director and Senior Architect at UNStudio, Marianthi Tatari, dissects different aspects of city-making that threaten the quality of life such as mono-functional spaces and commoditized smart cities and how to approach designing them with optimism. Photo courtesy of UNStudio
Marianthi Tatari: A lot of cities have problems with mono functionality, that they have areas of only residences, only offices, only areas around stations that are always a bit problematic. What we actually try to do is to create a welfare program within our projects that you can have what we call a 24/7 activity or city for everyone, because if you have mono functionality, then you don't have diversity.
reSITE: Marianthi Tatari is an Associate Director and Senior Architect at UNStudio, a knowledge-driven architecture and design practice that prides itself on its human-centered approaches. As a true systems thinker, she takes a scalar approach to design, addressing issues of experience and sense of place in various scales and typologies. Her heart lies in creating inclusive places that inspire the best connections between people.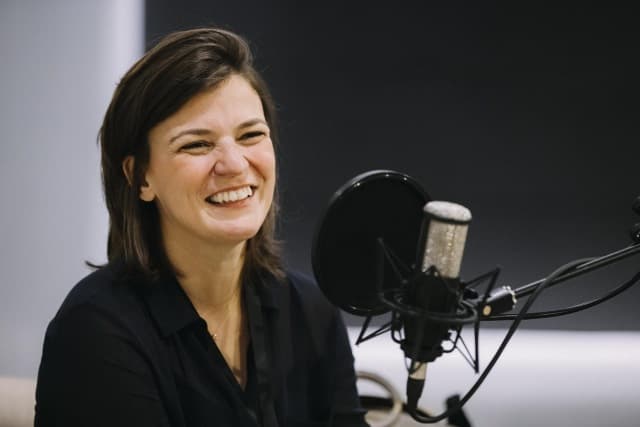 Marianthi Tatari: My name is Marianthi Tatari I am of Greek origin working in Amsterdam at UNStudio, which is an architectural company working in Architecture, urban space, and interior design and products. We are based in Amsterdam, this is our headquarters. The office was founded by Ben van Berkel and Caroline Bos. I think Caroline was a couple of years earlier participating in reSITE. But we also have an office in Hong Kong, and also now in Frankfurt. We are around 250 people worldwide.
So I come now from Amsterdam. I am an associate director at the office which means I am in charge of a couple of projects at the same time in a big part of the directors board working on topics of the office. We are very busy with a couple of projects just now that are on a large scale - what we say - we affect the skyline in a couple of cities in Frankfurt with 4 towers and in Melbourne as well. The project I just sold now says more about the low rise, low density, and neighborhoods, where we think it is very intriguing how we integrate technology into the discussion.
reSITE: Every year at reSITE we curate a diverse roster of city-makers to engage in a conversation about how we can improve the quality of life in cities and communities. And this year was no different. We will hear from Marianthi as she opens her presentation on UNStudio's latest works and her philosophy about designing with optimism.
Marianthi Tatari at reSITE: I would like to start by saying that I'd like to present a more optimistic approach of how we can design and how we can think of the world today. It is true that climate change, digitalization, and densification are three of the most pressing issues in the world today. We are facing complex issues that we have to [address by] actually coming together and thinking of holistic solutions across all scales. Designing with the future in mind. We architects, designers, urban planners need to engage with innovative clients, city officials, experts to create real-life integral solutions to what is challenging our built environment.
reSITE: During her presentation, she used examples of UNStudio's built projects - such as the now-iconic Erasmus Bridge in Rotterdam which created a link to a fragmented neighborhood, as well as the Arnhem train station which gave that human-centered approach they strive for to this Dutch city's infrastructure. We asked her what new projects they have on the horizon.
Tatari: Right now we have a couple of projects that have been very important for our office throughout the last 30 years, the first one the Erasmus bridge, the Arnhem station, the Mercedes-Benz Museum in Stuttgart. And right now actually we just finished the Doha metro where we did the architectural branding design for the whole network.
At the same time now working in Amsterdam for the headquarters of Booking.com which for us of course, for us designing in your hometown. So this is actually very exciting because Amsterdam, you know this from Prague is a historic city UNESCO center. It's not so easy to build within this framework. For us it's actually a great opportunity.
reSITE: We were curious about what regenerate means for them in terms of their design practice, their design approach and themselves.
Tatari: Regenerate for me, means a lot of things. can be from a personal point of view reevaluating your worth and actually your values and giving a boost to yourself to create something new and then on an urban level it actually means quite the same so looking at what works what doesn't work, what is your, what you want to keep, what is your values you want to produce and then bringing a group of people to create something new as well, So then you can give value to something existing.
But also, I have two very little kids, they keep me rengerated, As well as my work. For me traveling is very important because I see new things, I meet new people. But also at my home, I am very active in finding the world with two little ones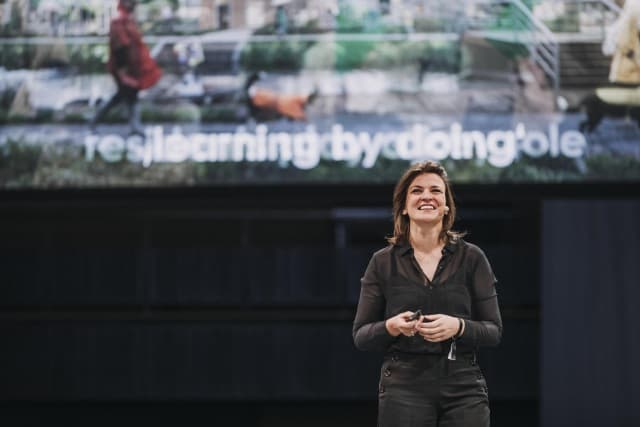 reSITE: Regeneration can be many things - reinvigorating a physical space, rejuvenating ourselves, or maybe reviving an entire industry. We discussed how UNStudio is changing its approach to architecture and design and what new aspects of city-building they are integrating into their practice.
Tatari: We actually at the UN Studio we are very busy with that, and it's actually a good question to ask us. Ben the founder of the studio has been very busy actually a lot of years now to reinforce the sense that we are a no lids practice. So we don't only design buildings but we create nodes out of research out of designs. We have a couple of platforms within the office that work at the same time as we architects are working and we have no lids platform that test product processes and tries to actually help the studio but also create new leads through collaborations.
We have the group that is called UN Studio Futures which is actually looking at trends what is going to happen, how are we going to live, how are we going to work, how are we going to move and then that this way also create collaborations with external parties but also informing us as architects how to make better projects.
And at the same time we founded UNSense 2 years ago, which is a daughter company of UNstudio by the same founder, Ben Van Berkel, and what UNSense is, is what we call an arch-tech company, based on the values of an architectural company, its technology company. So we are looking at how technology will bring social impact as per the discussion we just had you can look at the whole discussion on smart cities out of making profit but also from the point of view of creating a more human city. And this is actually the point of view we would like to have.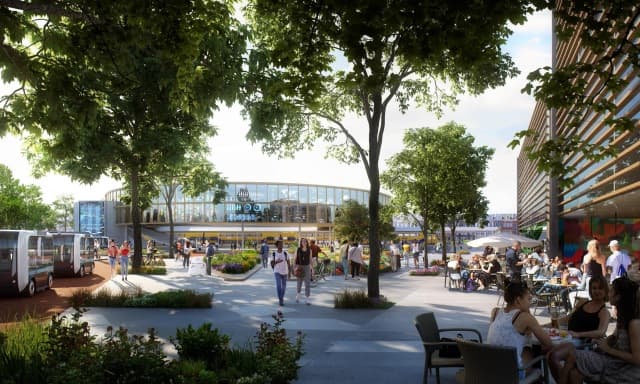 reSITE: The topic of smart cities have recently come under fire with private companies attempting to commoditize public space through the guise of environmentalism and improving the quality of life.
UNStudio is striving to be the antithesis of that, with the creation of the "Brainport Smart District" - a model-example of a smart city done right - where residents produce their own resources and control the use of their data. They are tapping into the possibilities of harvesting data from the public, for its own benefit, without falling into an ethically-problematic sphere of privatizing public life.
Tatari: I think this is a very big question I don't think there is a clear answer right now. Everyone who is participating in the discussion is trying to... this is a hot topic right now…
What we do from our side is we start with high ambition but on a small scale, and we also start from home where consent is very obvious, so people can give consent to the use of the data of their home. [Data collection] in public space [would be] the next level. Everyone is [advocating for] smart cities these days. Smart cities are not there because a smart city is actually a city that makes you not being hit by a car. A city that adjusts itself [in a way] that pedestrians are the priority, and we are, I think, still a very long way from [getting] there. But what's interesting is to be a part of the discussion, that's what we are very actively doing.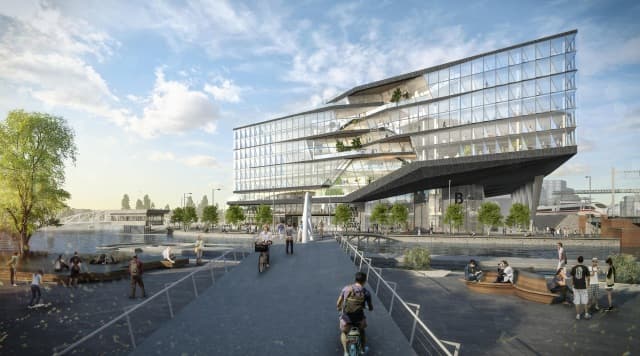 reSITE: Marianthi talks more about UNStudio's approach to smart cities during panel discussion Not-So-Smart-Cities at reSITE.
Marianthi Tatari at reSITE: We are trying to get into this discussion and also think about the inclusion of smart within our cities, that's why we also create the kind of and separate platform in our organization to talk about that because we think about these architects and designers we don't use the world top-down we actually really think of from their human perspective. What do we want to achieve with our projects, and this is one of the examples, is to actually have people's participating, like active participation is very important.
We think that with technology this can be offered, so people can actually gain from this, from saving their income, can gain from participating in a community, can actually gain from the community, in general, as a collective can gain by having the resources managed. So there is no one clear answer, but there are a lot of levels and a lot of layers of how this happening.
So from creating a kind of holistic and integral approach, you can see how this can be in the what is a neighborhood, so kind strengthening the collective. This is what we think is strong in our discussion and the way we participate in the discussion.
So I was mentioning the rainbow foundation because they have this approach which is based on the quadruple helix which is actually the means of having the government, knowledge institutions, private sector, and the citizens together in the discussion, so the decisions will be taken in this way. So you can have also from academics to city officials. By creating a wealth of participation, you can contunie a dicussion. Actually our approach is to not start with a whole big project at the same time, but start from 100 homes so you'll have to let also start small to be able to test and learn.
reSITE: When we talk about diversity, it is often in terms of race, class or gender. But what about spatial diversity? Creating spatially diverse places that feature multi-purpose areas can have a direct impact on those social aspects of diversity. This comprehensive approach combats the sort of monoculture, or mono functionality as Marianthi puts it, that is detrimental to inclusion.
Tatari: A lot of cities have problems with mono functionality, that they have areas of only residences, only offices, only areas around stations that are always a bit problematic. What we actually try to do is to create a welfare program within our projects that you can have what we call a 24/7 activity or city for everyone, because if you have mono functionality, then you don't have diversity. You seclude other parts of the population from certain areas.
Public spaces is very important in these kinds of discussions, and what we now call shared space, and also space where people can participate and be a part of a discussion on the urban level but also a public forum.
This needs activation, as I said during my speech. You have to really engage many participants at the same time. It doesn't come down to having a discussion with a client, you have to have a discussion with a city and other stakeholders. There are a lot of perspectives that need to be integrated. I think this is the biggest discussion - that you no longer see things only top-down but also bottom-up.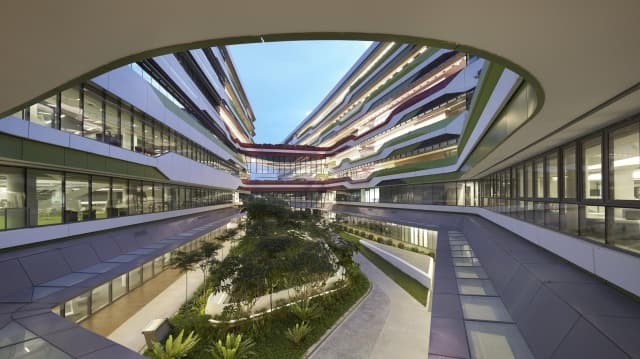 reSITE: It is hard to discuss the future of our cities without talking about climate change. During our conversation, we talked about how leveraging the power of smart cities for the better includes combating climate issues.
Tatari: Often times the discussion is around the management of resources. We don't have a lot of resources, but people keep coming to the cities. We need to be able to manage the space and resources in a way that becomes productive and non-wasteful. I would say that this is another topic technology could be part of.
Before, we were talking about the fact that when you mention smart you always think of surveillance, but there are other ways that technology can help in terms of management and operation of certain systems in a city. For example, with water as the biggest resource issue.
For me, it is always about designing with optimism. The questions that are always interesting for me are how can we make people excited and how do make people engaged and inspired to do more. We are all trying our best to carry out our everyday activities, but our goal should be to inspire people.
Listen to more from Design and the City