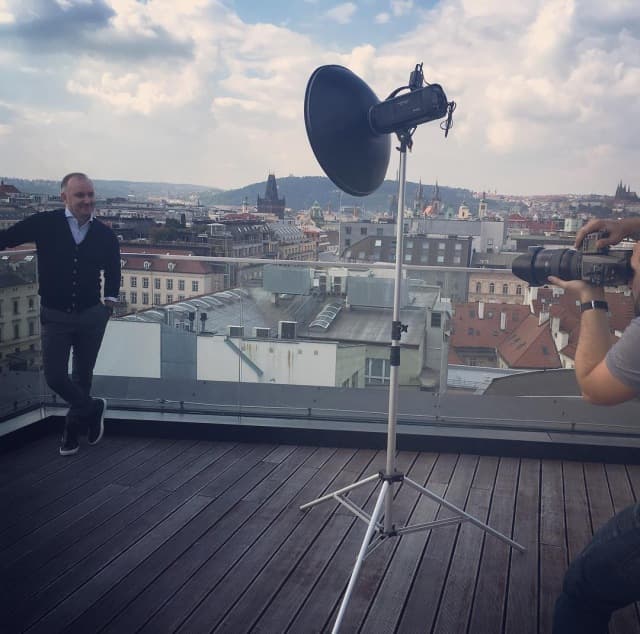 Good Architecture Understands People. Martin Barry
An Interview with Martin Barry is published in City Life Magazine's 2017 November issue.
"People don't need to understand architecture. Good architecture understands them." Martin Barry spoke about life in cities, with Anna Noskova from City Life magazine.
The interview by Anna Noskova was first published in City Life magazine's 2017 November issue (only in Czech). Read the English version below:
Few of my friends are architects and it seems that they are the busiest people ever. Why it's such a time requiring job? Do you ever rest?
It's not uncommon for architects to work 60+ hours per week. In NYC, an architect can easily work 80+ hours per week, which was my workweek for about 8 years. I believe that this profession is one where you can't really work enough. Design is never finished. There is always a new way to think about solving a design or functional challenge. The possibilities can be endless. Many of us are perfectionists. Those of us who want to perfect our craft can work endlessly in pursuit of a more perfect detail or solution. We are responsible for the health, safety, and welfare of visitors in our buildings or public spaces – most of us tend to take that responsibility pretty seriously.
Could you describe your thoughts when you first entered Prague? It's always interesting to look on home city through the eyes of somebody else, especially when the person is an architect.
I was surprised by how, little, people walk or ride bikes. Public transportation is so good that it isn't odd to see people ride the metro or tram for even one stop. In NYC, most people would never get on a bus or subway for a trip less than 10 blocks. For a while I kind of laughed to myself when I saw people who did this. Times change. Now, I often do it myself.
Just today when I was walking for lunch, I saw three people I know on the street next to our office. The city is like a village – it's so easy to run into people you know, and in this way it's nice. This closeness keeps us human.
What would you like to change about the city of Prague?
Four very different answers… Take your pick…
1. Some basic behaviour like having people respect each other and the city itself by picking up after their dog defecates on the sidewalk. It drives me crazy to see this nasty stuff on sidewalk. It's so rude to leave it there for someone else to step in it. Someone always steps in it!
2. I'd change the way the city deals with trash. The communal recycling bins on the street are so loud! I have bins outside my building. I am constantly waking up with the sound of glass bottles smashing in the bins at all hours of day and night. It's very unsettling.
3. I'd like to encourage people to stay in the city on weekends. I know it's not popular with Czechs, who love the mountains and forest, but the city can be really sad on weekends because everyone leaves. This exodus on Fridays means that all of the cultural activities need to happen from Monday till Thursday. Lots of shops are closed on the weekend – the only time I really have time to do anything personal. Therefore, the streets can be totally empty and it's a bit depressing.
4. I cherish diversity in cities. I would like to see Prague attract more people from outside the Czech Republic, and accept them so that they want to stay. I think a lot of expats / immigrants leave because they never feel integrated or truly accepted.
You collaborate on projects in so many different countries. What is the most and least exciting part of your job?
The most exciting part of my job is collaborating with interesting and creative people, including clients whom I can learn from and who want to learn from me as well. I also secretly like traveling for work. The least exciting part – I can't think of any, other than wondering if we'll have enough money to pay everyone on the team. This keeps me up at night often. Another thing that keeps me awake at night is that I sometimes have to respond to unfounded criticism. When I started to have a public profile, people started to criticize me. I'm pretty sure it's worse because I'm a foreigner.
Are Czechs more conservative regarding architecture? Which country could be a good example that thinks about architecture more openly?
I would say, yes, Czechs are conservative relative to architecture. There's a general distrust of new styles, or new ideas. Functionalism and neo-functionalism are still king. Some friends have designed relatively innovative buildings in the city and have been criticized widely by the architecture community, which can be territorial, traditional and pack-like.
Can you describe your experience as an advisor for Saudi Arabia?
We worked on three projects for the King, called King Abdullah Financial District in Riyadh. The best architecture firms in the world were all working on this development, which included over 30 buildings. The tallest was 110 storeys, the shortest was about 12 storeys. We were all designing at the same time, and all buildings were constructed at lighting speed, also at the same time. The last time I was there, I was 31 years old, presenting our project to Prince Faisal bin Bander Al Saud, brother of the King, and the Chairman of Saudi Bin Laden Group. We presented during Ramadan. We fasted - not eating or drinking for 12 hours. This, coupled with the unique conditions of being in Saudi Arabia in 50C+ summer heat, with limits on social behaviour, religion, and women, added a few years to my life.The food at Iftar was great (though).
How would you describe the reSITE festival?
We bring together decision makers from diverse sectors: politicians, architects, urban planners, investors, and citizens to discuss how to design and plan the city to improve the quality of life. We run events like conferences, film screenings, games, workshops and parties all centered on these themes.
What would be your advice for a regular person to better understand architecture and urban space?
What are the current projects you have been working on?
I'm currently working on things as diverse as the branding and strategy for two real estate development projects: putting together an international team to design a new urban center and major mixed-use complex; putting together investors for a student housing and mixed-use complex in Lisbon; locating 7000 m2 for a new hotel in Prague; managing the team for a pop-up cultural and food concept to be launched in Prague in early 2018; working on new reSITE events for clients and partners in Lisbon, Berlin and Abu Dhabi; directing the cultural programming team for our project about the sharing economy across 6 EU countries; designing the program for reSITE festival 2018 in Prague; and, having fun with my 4-month old son, Hayden.
You came to Prague with a Fulbright Program. What did make you choose Prague all over exciting places that you could have chosen for living instead?
I liked the people that joined my team at reSITE. And, believed strongly in the work we were doing to make cities more livable. The city is also, inherently, livable and comfortable, more so than others (that) I have visited and lived.
Where do you live in Prague and what do you like most about it? Which part of Prague do you like least, and what would you change? And, in your opinion, which parts of Prague are the most promising ones?
I live in Prague 7 - Letna. I like living near the parks, and the proximity to the city center. Frankly, it is a little too quiet for me, and I would prefer being directly in the center. It is promising in Letna, but I think that the district should do a comprehensive cultural, landscape and economic development study to make sure that it doesn't gentrify too quickly, but also figure out how to take advantage of the demographic changes. Currently, I find that the streets need a lot of improvement, the shops rarely match the residents needs, and there are too many cars.
What was your experience like with the Czech architecture students?
They were really eager to learn about a new way of thinking, about urbanism and architecture, and hungry for experience in practice. I am still quite close with the two of my students from 2011.
Would you like to return NYC one day, or is Prague the place to be?
Undecided. At times, I can't wait to leave. At other moments, I find myself convinced that the quality of life is high and, therefore, convincing me to stay.
What is a human centered design?
Design that focuses on users needs, asking people what they care about, and how we can design a space that is more comfortable for them while still utilizing state-of-the-art and innovative design.
What is the most important skill you have gained while negotiating with others?
Listening, being open-minded, and having the self-confidence to accept other people's position.
We often complain about Prague that it is not green enough, not serving its inhabitants but tourists, etc. Do you agree?
Prague has plenty of parks, more than enough. I'd like to see them (better) maintained with smarter lights and features, and programmed with active cultural activities and food. I'd like to see some districts, like Prague 7, with way more trees on the sidewalks. The city (authorities) will say (that) it's difficult because there are too many technical pipes below the surface – acting as though Prague is the only city in the world with pipes under the streets. Prague 1's economy has been built on the backs of tourists – so I don't complain. In fact, I often love Prague 1. It's pretty easy to avoid - or ignore - tourists if you don't like their presence. There is a lot to do in Prague 1, and it feels alive, even when the rest of the city is sleeping.
What are the future projects and collaborations of the reSITE festival?
We will unveil MANIFESTO, a cultural and food pop-up market we are working on with Aerofilms, to be open in early 2018. We are working on new events with Airbnb in Berlin and Prague about sharing and innovation. As part of a 4-year EU project, we are launching an exhibition, film and publication about sharing to debut in Berlin in 2019. Of course, we are working on the program for reSITE 2018 about the growing affordability and housing crisis in global cities. One of our most exciting upcoming projects is a major international event at MAAT Museum in Lisbon about architecture and sound, which will take place in February 2018.
In your opinion, why is brutalist architecture so popular right now?
I didn't know that it was popular... There has always been a cult fascination with Brutalism but I'd be surprised if it ever broke beyond the cult imagination. I'm seeing some work from Thom Mayne, and maybe Zaha Hadid Architects, that could be compared to Brutalism with their massing, but generally these new buildings work with lighter materials.