How to create a lovely public space for winter
This coming holiday season, Prague will offer a brand new Christmas market experience curated by reSITE.
Initiated and curated by reSITE, Manifesto market is becoming an alternative counterpart to the ordinary Christmas markets found in the city of Prague and will contribute to the allure of this magical city during the holiday season. It is one of our missions at Manifesto to bring people together. We will continue allow people to enjoy outdoor spaces in the city during every season. Six month ago, the land underneath the elevated highway where Manifesto found its temporary home, was a deserted area, noisy, dusty and lifeless – those characteristics have changed and the spot became a must visit place for foreign travellers and an everyday hang out point for locals.
Because it's colder, we have changed the experience to enjoy the city just like we can in Quebec or Paris under the warm glow of infrared heaters and fires. This fall or winter, you won't need to go to Krkonose mountains or the Alps to roast a sausage on an open fireplace. You can do it with us at Manifesto," explains Martin Barry, Founder of reSITE. "Our main attraction will be special transparent heated bubbles which some visitors might have experienced in London and NYC's rooftop cafés.
Dozens of vendors and chefs, local and foreign visitors, music and special communal events will co-create a unique holiday experience in this inspiring and highly aesthetic environment. Manifesto Winter Market is custom made for families, design and artisanal product lovers, and top quality food. Lemarket, an established designer pop-up will curate a selection of Czech design, artisanal local products and art, adding 25 stalls to the existing retail selection at Manifesto. Carolers and DJs will keep the music vibe hot at the winter village. The cashless market and the new gastronomic hotspot was recently nominated for the best retail experience of the year by Ogilvy.
Manifesto Winter Market will be open from November 22 to 23. The marketplace is located on Na Florenci Street in Prague 1, a few steps from transportation hubs – Masaryk Train Station, Florenc Bus Terminal, two metro stops and a shopping artery Na Prikope in the historical center of Prague.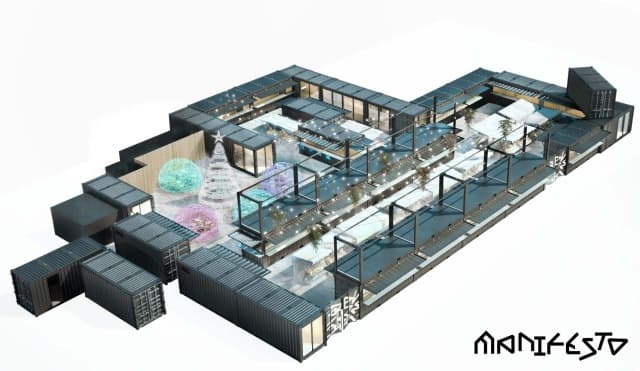 More from reSITE's urban project, Manifesto Market