Marcus Fairs On Homes, Drones and Humans
Interview with the founder on Dezeen Marcus Fairs on the future of our homes and technologies. Interview by Greg Lindsay, with the contribution of Radka Ondrackova and Elvira Islas.
Dezeen's Founder Marcus Fairs joined us in Prague for reSITE 2018 ACCOMMODATE and for the Czech premiere of ELEVATION, a new documentary and his directorial debut about drones, explaining how urban aerial vehicles — manned and unmanned — will change the size and shape and scope of cities. What, in his opinion, will redefine the way we live in cities?
Marcus, besides drones, what new methods and technologies have the greatest potential to change cities, and especially housing? 3D printing? Solar power? "Smart homes?" Something else?
Marcus Fairs: I think technology is the big driving force for change in cities these days. Drones are just part of a new spider-web of technology that involves artificial intelligence, and new types of electric motors that don't create pollution. They're robots that don't require humans to operate them, and they have kind of surveillance capabilities—but so do driverless cars, they'll have the same kind of impact of cities.
So does the internet, and social media, the phones we carry around, the laptops that we use. We're being watched and listened to all of the time by Facebook and google. In the home, there's a whole new range of technological products that can keep us safe—like Nest thermostats, and smoke detectors, and cameras. If you go into a department store now, there are so many brands selling things that protect your home and keep an eye on things. But the potential for disruption is huge, because someone could hack into your system, you never know who is watching you and recording.
The home has been one of the most resistant places of all to technology. If you think about the average home, it's really old fashioned. The most modern piece of equipment in the kitchen is the microwave—that's like 60 years old. The most modern piece of equipment in the lounge is a television—that's 60 years old. But, I think slowly, these kind of internet enabled devices, these smart things that will connect things together, are going to take-over the home. We just have to watch out though, because they're acting like our friends, but they are actually watching us.
Many speakers at reSITE have talked about co-working, co-living, baugruppen, collectives, and other new forms of housing beyond the single-family home. Why is this burst of innovation happening now? Does it have more to do with demography, austerity, or technology?
MF: Well I think all of those things really, but I think if you look at the housing models that have been offered in the past, there wasn't much variety. There was a traditional family home like you said, and really in most societies is was based on multiples of bedrooms.
Is it a 1 bedroom, or 2, or 3, or 4, or 5? And that was it. I think simply from a kind of consumer choice point of view, the market inevitably had to offer people more options—especially as there is no such thing as a typical family—there's no such thing as a typical unit of human beings.
A lot of the pressure is to respond to how people actually want to live, and also because people are more mobile, and there is less space. I must admit, I do think that a lot of the buzzwords that you used like "co-living" are like a transitional stage, because if you look at things like our cars and services, we are moving from an ownership economy to a rental economy. If you look at the UK, we have a deep culture of owning our homes, which is actually kind of crazy. It's like a liability, a restriction, it's like an anchor on you. I think this is the beginning of housing finally responding to the infinite variety of needs of people.
In your experience, have architects and cities gotten better at understanding the impacts of new technologies? Architects claim to be the authority in creating cities, but tech companies have more agency. Who is really shaping cities, and who should be?
MF: I think architects are really bad at understanding the impacts of new technologies. I think that there is a disconnect between the disciplines that shape the city.
Of course the architects, the planners, and the city governments have not been that good at talking to each other in the past. In my country it's always been a battle. But secretly, quietly, without anyone really noticing, the blueprints of the future have already been made by technology companies.
The wifi infrastructure, the internet infrastructure—I heard today from Dara Huang that somebody has been buying up the rooftops in London for drone landing spaces, and the roots between buildings that will be the aerial highways of the future. These are the things that will change the way that we live in the future, and they are all technological, and are being driven by tech companies. Architects have really missed out on being a part of that conversation.
What role do large scale international developments, such as the Zaha Hadid project planned for Prague's city center, play in terms regeneration of a forgotten part of the city, in your opinion?
MF: Well of course, it's quite interesting to come to Prague actually, because it's a really beautiful city, but unlike many other beautiful cities, it hasn't already sprung up these clusters of modern areas. So this Zaha Hadid project that you mentioned, is really something that I would imagine would be a shock to the people of Prague, even though it is right on the gateway of the historic city. But cities need to change, they need to be not stuck in the past.
The guys from Penta were saying earlier that there has been a reaction to this building that is a bit higher than the other buildings, because we've never had that in Prague before. But the building is right next to the railway station, and before the railway station, there was no such thing as railways in Prague. I think people often lose sight of the fact that a city needs to be an evolution of all of the phases that history has been through, and we need to build ones that represent our age as well.
Dezeen is more than a decade old — a century in Internet years! How has the practice of architectural journalism changed in the Dezeen era, and where is it headed next?
MF: The internet has transformed the way that people receive information. I started out as a journalist writing for print magazines about architecture and design, and now most people get their news from the internet.
That's kind of a difficult area, because we suffer from fake news, and social media is driving so much of the conversation, even though it really isn't a media platform, it's like a sharing platform. It is a very exciting time for architecture and design, because architecture is very a static thing, which for 100 years was just presented as a flat 2-dimensional image on paper. But now, you can start to shoot movies, and have 360-movies, drone movies, and virtual reality. It really brings architecture alive.
I hope that architects start to incorporate these technological tools in their buildings, and in the way that they tell the stories of their buildings, because people love architecture! The internet gives people amazing new ways to experience architecture.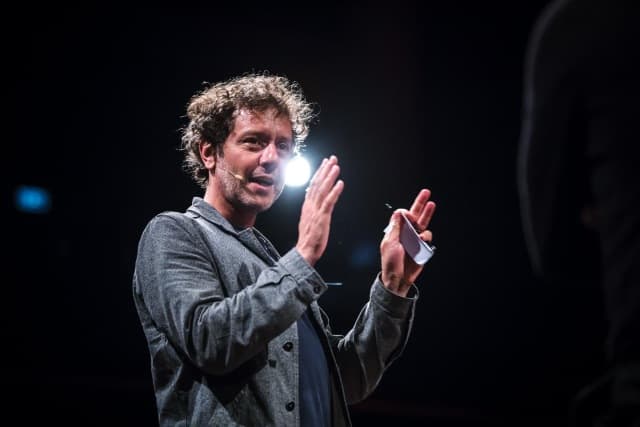 You have a friend visit from out of town. How do you accommodate them in your home, your city, and in your country?
MF: Well I'm lucky, we have a nice big house. We have two guest rooms, so our guests are able to live in comfort.
Thank you for joining us in Prague for #reSITE2018. Interview by Greg Lindsay, with the contribution of Radka Ondrackova and Elvira Islas.