Michel Rojkind on the Social Responsibility of Design
reSITE's podcast, Design and the City, features Rojkind Arquitectos founder, Michel Rojkind in conversation with Martin Barry on how he uses design as a tool for social reconstruction.
So I always do the question is architecture enough? Because I don't think it's enough. If architecture becomes the hardware, who's designing the software? You know, you always use the example that you can get the next whatever phone version, but it doesn't if it doesn't have any applications, is it important? Does it work?
When we talk about shared responsibility, it's everybody's responsibility as the community, the developer, private investors, we all have to get involved. When we talk about the future of cities, it's not about architects and urban planners and city planners. It's about all of us, that we want cities to be better, to have a positive impact on the community.
It's more about that building giving something back, did that building question something really relevant to society. Is it flexible enough to really adapt through time? Are we resilient enough?
We've got a new episode with an old friend. If you've followed reSITE for a while, you may have heard that voice before, it's from Michel Rojkind, founder of Rojkind Arquitectos and his incredibly inspiring keynote from our 2018 conference, ACCOMMODATE.
Our regular contact and conversations with Michel have grown into a friendship, and that's another great talent he has—his ability to connect. So this week, we are super glad to have him back, this time on the podcast for a much more intimate conversation with reSITE founder, Martin Barry.
If you are well versed in the field of architecture, Michel is known as one of Mexico's most successful architects. Wallpaper* Magazine included him as one of 150 movers, shakers and makers that have rocked the world in the last 15 years or so.
Michel's ethos behind his work is what sets these projects apart—the social responsibility that motivates their existence. Long after his designs are realized, these spaces come into their own, shaping the communities they reside in, with those same communities shaping those very spaces, in a sort of unconscious collaboration. As he puts it, it's the manifestation of making that space for other things to happen.
But his success as an architect was not his first. Michel was the drummer in popular 90's rock band Aleks Syntek y la Gente Normal. He attributes a lot of his evolution as a creative to the time spent touring through different cities. Experiences he culminates into his approach to architecture. And, one might assume that influence appears in his outputs, but as we discovered in this conversation, it shows up far more in his inputs—in how he collaborates, or "jams" as he calls it, with all interested parties—like the proper rockstar he is.
Watch: Run with Rojkind at reSITE
Martin Barry: Hey, everybody, this is Martin Barry from reSITE. I'm really excited to have you back on reSITE design and the city. It's an incredible honor tonight, again, to have one of my friends, and someone I look up to with us. Michel Rojkind from Mexico City. And Michel, I'm going to welcome you to the programme and can't wait to get into this conversation with you. How are you?
Michel Rojkind: Martin, beautiful to talk to you again. Beautiful to be here. Thanks for the invite. And looking forward to talking. These are some crazy times, interesting moments of introspection and understanding a lot of different things and so great to be here and being able to talk to you and and join the conversation.
Martin: It's amazing to have you and some of our listeners will know that I'm from New York City. And so you're sitting in my hometown, which a couple of guests like Gary Hustwit and Stefan Sagmeister have been calling in from, and I'm here in Europe sort of locked in. So I see the blue skies behind you and tell me, one thing we'll start with is the last time I saw you were running. And we did the Run with reSITE, I think it was like sometime in mid-2018. Are you still running? We talked about running and creativity—is it still an inspiration of yours. Tell us about that
Michel: I'm always running. I don't know if that's good or bad, because people are always asking what are you running from. I'm definitely still running. It is my meditation, Martin. As you know, it becomes the moment... I do it in the morning, just to clarify, because a lot of people that are runners run in the afternoons. To me, waking up before the sunrise and running and being able to see the sun come up, it's just a perfect way to start the day.
To me, it becomes this kind of check in with myself where it's like, 'How is my mind? How is my body? How is my heart? How am I understanding the things that are happening around me?' And if I could raise my awareness through running, which becomes, as I was saying, this kind of meditation, that's the perfect way to start the day.
And I've seen it when I don't go out and run in the morning, and I have a busy day. I'm not focused at all, or I am less focused. So running not only has become this thing where you, of course, maintain your fitness level in a physical way, which is great. But also, I think that the most important giveback or takeaway that I have with running is [the] balance of my mind, my heart, and my physical body also.
So yeah, I run all the time. This year has been a bit difficult for everybody, so there's no races or marathons. But just running out and again, even in these crazy times. Running to understand, first of all, that you're privileged enough to be out there and running, which is in the physical state, and being thankful and grateful for that. And, and then figuring out how you can help from where you are now. So yeah, I guess I'll be running until I don't know what age.
Martin: I love to hear that like, you know, I've been an on and off runner and I always admired your dedication. And I'm envious of this commitment to the sport. Because for me, and I'm getting back into it, by the way, I ran for the first time in like almost a year and a half last weekend. I did it the classic way. I got some new gear this week, so my Nike package arrived for cold weather. I'm starting with stairs, which is actually an interesting way to start training again because I never did that.
And there's something I really like training on stairs because there's something even about running, about the repetition and the pacing that does help you get to this sort of state of zen or, I don't know. For me, it's sort of peaceful. It's a way to meditate. It's a way to reflect, and the repetition helps with that, at least for me. And yeah, hitting this the breathing and the state of balance. It's important. So I'm inspired by you. I have to say I'm, I'm always watching and I'm like, oh dammit, you know, if Michel could see me now, with these extra five kilos.
Michel: I mean, it's not easy getting up. I mean, people have friends, like, 'Oh, how do you do it?' You always have this signal, you wake up, it's like, 'Oh, should I go out in this cold weather?' And it's not easy, but it becomes your practice. It becomes the thing that anybody can relate to—what I'm explaining through running because any sport that you do, that you kind of arrive at that point where you're kind of an automatic pilot, or you're doing something where you're just letting it happen.
And I've experienced this Martin also as a musician, when I was playing drums. Sometimes you're playing drums, and you're like, hyper-focused. And then sometimes you're just, you're not even there. You're just playing and you're seeing your body playing, but it's kind of this automatic thing that's going on. I think that's what this thing that we talked about kicks in this peaceful, kind of zen moment, where it's like, 'Ah, life is happening.' And you're there witnessing that. So yeah, in any sport, I think, are already creative processes.
Martin: For sure. And you're getting the sort of crisp fresh air of New York. So tell me, you're in New York now, my hometown. What's happening there?
Michel: Well, it's a bit crazy. It's a bit crazy everywhere. I've been travelling from Mexico to New York. As we know, New York is always a place where that kind of rebounds really quickly. It's very resilient. Ever since the pandemic started in the lockdowns, but then, it started opening up a little bit, and then you were seeing all the restaurants take over the streets, and then you would see the gyms taking over the parks, in the street.
So again, this resiliency of how to recover our day to day, how to really engage with something that is there is, being careful, but trying not to be afraid. Trying to stay calm, trying to figure out ways to kind of go forward, no? I think one of the I mean, in general, it doesn't have to do with New York in particular, but because, I mean, many places that have parks, like like New York has Central Park or the Hudson, I mean, you can run through the Hudson, or so many streets that can be closed for things to happen on the street. You're seeing that in parts of Europe as well.
But I think, in general, the sense of understanding how to do things, again, not based on fear that doesn't have to do with all these acrylic furniture that you have to be locked in now in a new plastic bubble. We've had these conversations before that my concern is 'Are we designing something as a patch for now?' Could the design solutions be much better than just a sterilising everything and trying to clean everything up? Or, are there other solutions that are repairing where we want to be in the future where we have more contact with nature where we have more natural ventilation instead of a mechanical ventilation that we're kind of used to. And again, it's a very important moment to reflect on.
It's very sad everything that's going on in terms of people, of course, getting the virus and of course, how many deaths we've been having. It's crazy. I think in the past few days here in the States, there's been more deaths than [on] 9/11. Just to compare, in three days, So it's a crazy time where you also have to understand if you have a home, and you can stay home, and you can quarantine, that is a privilege, in these times. So again, what do you do with that privilege? And how do you use that to help others? And how do you use that to engage in other aspects of the community?
When the pandemic started in March, I actually flew to Mexico. I wanted to be close to my daughter. I think that we were all a little bit moved and a little bit shaken and wanted to be close to your relatives and family. And so I went down to Mexico [and] I was there for at least four months. We started to help out in our immediate community because I always had this conversation amongst friends. We said 'Okay, this is a moment that if you're in your home, this is a good moment to do some introspection and see how you are.'
So I think that we all first had an awareness of what our space is. I think as architects, we've always been aware, but now, people that don't even talk about architecture, were understanding what the space of a house means: 'How are you confined? Where are you confined? What is the stuff that you have that today, that you think that defines you?'
But also, if you're in your house, and you're going to clean up stuff in your house, which I think we all did. We all started throwing boxes that we wanted to get rid of, sometimes that were just stacked there over the years. But cleaning up the house also meant cleaning up yourself. And figuring out the things that we're doing in our professions, in our day to day—are we part of the problem? Or are we part of the solution? So not only with what we do, but with how we do it Martin. That I think is important, because people might say, 'No, I'm doing this, this is great.' Well, it could be great, but how you're doing it could be part of the problem.
So I think that by saying that, how do we start helping our immediate community. I started engaging with Mexican fashion designers to do masks for people that could not even afford to have a mask and give [it to] them for free. It also engages with the gastronomical community, figuring out how to help them thrive during these hard times. And things that didn't have to do with architecture.
I think these moments bring out more of our human experience rather than this suit that you put on to say like, 'Oh, I'm an architect, or I'm a lawyer.' We're humans. And we're living this moment that, for the first time ever in history, the whole world is going through the same thing. There's never been a moment that the whole world was going through the same thing. Even in [the] World Wars, there were countries that were in wars, but never every single aspect of the planet was facing a pandemic. We need to understand what we're doing.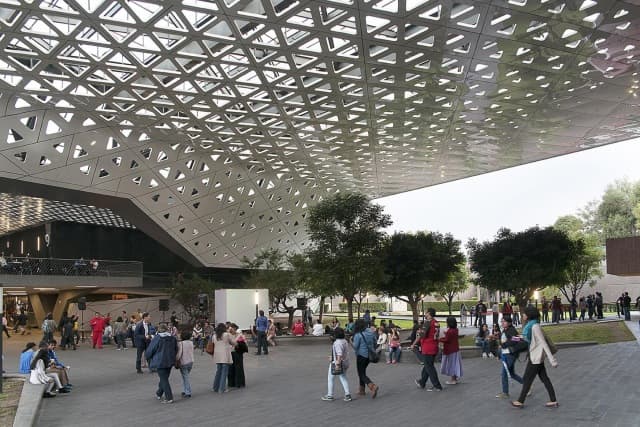 Martin: Yeah. Wow. And you're dealing with that in a really hyper-way in New York, I think because you know, all of these things come at us so fast. And this pandemic has come out in New York City so fast, it's relentless. So yeah, that the speed at which you kind of respond is, is quite dramatic.
You approach these issues of design of, well, everything you touched basically, from a very human perspective. You are super thoughtful about our impact in the world, not just our physical, environmental impact, but also cultural impact and how we treat each other. Architecture is kind of a technical profession. We all know that they're sort of the more applied artists among us in the professio. There are the technicians. But you're known for not really being so interested in architecture, initially. How did you get drawn in, and had the interest of all?
Michel: Well, first of all, I started off as a musician. I don't know how many listeners know about my past, but I started off as a drummer. And I think you mentioned that. But uh, I was performing in a band that was called Aleks Syntek y La Gente Normal in Mexico. We had four albums with Virgin Records.
The interesting thing about musicians prior to starting to study architecture, because I was already playing drums and my first semester of architecture [school], we were signed in by the company. Which was, I mean, crazy at that age to be signed by a major company. So I thought it was amazing, I got a lottery ticket. I was 18, and I was already signing.
And I had to face this decision where I'm fortunate enough to have an amazing mom, who's always been kind of this amazing, divine feminine energy in my life, guiding me. And she said, 'Well, you can either not start school because you already have a band, or you can keep on doing architecture, and figure out how that kind of helps you with your music and vice versa. Because you never know how things kind of turn out in your life.' So I thought it was a great idea. I said, 'Well, I'm gonna do it until I cannot do it.'
So, I started architecture. It's funny because, or interesting rather than funny, that at the beginning, I enjoyed architecture. I was not so much into it. I just like many people when you finish up you have to study a career. You're not like 100% convinced what you want to study. But as soon as I started [traveling] with the band more. And we were on planes, arriving in different countries, seeing infrastructure, seeing public spaces, seeing the way people lived in different places. I started really understanding the power of architecture, I was really drawn to what architecture can do rather than architecture as a standalone rather, the buildings what they couldn't are the plazas or the spaces or the emptiness of the cities. How did they impact communities and how were communities engaged with everything.
So that's when architecture started getting a lot of meaning and, [becoming] more powerful in my mind, I have always been interested in what architecture can do, and not only architecture, again, as a standalone object. So it took a while, but I'm happy that I did both things parallel for a couple of years until I finally decided to quit music, and step back and let the lead singer continue with his project. And I, of course, would continue with my architecture.
Martin: And this I mean, obviously, this background has a huge impact on how you approach your work. Some of the questions we got from our listeners, and quite frankly, they're a lot more about inspiration. And where do you draw your inspiration? Where do you find it from? I imagine some of it comes from your musical background, your interest in arts. We've talked about this before and other formats, but like, can you tell us a little bit about this? for some new listeners out there?
Michel: Yeah, I think that coming from a musical background, where if you're a musician, you're always engaging. film directors, because you're doing videos. You're engaging graphic designers, because you're doing record covers. So there's this whole creative industry around you, which to me was fascinating, because I learned a lot from the guys that were doing the graphic design for our covers, and I learned a lot from the guys that were doing our videos. I think that I learned very, very early that I wanted to put more things in my head and more things that were not precisely one theme.
Because I remember when I started, when I left music, and I started working as an architect full-time, I missed the experience that would happen in music that you were always jamming. You were always playing with other musicians, you were always experimenting with music, you invited a friend to do some crazy videos to the music that you were writing or putting out there. When I started in architecture, I was looking for people that were also ready to jam. And I found that there were not a lot of people open to the experience of collaborating because architecture and design, when I started off,was a little bit more jealous in that sense. It was like 'No, no, you do what you do. I'll do mine.' I was like 'No, but we should jam! We should see what we come up with in that.'
It was interesting because I did find a little bit of echo with a younger generation. And I mean, now it's very common. Now if you talk to designers, there's all these collectives and collaboration processes, but it wasn't like that a couple of years back in architectural design. It was a very like, solo profession where you didn't want to share what you had, because you would think that people were stealing your ideas.
So, having music as a side thing for architecture was really important for my creative process because I was not monothematic. I always remember hating being in meetings where, if I was amongst my colleagues, architects and they would only be talking about architecture, I would just turn around and go away. It would be boring for me. I'm like, 'Really, guys, I mean, you're working all day in architecture. That's all you can talk about?' I was like, 'What's your favourite movie? What did you see? What did you read? What's the music that you're listening to? What club did you go to? Who are you?'—anything! It's just funny enough because it has to do with architecture 100%, but you're not talking about the physical building or like, 'Oh, I'm doing this project. I'm doing that.'
So yeah, it was even really hard for me when I left music because when I was only doing architecture, I remember that I was missing something else. There came a point back in 1999 that I was partnered with Miquel Adria and Isaac Broid. We didn't have a lot of work as architects, and so I said 'You know, guys, I'm going to take off and I'm going to take a course in film, I want to study film, because I want to get something else in my head. And I want to see how that expands the way I see things and in the way I appreciate the profession of architecture, but seeing through a different lens.'
So I came to New York and I studied for a couple of months. I did a quick intensive at NYU, and then I went back to architecture. Then 2001, I opened up my firm, solo again, Rojkind Arquitectos. And but it's been ever since Martin. I'm always up to anybody suggesting a new book, anybody suggesting a new song. Anything that opens the possibility of how things can transform the way you're seeing your life at the moment? No. And that to me, I think is growth, when you're open and receptive to things coming your way.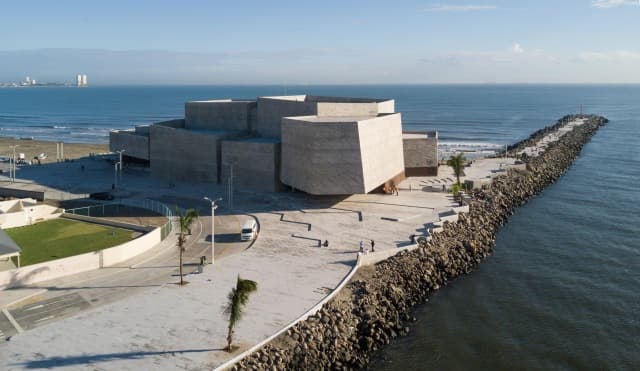 Martin: I think you've called this in the past through your creativity jam. I love this terminology, because I looked it up, you know, I'm not practising landscape architecture, per se right now. But when I was doing this every day, you know, I've sort of bored by landscape architects, I wanted to collaborate with other folks. And so I always found my inspiration in the same way you did, so I'm happy to hear that's the case for you. You also find it through running, [as] we talked about a little bit. And that's associated with how you reflect, and I guess there's some mindfulness, in this and that. You can't always have the chaos of creativity jams, right? You need to kind of step back and reflect on what you've learned in that process.
Michel: But it's important to, as you're mentioning, now Martin, I think it's important to understand that or, at least it's happened to me through time, I don't know if you if you catch it immediately when when you're growing up, but that it mindfulness or in your work, I mean, I always say that your practice is not your 9 to 10 AM yoga. Your practice is not that you sit to meditate for 30 minutes. Your practice is your life. So if you don't make your life, your practice, I think you're splitting so many yous into so many parts that there is a lack of coherence.
So when people ask me, 'Oh, the runner' or I'm like, 'But I'm always the same person.' When I'm running, I'm running and it's changing things in my architecture, it's changing things for me when I'm doing architecture. It's changing things for the runner and for the parent. So it's very, I have a hard time when people try to separate things like 'No, no, no, you, you go to the gym at this hour, and then you're a husband at this hour, and then you're a parent.' That is like, 'Aren't you everything all the time?' So the more you kind of let go of that control of separating things, the better your life is going to feel. Because there's a sense of coherence, and there's a sense of art, everything is just kind of flowing in a much [nore] effortless way. It's not that you're not doing an effort for your job, but it's just like you're not struggling to put a tag on certain aspects of your life.
Martin: Yeah, in a very simplistic way, I used to kind of struggle with the term 'work-life balance', because I always, and I still sort of do. I think like, well, my life is balanced. Its work. I love it. I have other interests. And it's all you know, it's all exciting for me. Otherwise, I try not to do it. Of course, not everyone can be in such a privileged position.
Martin: That's totally clear. But I understand the idea that if we can try to learn from everything that we do, and incorporate into our daily lifestyle has some learnings from this. From each of our activities, then yeah, I think you can sort of get to that state of mindfulness in life and work.
One thing I'm sort of interested in is that I don't know, you're from Mexico City. The last time we spoke was again, like, 2018, you just made a huge decision. You said, 'Hey man, WeWork has just offered me a really good deal, it's not really public yet, but I'm thinking of doing this. And I'm thinking of moving to New York.' I think you were flying to New York very, very soon after we saw each other to look for an apartment. And you are now sitting in that apartment in New York, right?
Michel: Exactly. Exactly!
Martin: Well, I think like, I always kept an eye on this part of your career, because I'm fascinated by your life and also fascinated with the work that you do as an architect. And I felt like 'Wow, how's this gonna go?'
You know, this is definitely the way I think, I think and definitely wasn't surprising to me that you decided to, let's say, slow down your architecture practice for a bit in order to join WeWork as a VP of architecture. Because I mean, what an exciting position and they've called you up and said, like, would you like to come build 50 buildings for us? Like, I think I would do the same thing. Why not? Let's let's try this out. Let's try it on. So you try it on for a couple of years. It was like I think pretty soon after you joined I'd say like six to nine months, it was kind of chaotic. Do you want to talk about that a little bit? What's next?
Michel: Yeah, yeah! I think that I mean, first of all again, and being open to experiences. I had a lot of my friends and Mexico saying things like, 'You're crazy, how are you going to take this job, you've never worked for anybody in your life. And you also just finished Foro Boca so you have this concert hall that you design and your firm is this amazing moment that you should not take for granted.'
I'm like 'No, no no! I'm not taking it for granted. In fact, part of my negotiation to come to New York and help WeWork establish a ground-up aspect of the company was that I could still work with my company.' So I never shut down Rojkind Arquitectos in Mexico. It was interesting, because even most of my clients, when they heard that I was going to come to New York, they were even more engaging with the office like 'No, no, no... Now let's go forward with this project.'
Of course, that sometimes tends to happen. The second thing that to me was interesting is that Bjarke [Ingels, BIG] was the one who had brought me to the company. Bjarke was an advisor to WeWork. And again, talking about jamming and collaborations, Bjarke and [I] have a long history of a really good friend relationship for a long time, and we've done projects together. So I thought, like, 'Oh, this could be interesting. If he's an advisor, and I come in and start running the ground-up studio, we could do great stuff together.'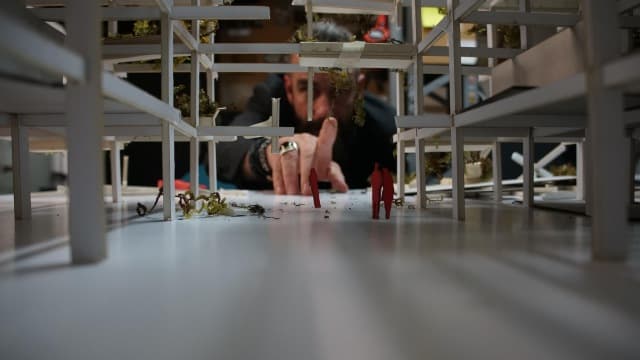 And it worked really well, in the beginning, as you said, then the chaos of the company IPOing or not IPOing again. So it was also, I learned a lot, Martin. I really learned things that I would have never learned if I would still be in my office, in my studio in Mexico. So I don't regret it at all. It's been a wonderful experience. And now, after two years, and the change, of course, the founders are not in there, Adam and Miguel are out of the company. And so now my contract came to an end, and I'm going back to Mexico.
So the experience here, 100% worthwhile. I met amazing people. It's interesting because even with everything that's going on right now, in a company like WeWork—we're starting to get a lot of companies asking for space, because most of the big companies could not afford to make people commute to one single building. So they would tell people to 'Grab any WeWork, just work remotely, if you can't work from home.' So it was interesting to see the shift, or the opportunities, or things that could happen based on how the world was handling the pandemic.
But anyway, as things come to come, nobody knows that this is the first time I'm talking about it. My contract ended and I'm packing [up] in New York, heading back to Mexico, and I'm going full on with the office now. That I had never stopped, so again, I can't compete at the office, then keep on working.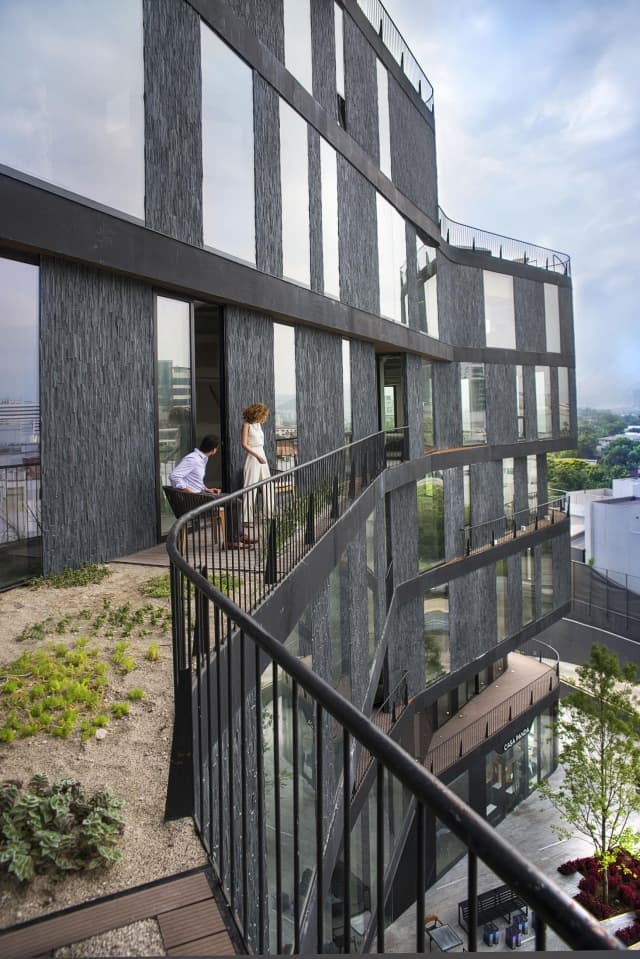 Martin: Yeah, I like that you did that to get the opportunity to stop Rojkind Arquitectos at the time and you said, like, 'No, no way. Why would I do that?' You know, that's exciting, and keep it going. And like what a good decision. Now you're going back into it, seems like you've had projects which are quite interesting. We'll talk about a couple in a second.
So I'm excited for this next phase. And a lot of my life is influenced by where I am. The people, along with the cultural experiences that I'm lucky enough to see. So, New York's one thing, you know, I'm from there. It's fucking chaos all the time, and it's an amazing chaos. I love the energy. In fact, they feed off of it. Their fe has a similar kind of energy. Are you excited to go back and sort of like really immerse yourself? I know, you've been going back, you know, a lot, but you'll be immersed now, in Mexican culture. How's this going to be for your work?
Michel: 100% I mean, first of all, I love Mexico. I was born and raised there. But second, my daughter is there. There was a point where I wanted my daughter to come and study here in New York. And she was a bit hesitant. So, coming back to the family, first of all is great for me.
I just love the places that are a bit chaotic in terms of 'How do you thrive in such a chaos?' So when things don't work, I mean, I'm used to that in Mexico because we've always heard the word crisis. I've always heard the world the word 'Oh, things could be better' and, 'Our system doesn't work, so we have to plan around the system.' Which is interesting because what's happening in the [United] States right now. It's like this total chaos of a system that definitely is just showing us how bad it is from the roots, no? So everything that we're seeing now is just showing us the reality of how things are. Which, in Mexico, we get that every single day. Every single day. So going back to Mexico,it's gonna be very interesting.
I introduced some of my clients when I was here in New York to some people from WeWork, and introduced WeWork to some of my clients. So it was kind of a good mix. I have really good relationships now, that were built during these two years in New York, and then I'm happy to see what will evolve from there, and what keeps on building.
Martin: Yeah, it's exciting. You know, when I came to Prague, I thought it would come for two years, which is about how long you've been in New York. And now I've been in Prague for almost five. And, you know, my family is still asking me like, every time we get on FaceTime, like, 'Hey, when are you guys coming home?' Yeah. So I can imagine. We have a big, close, Irish-Catholic family, and I can imagine that we use some kind of similar family relationships as we have. So I can imagine it's exciting.
Hey, let's shift gears a little bit to Fora Boca, Cineteca and some of the cultural spaces that you've designed and developed. And I'm sure there are more on the horizon that I don't know about. The Nestle Chocolate Museum is one of them. So Cineteca, Fora Boca, the museum work—how are these concepts and these spaces influenced by your cultural background in music? When you think of designing the spaces, does your musical background come into play? And what do you think about programming, and what do you think about the people who use them?
Michel: I mean, definitely, I would have to say 100%. Not in the way that people might imagine that, if it's translated in terms of the rhythm and the cadence. It's more of a collaboration. It's more about what's the dream team for the project? What do you want, like bringing people to record an album? It's like, what musicians do you want for that album? Who's gonna play the saxophone? Who's gonna do the backing vocals? So I love the idea of always having the opportunity to grow a big firm, and I never was interested in growing that big. I was comfortable when I knew the names of the people that work with me. When I started not knowing who was the guy in the back doing the physical models, I would start being a little bit hesitant of the way we're driving the company.
So by being a middle-sized company, and now even smaller than that because I decided to downsize to be more collaborative, where we invite or associate younger offices to play with us or to jam with us, as I would say, and customise themes for the different projects. So it's a great experience, because you're assembling and disassembling teams. You're working together, you do a project, you collaborate, you associate, you give them a name and a responsibility as a partner for the project, which sometimes I wish somebody would have given me a break when I started that way. That would call you up and say, 'Oh, I like your young firm come in', even though I did when I was partnered with Miquel Adria and Isaac Broid.
But I think that the work or the way that we're approaching work with the office, to me makes a lot of sense, because I'm getting to know different minds in the process. And so one of our main concerns, as you've known Martin, is what do our projects give back? What do our projects are capable of being more than just the architecture?
Nestle is a great example, because Nestle, the Chocolate Museum—the company never asked for a chocolate museum. I remember that the brief was doing something for the factory so they could bring kids to see the production of chocolate and long story short, Grand, the name of the company to the kids and give them some chocolates in the back. And I said, 'Why? Oh, you know what, let's wait a minute. I think we can do much more than that. I think that we can leverage the possibility of having a chocolate museum where the Mexican government hasn't paid attention to that and we should honour chocolate and Mexico since we know it was so important for the Aztecs.'
We have a huge history of chocolate in Mexico. So, we convinced them to do a chocolate museum that will give something back to the city. So it's like, 'I don't care if you want to brand the company, that's perfectly understandable. But what have you given us something in return?' So that's the first moment that I realised that we could expand the scope of a project. I never thought that you could change a client's mind that way, or question even the program, because they give you a program and you are just a well-behaved boy. You take the program, and you go and do your work and come back, and then you get a star on your forehead. And, of course, I've never been that kid.
So in architecture, I started behaving the same. I said 'Maybe this is wrong. Maybe what you're asking is not right, and we're going to waste time and we're going to waste money. So why don't we reframe the project? Why don't we reframe the program or the problem that you think we're solving.' And so that gave me a lot of strength in how to pursue and push projects. So even a lot of years later, projects like Cineteca.
Cineteca, of course, a government project, the ending of the term of Calderón, our president back in those days, and in a very important art and cultural piece in Mexico. And they gave us a program, and we also were very strong in questioning what the program was. If we could do the outdoor cinema that was not proposed at the beginning, and if we can convert most of the project into a park, rather than have the cars being parked in the property. So we pushed the cars outside, so we had a car garage on the outside, so people could park on the outside, and things that would give something in return, they would give a public park to the city, they would give a place for people to gather.
And I think that the beauty of it, if we look back at Cineteca now, it was a bit criticised back in the days when it opened because it was not finished. So the President, instead of opening the building, he said, 'We're gonna, we're going to do a site visit.' So he called it a site visit, and of course, it finished a couple of months later with a new government. But anyway, I think it's one of the most culturally successful projects that we have in Mexico City, because now it gets a lot of people that don't even go to the movies, they just go there for having a coffee, they enjoy it as a public space, they go to see the museum. That was a part of the building that was done by Mauricio Roche, a Mexican colleague of mine. And the other projects are a little bit the same.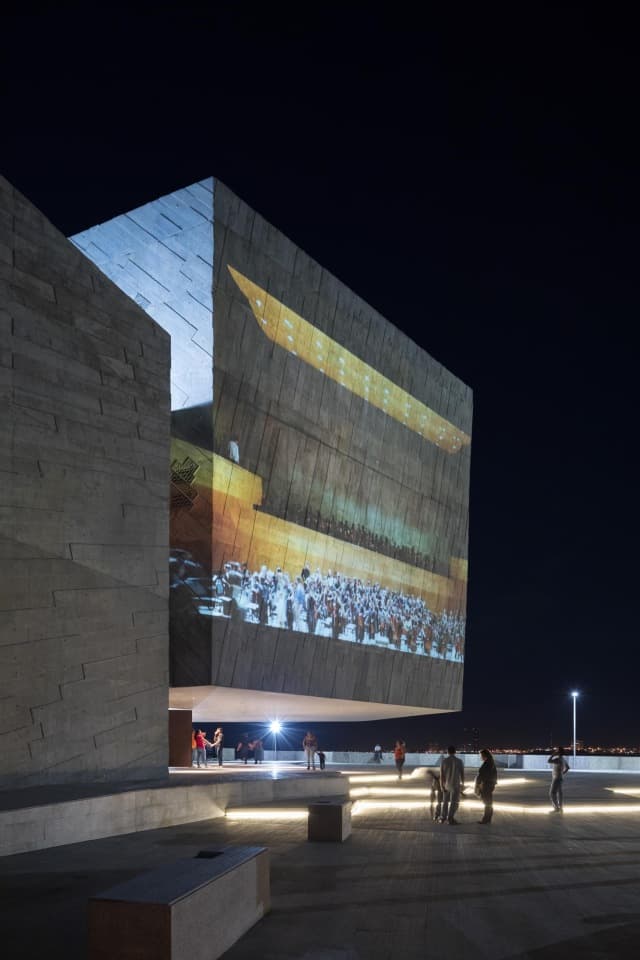 But the one that kind of echoed more Martin, in terms of music and architecture has to be Foro Boca. Because that kind of unites my two passions, or some of my passions, which is architecture of music. So having to do a concert hall for the Philharmonic Boca del Rio, and being in so many stages playing myself. It's like, 'What am I going to do? What's the type of space that you want to create for this?' And again, we were fortunate enough to have been invited by Miguel Angel Yunes, the mayor of Boca Rio, to even select the site.
Remember that there were a couple of sites and there were, of course, a couple of sites in fancy neighbourhoods. And you know me, let's go to the worst site that you have. Let's see, what's the potential of and that's where we built the building. I mean, it was not the worst. It was the worst of the ones we had in terms of [being] very poorly developed, there were a couple of buildings that had started but then they didn't finish the construction, so they were abandoned buildings. A lot of people didn't pay attention to that area, because you had the north winds hitting very hard, from the ocean, so you will get sand on the road, and you will get sand on some of the buildings that were around there.
So we said, well, let's start here. Let's do it here, and let's understand how this can ignite potential development around the area. So instead of doing a building, to me, it's like planting a seed. It's a very different metaphor of this object that is just there as a standalone, rather than—watch it root. Watch it, when it starts rooting out, as the seed starts growing and starts populating every other aspect, and we'll see in time.
That's a little bit of what you're seeing with Cineteca. That's what happened with Mercado Roma. That's a very small project, but also very meaningful in terms of what it did to the community. And in Foro Boca you'll see the same. I'm looking forward to seeing images of photographs in the future of the new developments around the area for sure.
Martin: Yeah, the Foro Boca is as well, this is an unbelievable building that I have not yet visited, so that's one of our next trips together, but the hardware of this building is clear, right? It's crystal clear, the forums are really poetic at that point along the water.
The fourth dimension, that we would describe is kind of the "software", it's harder to realise in such a building. So can you give an example like, what's something that you like about the freedom that you've given people to create their own spaces, to do their own things like; do you have a good example story or some space that you really love?
Michel: I think it's important that when you're working with your clients, where you are working with the community, where you're engaging the community—it's being, again, open to listening and open to understanding. The other things—we also talked about designing for other things to happen or not being so obsessed about controlling your design 100%, that you would leave areas, to see how society kind of engages those areas, and how they appropriate that. So, it's been interesting, because you have to set the platform or set a place where you can have these conversations, where Cineteca knows that they could do a theatre, and they can do rock concerts, and they can have a DJ playing in the gardens.
So the same thing happened when we were designing Foro Boca, and we were talking to the filarmonica. It was from day one, we said, 'Okay, this is the house for the Philharmonic. It's a place specifically designed for the Philharmonic. But what if the Philharmonic opened that space as a cultural space, and they invited other people to come in.' And of course, besides the big hall, you have a smaller hall where you can have a DJ playing there, you can have performances, theatre, you can have workshops, you can have many things happening. And once they understand the flexibility, they start using it.
But sometimes I think it's the mistake of the architect and the person hiring the architect was like, 'No, no, this is 100% just the house of philharmonic' and when you think about it, like 'Yeah, but how many days a year is the philharmonic gonna play it? That's not enough.' So if you want to do something that really does give something back to the community, you have to engage with other aspects. And the beautiful thing now with Foro Boca, is that you have the bookfair. They have the most important book fair in Boca del Rio done inside Foro Boca.
So there's a book fair, they've now done amazing yoga retreats where you're either on the wave breaker, but also on the outside plazas, and they have all they've done outside all sorts of concerts on the inside and also on the outside. Remember that Foro Boca, everything that happens on the inside is projected outside. So any concert that happens at night that is played on the inside of the theatre is shown on the outside for people that cannot afford to pay a ticket. So, it's interesting to see that because every day I'm surprised to see something new.
I remember the first time I saw like a, I don't know 100 yoga mats outside of [the theatre]. Because what I was saying is that the harshest north winds hit there—the way Foro Boca is placed on site—it protects as one of the main plazas is, where you access the building, that's protected by the building. So if people chill out there, they're super comfortable, because they're not getting hit by the wind, the building is actually protecting them. So when I was seeing all these yoga mats on the outside, and people were doing these wonderful sunrise meditations, I was like, 'Wow, this is what should happen.' And then that's where we learn.
And this is also another conversation that we've had, Martin, that this is very important to understand that as the people designing things, we're open to learning. I think that this character that thinks he cannot learn anything else, and just comes and gives you his thing and like, 'No, no, this is what you need to do, and follow my rules…' I don't know, I will always be doubtful of a person that thinks he knows it all. I always am.
So it's beautiful to see how these buildings evolve through time and just knowing that the learning from there takes you to another building. What if we prepare now a concert hall to have a book fair on the inside, or to have anything else that can happen on the inside. So adaptability, and flexibility and resiliency, which we're seeing in these times more than ever.
Martin: And this idea of not knowing at all is really important, because you often see this in architecture, that this idea is like the male architect who knows everything and wants to design the project his way, only his way. And so it's so refreshing to see this more inclusive, bottom-up approach. And one project you've done quite well, and is, is Mercado. Where, let's design a market not from the top down, but more of this kind of inclusive, bottom up approach with the market players, stakeholders and chefs. Can you talk a little bit about that, about that process?
When we started working on the project, I remember that people were very concerned about things like, 'Oh, you think you guys are gonna do a market? Mexico doesn't need more markets, Mexico already has its classical markets.' I'm like, 'No, no, this is great. I love the traditional markets, but I also want to pay attention to a new generation that might be out there, that might need a space.'
So that's when we started doing this reverse engineering for the project, instead of designing something with, 'Okay, let's do these stalls for people to rent. And that's the space is x by x, and look for somebody that rents it, and anybody can rent it.' Doing the opposite, going to first my friends that are chefs in Mexico say like, 'Oh, well, you guys know the producer. So which, which you guys think our producers that might need a space that I can go and talk to, so they send me to their producers', the people that were selling them produce.
Then I met amazing people that were the production of cheese and milk and oatmeals, and other people that were [selling] all these beautiful vegetables that were cultivated in the chinampas, which are lakes in Mexico City, in the south, where they cultivate on top of the water. And so I started bringing a lot of these people to the client, like 'Why not talk to them to figure out how much water they need, what's the space they need? How can they come together?' And we started creating a community that also was important for us in the market.
I remember that at the beginning, the client was a little bit sceptical on 'Oh, we can have a guy selling burgers and then another guy selling burgers in the back.' Like, well, 'If they get along, and they share a couple of I mean, why don't we bring people that can add instead of subtract.' I want a place where you're finishing your coffee in the morning, they send you to buy a sandwich in the back and then the guy in the sandwich sends you to get a mojito, and maybe stay for the—because there used to be a piano bar—you could stay for the piano bar.
So it took a little bit of working with them, but in my mind Martin, this is also design. When we as architects think that design is just when you grab your pencil and sketch something. And that's design, because it's going to become a wall. I think that's at least to me, it's very limited. To me, the design of talking to people, the design of how you're approaching a project, the design of putting together the need and a space, that will take that need and convert it into a physical space is very important, and it is a very important process of how we work in Rojkind Arquitectos. It became a very successful market, and people in Latin America started copying the model.
And I will remember developers coming to me like saying, 'Oh, we want to hire you. And we want to show you these references.' There's this very famous market in Mexico and [we're] like, 'Yeah, well, we designed it.' And they are like 'No way. Oh, it's good to know, because we're already going to hire another architect.'
But I'm glad I'm glad that a project doesn't matter the size, it can have an impact no matter what. So I think it's important to figure out again, when you're given a program, is that the right program for you to design, and how are you going to approach it and that's, that's also what I was saying when we started the conversation. It's not what you do, but it's also how you do it, Martin, that to me talks about the person you are, no? And again, especially in these crazy, crazy times that we're living today.
Martin: The good is a good segway into Ummara. It's the hotel that you are designing and the hospitality resort. And it's a classic case, I can imagine the first meeting in the design brief. I can imagine the follow up meeting where you came back with a different brief. Were you told design, this new concept of hospitality, or was this something you brought to the client? What does that really mean?
Michel: No, it's a very beautiful project, because a friend of mine, an architect, owned the site. And I remember him trying to do a project there always. And he didn't manage to do it, and then it came to a point where he sold it, and when he sold it, he told me he had sold it. I was like, 'Nah, but that was a bit like three hills!' Three perfectly beautiful hills, one that one hill was chopped, the top was a, the previous owner had flattened it out. So he wanted to do something on top of one of the three little hills.
And then it was crazy—I got a call by a guy who wanted to hire me as an architect. And when he showed me this, I'm like, 'No way. This is the site [from] my friend.' And as I was happy at least it landed in our lap. He always had the intention of hospitality. So we put together a team of experts, as we always do. And we started working with him.
This is a project that the appealing part to me is that we work with the local people. So we said, why don't we do something that we can mix concrete with a pigmented concrete that looks like the sand of the place, but we can also use the earth to create bricks from the local earth when we're doing the excavations. So we're mixing a brick project that I haven't used before in any of my projects, so it's a brick and concrete project. It starts mimicking within the context. It starts kind of wanting to adapt, and to hide a little bit in some parts.
And in some other parts, it actually creates kind of the opposite effect as some of the rocks and stones that are there. And so, where you see the pool area, for the wellness aspect of the project, they're like kind of these inverted bowls, and so you see these kinds of circular bowls coming out of the ground and integrating with the rocks that are around there.
So it's interesting also, because we designed this project in 2016, so almost five years ago, and I thought it was not gonna happen because it took the client a long time to kind of get traction, and it started this year. So at the end of the year, they started doing the winery. They're going to start in phases. So we're actually getting the winery started. I'll probably have some pictures to share in a couple of months when the winery is finished, and some villas. And a beautiful place, in Ensenada. So people that are hearing us, Ensenada—if you cross the border from San Diego to Tijuana, then you drive like an hour more to Ensenada, and Ensenada is a beautiful place where you have wine area of Mexico—where we have these amazing chefs and a great production of wine.
Martin: Yeah, I went when I was living in California one time, we went south of the border. It's a beautiful, beautiful landscape. So that's that's good to know. And what happened—it's a resort and it's a retreat. You imagine this to sort of like a normal hotel where people stay longer, or how does it work?
Michel: Yeah, you can go to the winery, you have the villas for a retreat, so it's a bit of a hotel as well. You have a wellness component, so you can go and just chill out and have a wellness experience of meditation, walking around these different areas. And there's also a different chapter for the project that's artists residences, that is not fully developed yet, but the client wants to push for for the artist residencies as well. And because the client himself, he has his own art practice and he's doing interesting stuff that he's still not showing to anybody yet, but he's kind of enjoying his own process. But uh, so I think it will definitely evolve into the artist residencies as well, but you can expect a couple of villas that people can go stay in, this year for sure, as an experience, in Valle de Guadalupe.
Michel: Oh, yeah, that's in, in the Hacienda de Valle Escondido, next to Mexico City. It's like 40 minutes away from Mexico, Mexico seats a house for a friend of mine, Casa Pasiddhi. And I kind of love coming back to the experience of designing a house. I love designing houses, and I sometimes worry when my clients are like, oh, but you're already doing concert halls and film institutes. I'm like 'Don't worry, don't worry, I can still do your house. You can still hire us to do your house. I love doing houses!'
Yeah, I'm doing that one, and talking about houses or small projects. I'm also doing a small project with Knox Robinson. Knox Robinson is this amazing runner that started Black Roses here in New York. We're doing some cabins for altitude training. I love the intricacies of jumping the different scales, but Casa Pasiddhi you'll see it's a house that the main circulation of the house becomes [this] spiralling structure for the whole project. So it's a black concrete that we work very carefully to have for the circulations and then a very intimate circulation where it's a little bit darker and you have more light from the roof coming in filtering in a very beautiful way. And then you kind of pop out to the spaces and you pop out to the bedrooms into the other spaces that connect it completely to nature. And that circulation encloses a courtyard.
The wife of my friend, Jorge, Connie is his wife, is a yoga teacher and has a yoga studio. So she wants a very chilled Zen garden in the middle of the house. No, that was protected by the house. So it has kind of this beautiful expression of containment, a place where you feel protected by the house itself. And also interesting, because the way they live, the house has access to the kids rooms independently from the house. So there they have teenage kids. So like, 'Oh, no, we want them to have their independence. And just I mean, they don't have to come into the main door of the house, they can have their [freedom].' And I think that's a great way to, I mean, first have a good relationship with your kids. But second, even think that when the kids are not there anymore, when they grow up, you can maybe rent out some rooms as an Airbnb experience for somebody else while you're living in the rest of the house.
Martin: Yeah, cool. I like the house. And I really love talking to you, because we have this kind of telepathy. I was going to ask you a question about scale and jumping between scales, because it's hard. I mean, it's like, it's not everyone likes it. And even more so, most people aren't that good at it, zooming in and out, but you are. So what's the thread? There's got to be a thread, right, that goes between the large spaces and buildings and the smaller ones. Is there some kind of thread that you can read between them? Or is a completely different thought process?
Michel: No, I always say that, and not only in architecture Martin, I think that in life in general, if there's no growth in anything that we're doing, I don't want it. So if it's a small project, if there's growth as, for instance, Knox and [I] as friends, coming together to this project—if we grew in the process, because we know we're doing something, in this case for the running community, I'm good, we're growing.
There's a certain beauty and again, talking about seeds and gardens growing. You're kind of dropping these seeds in the house of a friend. Are we doing something meaningful for his family? Are we doing something that, when they invite people to the house, it has kind of an experience for the people that are invited, or it's just like this show of house that they want to do? I think that the thread I want is meaningful. I want things that I look back on and say this was worth doing, and I learned how I grew in this process. And I always also talk a lot about what we build ends up building us.
So anything that we're doing is like how did it come back to me and how am I reacting now as a person for the next project? I think we're always excited. We're a company or an office that focuses on tailor made projects. So we're not, we're not doing cookies, or we're not doing things like sandwiches. I would never do that, because I enjoy the process of learning. What's the new possibilities? What are the new techniques? What are the new companies that we can work with?
You'll hear about this soon, there's a couple of projects where we got our first commission to do some houses in Arkansas and Bentonville. So you're gonna, you're gonna see soon that's also not that we haven't told anybody whether we have two houses that are gonna start this year. And we're excited because it's a new market for us. It's the United States, we hadn't done anything in the United States.
One of the buildings that we worked on for WeWork broke ground. So that's also going to be seen this year. And in that building that we worked, during the period of WeWork, we were fortunate enough to also invite Stefan Sagmeister to do an art piece on some of the ramps that you'll see—this is a bikeable building. And I won't tell you too much, because you'll probably hear more and more news after.
But yeah, I think that again, it's like, 'What are you getting into? Is it you? Is it motivating for you?' More often than not we get these clients that are asking the same questions like 'Oh, well, what can we do with this? So can you do with us what you did with a company like Liverpool? Or can you do with us like they're with Hyde Park in Monterey as residential?' So I really like that more clients are approaching us with that same vibe. And especially even now, talking about what the world is facing, and how we're going to do our job, and what we're doing. I think it's important to really acknowledge, what are we going to put out there.
Martin: And I think it's important that when a client loves the work that you do, and they come to you, and they ask 'Michel, we love Liverpool or Foro Boca, we want you to build that.' It's really important to think for architects to say 'No, we're not going to design that for you. You can't have that. But you can have access to my mind, which will get you something that gave us that, right?' So that's I think that's the way you're approaching projects. It's the right way. So we're looking forward to seeing the work with Stefan. That's cool.
Michel: Yeah, and say talk about that really quickly, Martin is, I always, more often than not, every time we get a project, I propose to have a preface of the project before jumping into schematics, concept design, DDs and CDs, which was normally not typical. Typically you would get a program and just jump into the project. So, here we always propose to the client, 'What if we do a two day workshop? Why don't we help you [get] clarity and the right vision for the project? And put down the scope of exactly what we need to do. What we need to tackle, who are the stakeholders, who are the right people involved in the project.' And then we start the project, which has given us more satisfaction with the client and the overall process of the project.
Martin: Yeah, that's great. There's some questions from the audience. And I also have like a couple things we could talk about. I don't want to get too deep into COVID. Because honestly, I think we're all like, so fatigued by this. You talked about it a little bit in the beginning of the episode, but like one thing we're, you know, everyone's sort of interested in this. You know, we're going to come out of this and New York City and Mexico City and other cities are going to recover. It's going to take some time. But what role do you think sustainability has in its recovery, and creating a more equitable place? A place that's a little bit more fair, maybe?
Michel: First of all, I think it's that Martin. I think that I would talk first about, about justice, about fairness, about equality, about what are the things that got us here? So, how do we fix that? How do we fix systemic issues that have been put in our face, and we're more sensitive and we're more open to really feeling it now maybe because we're 100 times more vulnerable than we've ever been before.
And so with that awareness and with that sensibility, how do we start working? And I think one of the first mistakes that I would come back to reframing is our relationship with nature. What have we done with nature? Do we put it aside and say it's a park? Or do we have a plant in our house and say, 'Oh, yes, we're getting green, we have a planter in our house.' Or are we really starting to question our relationship to the environment and what we've done to the environment.
So I mean, there's a lot of all these conversations now about introducing more open spaces, more green spaces, a lot of countries and parks in Europe are shutting down streets and making them pedestrian and making them for bike lanes. So I think that the way we have engaged cities has to change and the way we have engaged, even the conversations with ourselves, and even the relationship that we have with each other. I don't want to get too deep into the conversation, but even the relationship to the other.
And with everything going on, if somebody that died is not close to me, I'm kind of not too affected by it, because I don't know the person that is dying. So it's like, how did we come to be like that? Anybody that dies is a tragedy, it doesn't have to be your immediate family. We should be horrified that people are dying, because that's the reality. And if they're dying, what is it for? Is that happening because we're going to change for something better? I mean, are we going to honor the people that are understanding the value of their lives and honoring that to be better in a community that needs to change in certain ways? Or are we going to stay the same?
Because when people are asking like, 'Oh, I want to go back to normal?' I'm like, 'Really? What are you talking about? The normal that we had is, I mean, look at the normal that we have, it's, it's crazy.'
I was having this conversation with my daughter saying like, 'Nina, it starts just by a hello.' It starts by saying hello to the person that you're walking next on a sidewalk, just by saying, 'Hi.' We forgot to say 'hi' to the person in front of us, we forgot to engage in our every day, to see if we can help the other. If we can engage in any way, if we can help a person cross the street. Because we're always talking about what we'll do in the future and how we will perform in the future, and we forget now.
So coming back again to how cities I think will change and evolve. It's it's what we're seeing now, it's, I hope we will get less and less plastic bubbles and all these acrylic things that divide us, and only show us that, that yes, we have to take care of but maybe if we were more interested in our scientists and our doctors and our researchers, and we put more money there, instead of putting money in some other places, we would be prepared better for things like this. No? Instead of spending all the money and the band aids.
Some companies that we saw, Martin, were clever enough to say I don't want to have my people back in the company, I'm going to let them stay home and they'll come back in 2021. Because I don't want to go through the problem of refurbishing the whole building with all these acrylic elements that are going to cost me a fortune, and then I'm going to have to throw it away maybe in 2021 or 2022, or whatever this thing is over. So I think that was a clever move.
I mean, it's hard for us as designers not to be optimistic of changes not because that's what drives design—we're optimistic that things could change. We're optimistic about having greener cities and, and more walkable cities and more people having better quality of life, and more and more opportunities, or at least the same opportunities as everybody else.
There's a lot of things that have to change a lot of things. We're in a world right now, that every single day, there's a new lesson. We saw it. I mean yesterday in Washington, oh, it's like, wow, all these things going on. It's just putting it in your face and maybe before you were so distracted, because you will not quarantine that you would not pay attention to it. But now that you're locked down, it just hits you in the centre of your heart, and there's no way you can avoid paying attention to all this inequality, systemic problems that we have in all the countries now. Yes, I'm here in the States, but this is a reflection of the world in general, that this is something that happens in Mexico. And it happens in, in every other part that there's, there's an unprecedented, there's this crazy, unequal, uneven opportunity for everybody—that has to change.
So we'll see, we'll see what we'll see what happens. Because as we know, and as you see from New York, every day, you wake up and people go outside, and they go, and it starts over and over and over. And, and the restaurants that are now outside because you cannot see people on the inside, they took to the streets. Now they are putting the heaters on because it's cold. So they're adapting to all these different conditions. Which, again, it's like a real time lab that you're seeing or witnessing. Some other countries will take on these ideas, and some others we will take from other parts, but we will learn. We will learn to be better, hopefully.
Martin: Let's ask one more question. Michel, would you like to add anything? I think you said a lot. And in fact, I have like five, six questions here from the audience. But you mentioned a lot of the things that they're asking already. So is there anything that I missed? You'd like to talk about?
Michel: I mean, we had this project. And I think we're going to talk about that. Martin, which is the memorial. And I think for instance, nobody asked us to do a memorial. But I remember being shocked when I saw the cover of The New York Times with the names of all the people that have passed away, and that they didn't even fit the cover of The New York Times. And again, it's like, nobody's asking us to do it, but I think we need to propose some things that will help us understand how to be better.
So, having a memorial in Times Square, where we could have names of people that have passed away here in New York, and or have one in Mexico, in SoCal law, would at least give us the sensibility to recover our humanity, and recover that we need to feel what's going on—that's the only thing that's going to help us change. We need to understand and help people that have lost their relatives, but also help ourselves in a relationship to the other.
And that was that was what this whole piece was about now, our relationship to the other should be as important as me. No, and I think we're in this time that everything is so I mean, fortunately, we slow down. So this awareness of slowing down, gives us this ability to figure out do we want to recover that fast pace? Do we want to recover that speed that we used to have? Or how are we going to change? Anyway, let's go to the questions that you have from the audience.
Martin: I think you answered most of them. So I actually won't go through one by one. But there is one question that I thought like now, I'm never going to ask this question. But then, as I'm listening to you and thinking again about it, I think it's actually quite interesting to rephrase it. If you're a young architect out there. And, you know, maybe you're from a minority community, or you're from, let's say, a disadvantaged background, how do you get known, what do you do to get projects to start making an impact?
Because we both know people that kind of came out of nowhere into the profession and, and made a huge impact. So, maybe some life lessons on this, both of our experiences, the people we know, I think. What's your advice to young architects out there who want to come into the world and make an impact, but they don't really know—no one's going to help them?
Michel: Well, first of all, I think that there's never been a better time to show your work in taste in terms of all the media. I remember Martin, that before if you wanted to get published, or if you would have to send first DVDs with the images, that maybe somebody would read at the top of the publishing company or not. So there was not, I mean, there were not so many websites.
Now there's websites where you can even publish your work, you don't even have to ask the website, they already send you a link that if you think your work is good, you just publish it, and they review it. And they just say, 'Okay', so there's never been a better time to put stuff out there, to understand if what you're doing is good or bad. Because in two seconds, you could be criticised as an idiot, or in two seconds, people will start sharing your project, and it [will] start gaining traction, and people will talk about it. So I would just recommend not to be shy of showing work.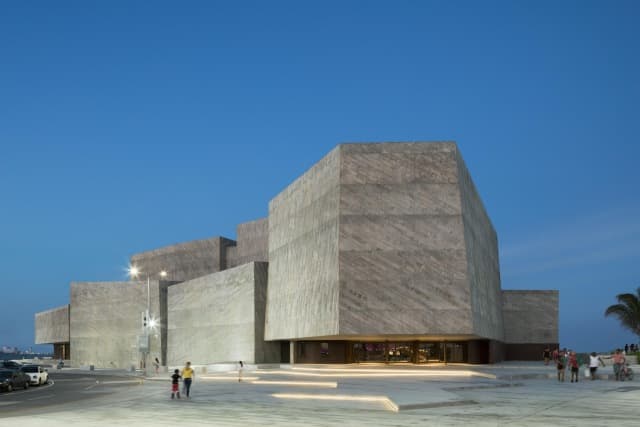 When I talk to my students, in the different schools that I've taught in architecture, I always say, remember that you're building architecture with your thoughts. You're building architecture with your words. You're building architecture—it doesn't have to always reach the physical aspect of blocks and bricks and concrete—that will get you there. But if you're building a dialogue, that starts creating a strong argument about the way you see life, they get to a very interesting place.
As I was explaining the memorial, nobody asked for that. So we're, I mean, now I have a team, I can do it with a couple of people from my office. But when I was working on my own, I would sit down and sketch in 3D and render it and then just show it so. So I think, right now, the response to what's happening, is needed everywhere. So designers in every part of the world have a great opportunity to show what can happen. How can we design something, which is not based on fear? How do we design something to come back to our basic needs not to consume less to engage better with the other to have a better relationship to nature? So all these concepts, how do you bring them down to projects? And how do you show one, and it doesn't have to be big projects.
I always encourage students to go and talk to somebody that has maybe a little bit of a plaza outside their building, and do something outside their building, if they want to engage people, or talk to somebody that you know, and take a sidewalk or a street in a block for a couple of hours and do something. If you're not out there pursuing something, nobody's going to go and knock on your door. Nobody, until you show a piece of your mind and, and how you see the world.
Because I think that at least what has gotten me… or why clients are coming to us to look for the company is because they're enjoying something of the way we see life or through our eyes. Another way we can engage the world through our eyes. And they come and ask us for that. They know that they're not only going to get a building, but they're going to get an experience within a building, which to me is more meaningful than just again, having this object that might look beautiful, but might not even do anything for the community and its surroundings.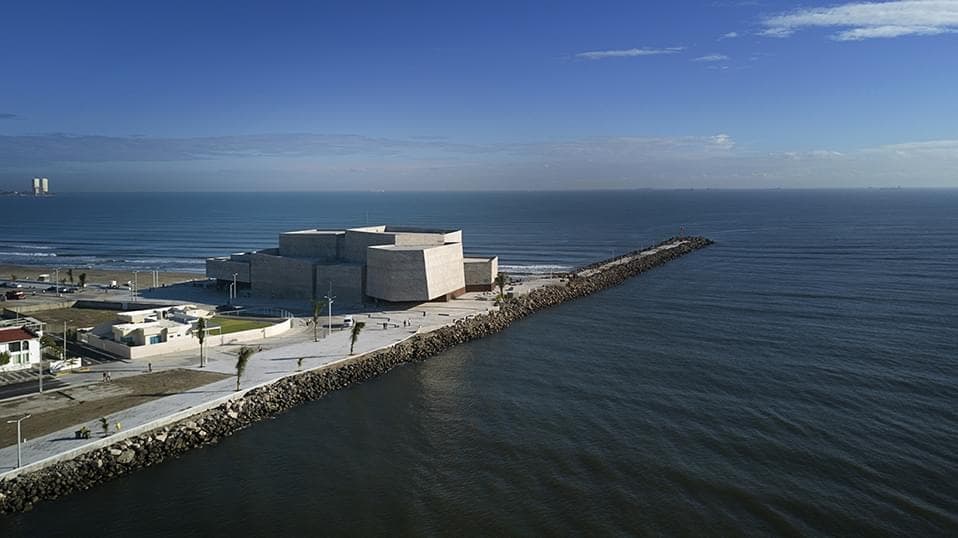 Martin: Yeah, I think that's that's good advice, and a good way to end. Michel, I love seeing you. I love talking to you. I miss you a lot, and I can't wait to see you again soon. So let's let's catch up soon, okay?
Michel: Perfect. Martin. Thank you very much, my friend. I gave lots of kisses to the family for sure. And hope to see you soon. Let me know whenever you can get a jump in New York or Mexico. After this month, back in Mexico. Okay. And thanks to you, thank you team as well.
So, I think what we can conclude with is this metaphor of a thread, one that has appeared in a lot of what Michel has shared. A thread that runs through his projects on all scales. A thread woven between the cultural spaces centered on social reconstruction that he is most known for and how he "jams'' with others as a collaborative approach. The thread is connection. It all comes back to connection.
Connection is how his ideas are conceived and evolved. Connection to all the collaborators. Connection to facilitate that social reconstruction. Connection to the communities these buildings take up residence in, with those same buildings providing spaces to create connection to the other, to one another. To quote Brene Brown, connection is why we are here. Thank you Michel for joining, for creating spaces that build connection, and thank you to all who listened! We will see you in two weeks.
Listen to more from Design and the City