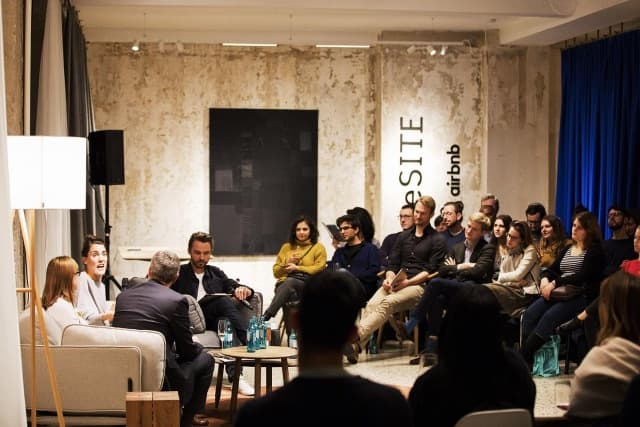 My City / Your City Salon in Berlin Draws a Full House
More than one hundred guests joined reSITE's first Salon in Berlin
"The city is a collection of strangers that facilitates the distance between us," we heard from the panelists of the first reSITE Salon in Berlin. The opposite happened during that night at the FvF Friends Space.
The moderator Lukas Feireiss together with three panelists with different backgrounds, the artist and critic Charlie Koolhaas, architect and curator Anna Scheuermann and landscape architect Martin Rein-Cano, discussed about good times and bad times in cities and whether we need to create a collective identity in cities. Several paradoxes and provocative thoughts were pointed out during the evening Salon, the first one that reSITE held in Berlin, and that was made possible thanks to Airbnb.
A city is a collection of strangers said Charlie Koolhaas, who stressed that many of us move to a city to gain anonymity, freedom and independance - not to be together. A city is a place of cultivated conflict. This definition was mentioned in relation to the influx of new residents and multicultural aspects, in critique of an urban reality that "looks like a Benetton advert." A city is a network. A city is people, not the place.

We have heard good recipes for good cities, from Martin Rein-Cano: "A mixed city is a very simple formula. Put social housing in the middle of rich housing, and bring public transportation. But, putting a high rise luxury condo next to the favela just for the view misses the mark."

The discussion was mostly concentrated around the question of whether we attempt to create a collective identity in cities. Sometimes we don't like each other, but that is also perfectly okay, said Anna Scheuermann who co-curated the Making Heimat exhibion. The mixture in a city is important. A mixed social strata. If all people were socially equal, that would be the biggest problem. On the other hand, the city is a network and social equity enables to create natural connections within that network.
Martin Rein-Cano thinks that good times in cities are the worst. In those times all the possibilities are cleaned up. The best moments for cities' evolution are moments of crisis. Different places have different moments, and Pyongyang, maybe in 20 years, without the shit system, will be a cool place full of hipsters. Cities are going through cycles of attractiveness and prosperity, and failures, and he was skeptical about how planners can influence that. And, who cares if cities and their residents are doing well. What's the point in criticizing it? Let them die rich.
Planners can create spaces that are not finished, Anna Scheuermann suggested a way how cities can involve people in their activities. Martin Rein-Cano argued that people, when they create, make spaces, they start feeling ownership. In other words, they don't want to share their fruits. They want to own what they made. Community gardens are the perfect example.
The best parts of a reSITE salon continue informally during the after party - where lots of lively discussions take place. This one was particularly fun in that sense. My City / Your City Salon No. 2 will take place in Prague. Stay tuned for updates.
Photographs © Tomas Princ, reSITE
#MyCityYourCity on Social