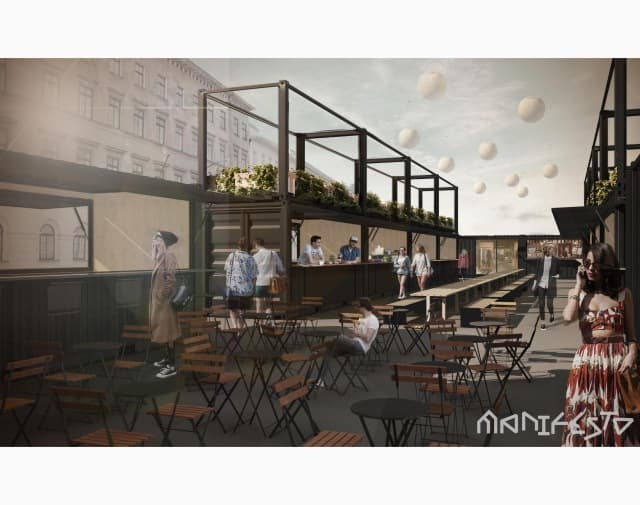 reSITE opens Manifesto Market
Starting June 8th, reSITE will show in practice how to match ideas and resources, to improve an unused part of the city and the urban environment.
Two-dozen shipping containers for art, education, gastro & entertainment. In the heart of Prague.
In the beginning, there was desire. To create a place where there wasn't one. Of great culture. Of great fun. Of great taste. Of food. Of drinks. Of learning. Of the future.
We dreamt of a place where people from all stripes could meet. Spend time together. Families. Visitors. Locals. Co-workers. See movies. Learn. Taste food from top chefs. Feast. Listen to music from top artists. Dance. Do it again.
Welcome to the first fully cashless place in Prague and one of the first in Europe. Welcome to the future.
The best of Prague all in one spot.
Manifesto creates opportunities to test new ideas, new design and new taste. A testing ground for startup culture and culinary experiences.
Prague's leading food purveyors, chefs, restaurants and design brands create a completely new cultural and culinary experience unlike any other in Prague. Taste a limited menu of high quality food, treats, the best coffee, wine and enjoy Czech beer from local microbrews.
The mission might be to revive an old dusty place in the heart of the city, but the method brings you the freshest content and coolest food you can find.
Whether you like films, art, design, music, clever new retail startups or a food festival atmosphere, Manifesto brings it to you.
More from reSITE's urban project, Manifesto Market