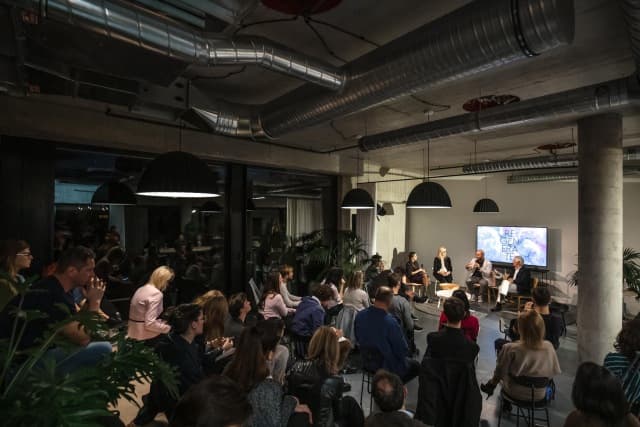 reSITE Salon: City of 2050
reSITE's salon series My City/Your City is back to bring you a conversation on what cities of 2050 will look like through intersection of architecture, urban design, and smart cities, addressing the existing challenges and undertaking a collective exercise in imagining the cities of the future.
The cities 30 years from now...
...Will continue to be places of human interaction but with the presence of technology rapidly transforming our lives, they will look and feel different from what they are today. Will the human experience and use of the city change and become more intuitive and fluent? Will the omnipresent technology ease our lives with rapid commutes, automated waste collections and increased citizen participation in decision-making? Will cities will be greener, streets more walkable and inclusive of other-than-human ecosystems?
Realizing this vision will require accommodating growing populations and responding to ongoing challenges involving resource scarcity, climate change, aging population, and rising socio-economic inequalities. This cannot be achieved with the current model of urbanization anchored in a culture of short-term economic benefit; urban sprawl, zoning, low share of public space and enhanced private car use.
Instead of investing in maintaining the past, can we systematically develop the city of 2050?
Nik Naudts a researcher and designer for Architecture Workroom Brussels. Since 2010, he has been working on a freelance basis. His projects are often small-scale but specific and change-oriented; they range from exploratory design of flood-resistant building blocks in New Orleans to sustainable recreational areas in the Netherlands. His work exemplifies how modest spatial interventions can serve as a part of an ambitious vision of the future.
Kevin Penalva-Halpin is an architect with expertise in urbanism and experience in advancing integrated spatial development strategies for neighborhoods, cities, and regions. His academic and professional career is split between Barcelona, Paris, Rotterdam, and Brussels. Since 2011, he's been a member of BUUR, one of the leading urbanist initiatives in Belgium. As its member, he collaborated on complex urban projects in Brussels and across Flanders, including the award-winning Regionet Leuven project.
Andrea Ćirlićová is a senior advisor for Smart Cities agenda at EY Czech Republic, focusing on the Mobility-Energy-Urban Space triangle and the measurement of smartness. Prior to her current position, she pursued a career in the gas industry for 12 years working in the area of European market integration.
Michaela Horáková is a Prague-based architect who founded the award-winning mh architects studio in 2015. Her studio specializes in family homes, commercial and public space developments. Michaela also launched the project FocusOn, which is an informative platform consisting of architecture related podcasts and videos of interviews with inspirational guests.
My City/Your City: City of 2050 takes place on March 4th, 2020 in Prague
Want to join? Please RSVP
Organized in collaboration with Flanders, State of Art and the Belgium embassy. The salon and discussion will be held in english, and moderated by Michaela Horáková with a welcome address delivered by reSITE founder, Martin Barry. You can look forward to a cocktail hour and networking after the discussion.
Date: 4th March, 2020
Time: 18:30
Venue: reSITE Office, DRN
Národní 135/14
Entrance D - 6th Floor
110 00 Prague-Staré Město
Can't make it? Follow along on our social media channels
More ideas on building our future cities from reSITE