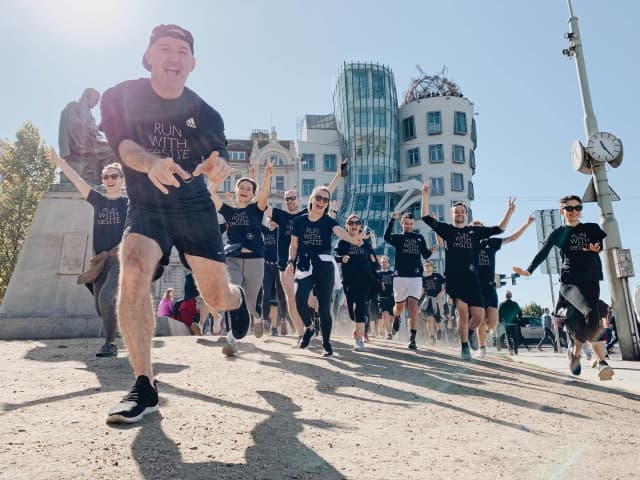 Run Your City, Run with reSITE
RUN with reSITE (or walk), remotely-together through our cities! You can join WHEREVER you are.
RUN with us, wherever you are!
Join us Sunday June 21st, 2020 as we gather to run through the city, see its memorable sites, cross riverfronts, parks and view points. Run with reSITE was inspired by reSITE speaker and architect Michel Rojkind's passion, and has become a tradition as the last event during our annual reSITE conference.
Since COVID-19 has changed everyone's 2020 plans, we want to keep the torch aflame with a collective run to make you feel good! In the lead-up to our annual reSITE 2020 event, let's gather to run!
Michel Rojkind on running with reSITE
If you join in Prague, we will roam the city on foot, get a little oxygen and plenty of views. Our run will be a 6 km route with stops along the way to learn about some of Prague's iconic landmarks, statues and other public art that gives the city life, ending at Manifesto Smichov. Find your own pace. Bring a friend, or make some on the way.
You can enjoy freedom and autonomy and pick your favorite route. Run alone or connect with your neighbors or colleagues. We'll send you a digital DIY tag for your shirt. After registration, you will get access to a closed group with one channel for each city. You can connect digitally before running together.
Join us on Sunday, 21st of June!
Nothing about this year has been normal. But we do see it as a chance to recalibrate, aiming closer to what's important. We've deliberated on how to continue connecting city-makers in the midst of a pandemic and we still believe in the power of coming together.
We are cooking up some ideas behind the scenes of how to make reSITE 2020 a reality. In the meantime, join our newsletter and be the first to know when dates are announced. Stay tuned.
Read the latest from reSITE