The reSITE 2019 REGENERATE program is complete!
Get excited for reSITE 2019, check out our awesome roster of inspiring speakers and read up on the regenerative discussions we will have! Join us this September 19-20 for another incredible event and be apart of the conversation on urban regeneration.
Come for the thought-provoking content. Stay for the parties, breakfasts, happy hours, yoga sessions, gorgeous cityscape, and opportunities to network, connect and make sh*t happen!
When we talk about regenerating cities, the unspoken question is: who are we regenerating them for? Are we taking value from residents and giving it to someone else? Or are we sharing the gains fairly? There's no such thing as a blank slate. Explore the essential questions we will address at reSITE 2019, curated by Greg Lindsay.
We've already detailed a few of the new features we will be offering this year, giving you plenty of opportunities to mingle, connect and get inspired.
Our Live Mic Stage powered by Shared Cities will get you up close with Yosuke Hayano, Bianca Wylie, Ravi Naidoo, Eva Jiřičná and more. Or, join afternoon breakout sessions and get your hands dirty. Other social extracurriculars will get you energized and engaged with morning yoga, or take you on a jog through Prague, plus the usual parties and happy hours. Stay tuned for how to sign-up.
This year, we have another boundary-pushing line-up on the Main Stage. Read more about what you can expect from each thematic session and catch the full program lineup.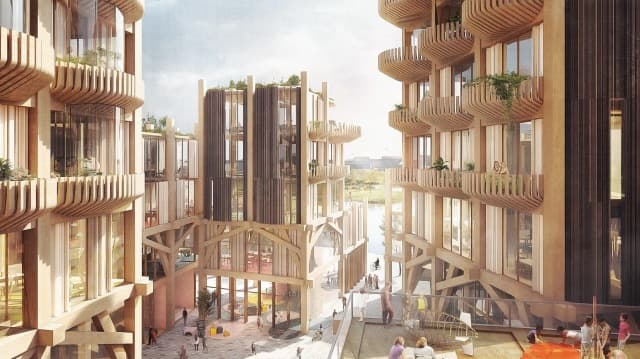 Are "smart cities" really about building better cities, or different aims completely?
For a decade, "smart cities" have been an article of faith in urban regeneration. Build a new district, just add sensors and cameras, then profit from the data collected from residents. But resistance to this model is building. In Toronto, Alphabet's Sidewalk Labs has met stiff opposition to its plans to build a private city-within-the-city. Meanwhile, in the Netherlands, the Brainport Smart District is pursuing a different approach in which residents own and control their data. Added into the mix - the company more governments turn to than any architecture or technology firm to design their smart cities. Are "smart cities" really about building better cities, or different aims completely?
How can East and West learn from each other in order to revitalize themselves?
Frequently seen as the world's biggest construction site, China's urban boom is now old enough that many of its cities are in need of regeneration themselves. How do we fix the mistakes of the world's longest, most furious building boom? Conversely, Eastern money and migrants are proving essential to the revitalization of Western cities, with unintended consequences of their own. How can East and West learn from each other in order to revitalize themselves?
How can we re-wild our cities?
In contrast to cities, natural ecosystems are perceived as self-regulating and self-healing, able to regenerate themselves after disasters. What can the urban world learn from nature — to which it is typically seen as being opposed — and how can we "rewild" our cities? From renewable energy to biomimicry to new types of infrastructure designed to co-exist (rather than resist) nature, how will we regenerate our cities in the Anthropocene Era?
Don't miss out on one of the most innovative, engaging and program-driven urbanism events in Europe!
How do we make a place urban long before the foundations are dug?
Urban mega-redevelopment projects are typically fraught, all-too-often producing sterile, cookie-cutter districts or stalling during economic downturns. What have we learned about the near-impossible⁠—and absolutely necessary⁠—the art of building new pieces of cities from scratch? How do we make a place urban long before the foundations are dug? And what stories do they tell about the cities they belong to?
How can we create arts-led regeneration that doesn't lead to gentrification?
Artists have played an outsized role in the mythology of urban revitalization. Seen as pioneers willing to live and work cheaply where others refuse. Inadvertently, they colonize neighborhoods for the creative class who follow closely behind. Still, artists retain power and toolset to transform the neighborhoods around them. How can we create a new kind of arts-led regeneration that doesn't lead to gentrification and displacement? And how can we encourage residents to re-make the city with them?
How will we regenerate cities for future generations?
"Old people in cities, frightened of the sky." That's the future according to science-fiction author Bruce Sterling. Urbanization, aging, inequality and climate change have conspired to push housing prices out of reach for many young people, while their parents struggle to maintain suburban homes that cannot be sustained once they are gone.
Hear from desginer + founder of Heatherwick Studios, Thomas Heatherwick (on September 19th at 15:20) plus MAD Architects principal, Yosuke Hayano (on September 20th at 9:45), and Design Indaba founder, Ravi Naidoo (on September 19th at 9:45) - all boundary pushing architects and designers creating some of the most stunning, game-changing and thought-provoking work of our generation.
Hear them share their work and experience both on our 360-degree main stage and get up close and personal on the live mic stage - only at REGENERATE.
Don't miss out on the urbanism event of the year!
Read more from reSITE 2019 REGENERATE