Kateryna Butskhrikidze
Communications Intern
Kyiv (UA)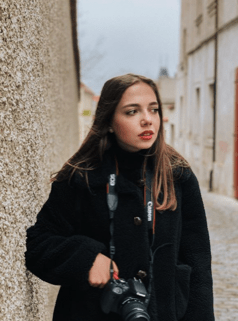 Born and bred in Kyiv, Kateryna is currently an M.A. student of International Relations and Diplomacy at the Anglo-American University in Prague. During her undergrad studies in Journalism, she choose Prague as the main character for her thesis project. What was supposed to be a one-week trip for filmmaking, turned into a long-time perspective and fascination with the city's quality of life and architecture, ultimately becoming her final destination.
Driven by an insatiable curiosity about different cultures, Kateryna dedicates her spare time to exploring different countries around the world. Currently, she has visited 28 of them, and subsequently, countless cities. She attentively observed how some of them are better equipped to provide comfortable living conditions for their citizens, whereas others are still in need of improvement. From this, her interest in how cities are managed and structured, blossomed leading her to join the reSITE team as a Communications Intern.
Support Us
Inspired yet?
We have more to offer
We can connect you to our thought leaders, write stories, shoot short films, or initiate a global discourse on the future city.
As a nonprofit organization, this is only possible with the generous support from corporate sponsors and our exclusive network of architecture and city lovers with a Friends of reSITE membership.