Lisa Diedrich
Editor in Chief (SCAPE Magazine of Landscape Architecture and Urbanism)
Munich, DE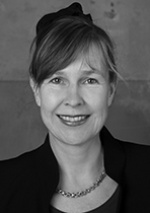 Lisa Diedrich, Prof. Dipl.-Ing. Arch., born 1965 in Minden (Germany), studied architecture and urbanism in Paris, Marseille and Stuttgart, science journalism in Berlin, and became a specialist for contemporary European landscape architecture. From 1993 to 2000 she was an editor of Topos European Landscape Magazine. From 2000 to 2006 she worked as a consultant to Munich's chief architect at the city's public construction department. Since 2007 she has been dedicating her career to academia, from 2008 to 2011 as an adjunct professor at the School of Design, Queensland University of Technology in Brisbane, currently as a PhD Fellow at the Centre for Forest and Landscape, University of Copenhagen. In 2012 she takes over the position of a professor for landscape architecture at the Swedish University of Agricultural Sciences in Alnarp/ Malmö. Since 2006, she has also been running her own consultancy in Munich, working inter alia as the editor-in-chief of the book series Landscape Architecture Europe (Fieldwork 2006/ On Site 2009/ In Touch 2012) and of 'scape the international magazine for landscape architecture and urbanism.
Support Us
Inspired yet?
We have more to offer
We can connect you to our thought leaders, write stories, shoot short films, or initiate a global discourse on the future city.
As a nonprofit organization, this is only possible with the generous support from corporate sponsors and our exclusive network of architecture and city lovers with a Friends of reSITE membership.