Paulo Soeiro de Carvalho
General Manager (Economy + Innovation, Lisbon City Council)
Lisabon, PT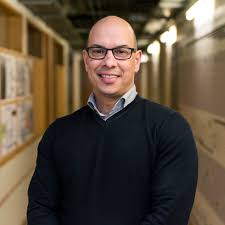 Paulo Soeiro de Carvalho je v současnosti generálním ředitelem pro ekonomiku a inovace na městském úřadě v Lisabonu. Na radnici odpovídá za ekonomiku a investice, podnikání, inovace a znalosti, strategické klastry a zaměstnanost.
Paulo Soeiro de Carvalho je výzkumník a odborník na oblast projekcí, strategie a inovací. V těchto oborech má více než patnáctiletou praxi jako poradce, vyučující a školitel.
Pracoval na konzultačních projektech v oblasti projekcí, plánování scénářů, strategie a inovací s veřejnými a soukromými organizacemi v různých oborech včetně telekomunikací, elektroniky, softwaru a cestovního ruchu. Koordinoval a usměrňoval projekty zaměřené na změnu a inovace v různých typech společností působících v průmyslu a ve službách.
V posledních letech se velmi aktivně věnuje akademickým a školicím činnostem v oblasti projekcí a plánování scénářů, strategie a konkurenceschopnosti, a to včetně koncipování a vědecké koordinace postgraduálních manažerských programů "Projekce, strategie a inovace", "Plánování scénářů a strategická agilita" a "Strategie a leadership" na Lisabonské škole managementu a ekonomiky (ISEG) v rámci Lisabonské univerzity.
Paulo se narodil roku 1969 v Lisabonu. Na Univerzitě Jeana Moulina (Lyon 3) získal doktorát manažerských věd s dizertací nazvanou "Scénáře jako nástroj poskytující kontext a smysl slabým signálům v procesu konkurenční inteligence". V roce 1994 vystudoval na ISEG ekonomii, v roce 1997 získal rovněž na ISEG magisterský titul z oboru ekonomie a management vědy a technologií, a v roce 1998 na Portugalském institutu pro finanční a fiskální studia získal další magisterský titul v oboru projekce a strategie.
Support Us
Inspired yet?
We have more to offer
We can connect you to our thought leaders, write stories, shoot short films, or initiate a global discourse on the future city.
As a nonprofit organization, this is only possible with the generous support from corporate sponsors and our exclusive network of architecture and city lovers with a Friends of reSITE membership.