Petra Havelská
Partner (Marko & Place Makers)
London, UK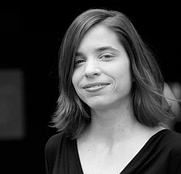 Petra Havelska is a London based architect and communicator with a breadth of experience in architecture, public realm and design management. Her interest in becoming facilitator of good quality built environment and a mediator between architecture and other professions led her to complete an mA in Creative Entrepreneurship (Goldsmiths, University of London) complement- ing her architecture education (MA, TU Wien) with an understanding of business and communication. Petra joined the core team of Marko & Placemakers after several years of successful collaborations including proposals for urban landscaping in Kiev and strategy for Irwell River Park in manchester. She has been a contributor, curator and coordinator of a number of initiatives promoting the value of public space including London Festival of Architecture, Urban Transcripts and CANactions Kiev. She is the author of Together Alone. Architecture and Collaboration - a book of dialogues exploring the future role of the architect.
Support Us
Inspired yet?
We have more to offer
We can connect you to our thought leaders, write stories, shoot short films, or initiate a global discourse on the future city.
As a nonprofit organization, this is only possible with the generous support from corporate sponsors and our exclusive network of architecture and city lovers with a Friends of reSITE membership.