Sen̓áḵw
Squamish Nation
Vancouver, CA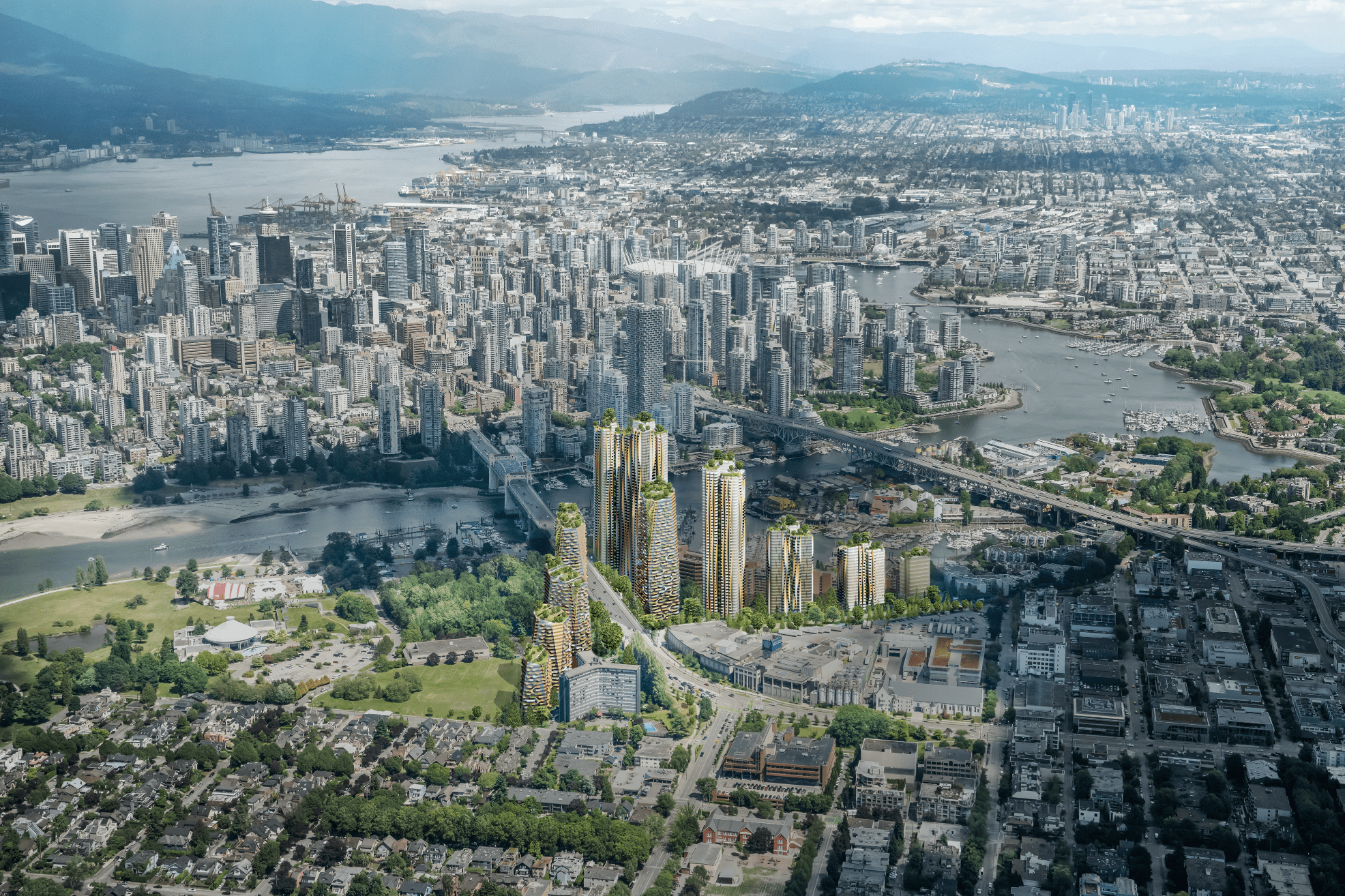 History of Sen̓áḵw
Long before the arrival of the European se4lers in the Vancouver area in 1791, Squamish ancestors had a village at Sen̓áḵw . Every year, the families form upper Squamish villages would travel down to Sen̓áḵw, where the lands and waters were ideal for fishing, hunting, and harvesting traditional resources. There was an abundance of elk, beaver, deer, salmon, duck, cedar, and more. The people built longhouses and brought neighboring tribes together for potlatches. Senakw was an important hub for trade, commerce, social relationships, and cultural practices.

As the area around Sen̓áḵw began to develop, portions of the reserve lands were expropriated, including over 3.5 acres for railways in 1886 and another 7 acres for railways in 1901. In the years that followed, there was a great deal of industrial expansion in False Creek along with mounting pressure for the residents of Sen̓áḵw to vacate their land. In 1913, the Government of British Columbia forced the illegal surrender of the lands. Families at Sen̓áḵw were loaded onto a barge, along with all their personal belongings, and towed across the inlet to other Squamish reserves. All residents were removed from the land and homes with nobody permi4ed to remain at Sen̓áḵw.
Sen̓áḵw Today
Beginning in the late 1960s and continuing through the '70s, Chiefs and Council of the Squamish NaFon prepared a court case to pursue the reclamation of IR No.6. (Indian Reserve No. 6) which they launched against the federal government in 1977 as the Omnibus Trust AcFon. Over many years, the Squamish people, Council and leaders—including the late Chief Joe Mathias and the late Andy Paull—dedicated their lives to reaching a se4lement to these claims. Finally, in 2003, the Squamish NaFon officially won back the rights to their land at Sen̓áḵw.
Vision
At its core, this project aims to become a legacy for the Squamish Navon. With a unique, long-term partnership, the Squamish NaFon and Westbank seek to form a transformative and exemplary model for 21st-century reconciliation. With the Sen̓áḵw project, their collective/shared goals will be to provide a significant contribution of rental and affordable housing stock to the region, employment opportunities for the Squamish people at every stage of the process, and to incorporate deep reductions in carbon emissions and sustainability practices.
Proposed Development
Situated on a 10.48-acre site on the waterfront in Kitsilano directly across from Downtown Vancouver, the proposed mixed-use development seeks to provide a gross building area of up to 4.0 million square feet which includes 11 high-rise residential buildings housing 6,000 units. In addition, there will be ground-level commercial areas above a two-level underground parkade. Publicly accessible greenscapes and outdoor recreation facilities will support the active and inclusive experience at Sen̓áḵw.
Urban Design Approach
As a homecoming for the Squamish NaFon, the concept for Sen̓áḵw is a 'celebration of the Land' – an urban gesture promoting porosity and connectivity with functional landscapes, commercial and recreational activity, and arFsFc interventions that seek to enrich the natural and cultural context of the site. Aligned with the inherent values of the Squamish NaFon, the project will demonstrate climate leadership on a global scale through a holistic vision that blends the environmental, economic, social, and cultural drivers of sustainability.
Support Us
Inspired yet?
We have more to offer
We can connect you to our thought leaders, write stories, shoot short films, or initiate a global discourse on the future city.
As a nonprofit organization, this is only possible with the generous support from corporate sponsors and our exclusive network of architecture and city lovers with a Friends of reSITE membership.