Veronika Bednářová
Journalist, Reporter / Lidové noviny
Prague (CZ)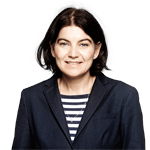 Veronika Bednářová is a senior culture reporter for the Czech daily paper Lidové noviny, a Czech subsidiary of the German publishing house. Between 2001-2010, she worked as an international reporter for the contemporary Czech cultural and international affairs magazine REFLEX, published by the Swiss company Ringier. After receiving her Master's Degree in Film and Theatre Studies from Charles University in Prague, Bednářová spent two years (1999-2001) at New York University in New York as a Fulbright Scholar earning a Master's degree in Arts Management. While there, she also worked for the Lincoln Center of the Performing Arts. Bednářová specializes in cultural and foreign affairs. She was awarded the 1st Ringier 2002 Award for the Best Cover Story of the Year for covering the 9/11 events in New York, and the 1st Ringier 2005 and 2009 Awards for covering the AIDS epidemic in Africa. During her career, Bednářová has also interviewed many internationally known personalities (Madeleine Albright, Frederik Willem de Klerk, Robert De Niro, Robert Redford, Morgan Freeman, Milos Forman, and many others). Since 2002, she has been holding a position as an editor-in-chief of the Czech-English Festival Dailies at the annual International Film Festival in Karlovy Vary. In 2006, she published a book of her successful reportages, My American Beauty.
Support Us
Inspired yet?
We have more to offer
We can connect you to our thought leaders, write stories, shoot short films, or initiate a global discourse on the future city.
As a nonprofit organization, this is only possible with the generous support from corporate sponsors and our exclusive network of architecture and city lovers with a Friends of reSITE membership.