An alternative Christmas and winter market in the heart of Prague. reSITE's gastro and cultural market changing the holiday markets scene. 20 bistros, 50 design brands, djs, music, special experience.
Christmas Cashless Market
Open Nov 22-Dec 23 Thu-Sun
A container village for art, design, food, education & entertainment. In the heart of Prague: Since the opening night, Prague's Manifesto Market becomes the new food and culture magnet in the Czech capital.
Top-rated for its Christmas markets and magical atmosphere, this coming holiday season Prague will offer a rare and brand new experience for visitors with Manifesto Winter Market, custom made for families, design and artisanal product lovers, and top quality food. The Manifesto Winter Market will become an alternative counterpart to the ordinary Christmas markets found in the city, a remarkable addition to the allure of this magical city during the holiday season.
Manifesto, located on a former wasteland in the heart of Prague and ointing to the Founder's penchant for the future city and international flare, the market is completely cashless. Founded by the design-focused nonprofit organization, reSITE, envisioned by its Founder Martin Barry, and designed by a trio of young female architects, Manifesto is built by 27 containers.
Manifesto is not a typical marketplace or food hall. In an intimately designed and comfortable place, the curators make cuisine from white table cloth restaurants accessible at street food prices. The seasonal free cultural program presents top local DJs, live music, carolers and cooking classes.
No less inspiring, Manifesto has revived a forgotten corner and "no go zone" in the very center of Prague, to bring locals in contact with visitors, businesswo/men and hipsers. Two dozen top local purveyors, restaurants, chefs and Czech microbreweries offer special menus that cannot be found elsewhere in the city.
Manifesto is a truly collaborative project, connecting good ideas with resources, and was initiated by the founder of the non-profit organization reSITE, Martin Barry, in collaboration with local cultural powerhouse, Aerofilms. Penta Real Estate lent the former brownfield as they await the permanent redevelopment designed by Zaha Hadid Architects. Manifesto Market is the first fully cashless place in the Czech Republic and one of the first in Central Europe, thanks to a partnership with Mastercard. Another private partner is the design brand mmcité.
In the beginning, there was desire. To create a place where there wasn't one. Of great culture. Of great fun. Of great taste. Of food. Of drinks. Of learning. Of the future. We dreamt of a place where people from all stripes could meet. Spend time together. Families. Visitors. Locals. Co-workers. See movies. Learn. Taste food from top chefs. Feast. Listen to music from top artists. Dance. Do it again. Manifesto is the first fully cashless place in Prague and one of the first in Europe. Welcome to the future. Manifesto Market.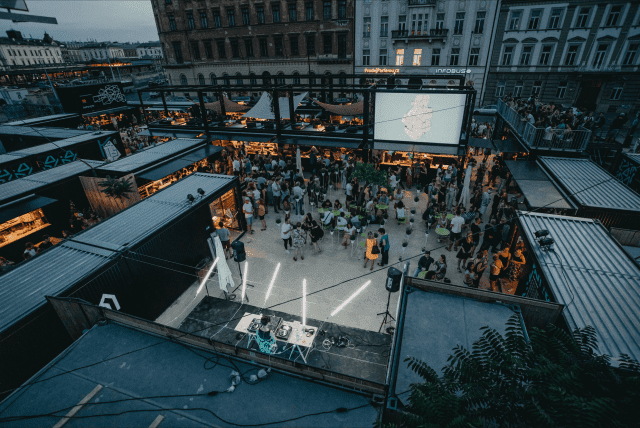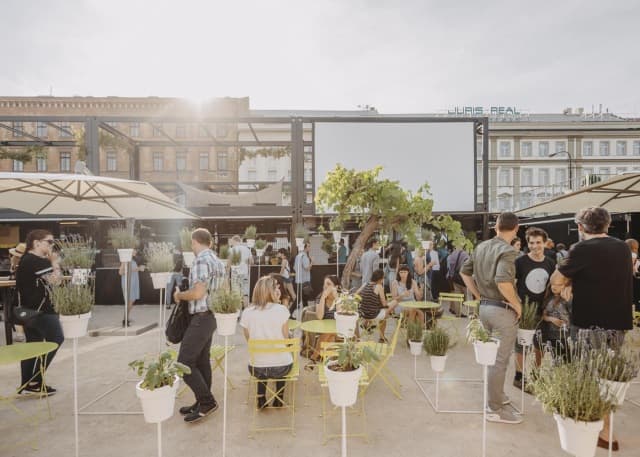 "We will continue allow people to enjoy outdoor spaces in the city during every season and bring people together. That's one of our missions at Manifesto. Our main attraction will be special transparent heated bubbles which some visitors might have experienced in London and NYC's rooftop cafés. Because it's colder, we have changed the experience to enjoy the city just like we can in Quebec or Paris under the warm glow of infrared heaters and fires. This fall or winter, you won't need to go to Krkonose mountains or the Alps to roast a sausage on an open fireplace. You can do it with us at Manifesto.
Evaluating the first 5 months of existence of Manifesto that opened on June 8th, 2018, everything has come together beyond our dreams. The place is buzzing with interesting stories and life since the very first night. Everyday, we welcome a very diverse cross section of visitors – as many locals as foreigners – and we counted more than 25 nationalities working at Manifesto. All those people are crucial to making a now landmark destination in Prague, which came together seemingly overnight."
Martin Barry, Manifesto's Founder and the Chairman of reSITE.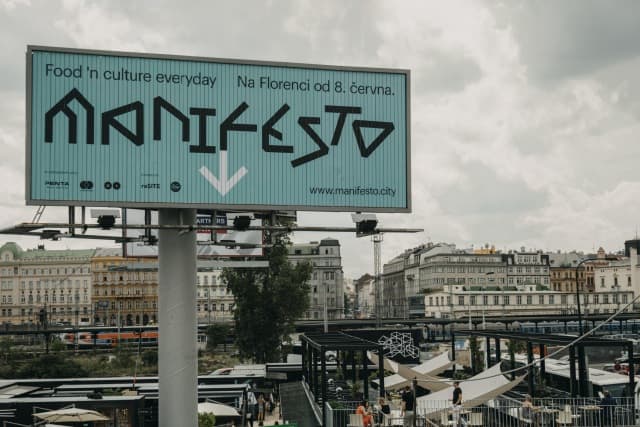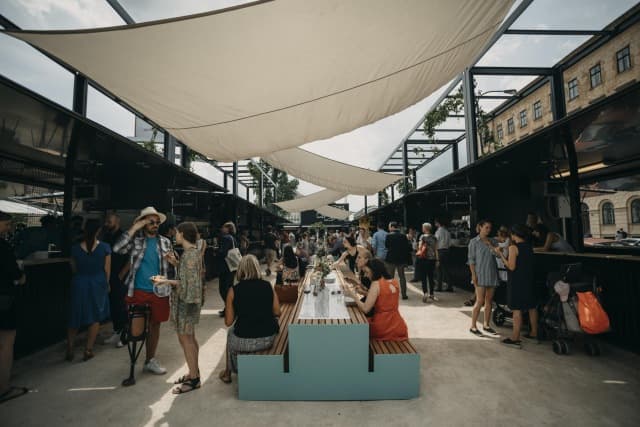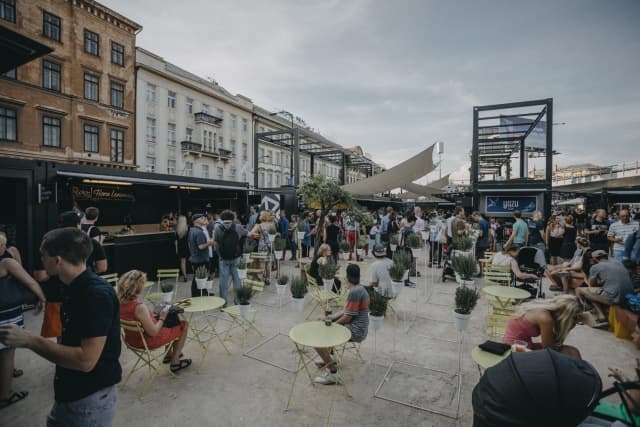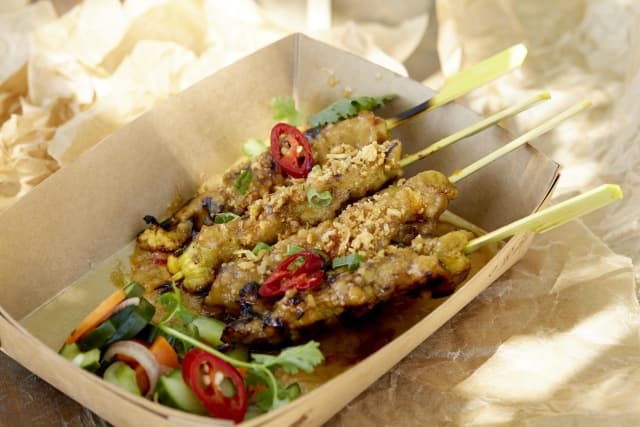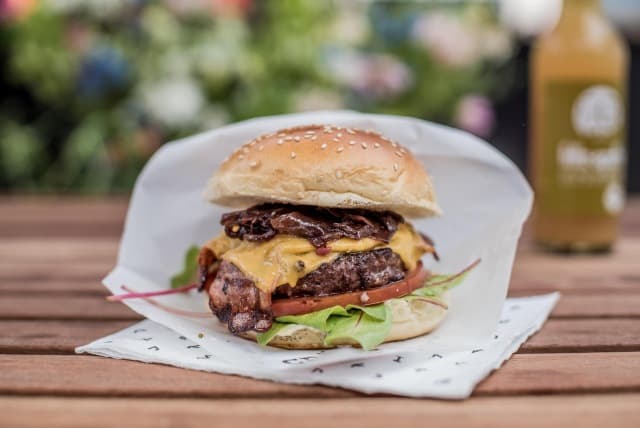 #manifestomarket
#manifestoprague
Follow @manifesto.market
Share you photos, ideas and tips! Have fun!
Manifesto Market
Na Florenci, Prague 1
---
You can find us in Prague 1 between Florenc Bus Station and Masarykovo nádraží (Masaryk Railway Station). Under the billboards.
7-minute walk from Palladium
3-minute walk from Florentinum
---
3-minute walk from Náměstí Republiky station (Metro B, trams 6, 8, 15, 26)
5-minute walk from Florenc Station (Metro B and C)
7-minute walk from Bílá labuť tram stop (trams 3, 8, 14, 24)
7-minute walk from Palladium
3-minute walk from Florentinum
---
No, we don't recommend this option.
Sign-up to get your monthly portion of good news, invites and exclusive offers