Architecture in Times of Climate Change
reSITE founder Martin Barry gives some insight on making greener cities in times of climate change in this interview with Kateřina Menzelová for Česká Pozice. Photo | studio schicketanz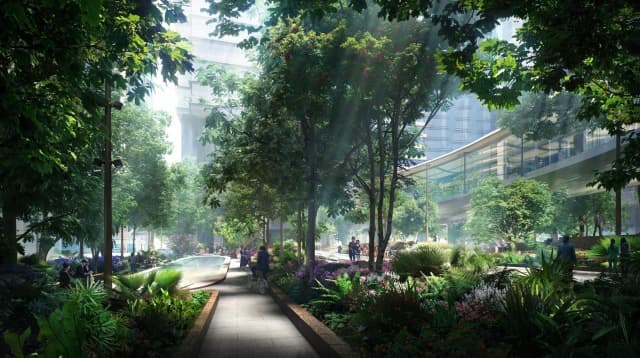 As temperatures increase, some developers react by installing air condition or air recuperation to their projects. How will climate change influence the way we construct housing? What can be done to make the climate more pleasant in cities?
The principles of so-called "green architecture" will continue to impact our cities' residential buildings. We will see more green roofs, green facades such as Forest Towers by Stefano Boeri in Milan or Oasia Hotel in Singapore by WOHA, and tree-lined streets in order to protect homes and streets from the urban heat island effect, which can see temperatures in the heart of cities rise about 15F (9C +/-) higher than those in the countryside.
Green roofs are very effective at reducing the heat load of a building, and insulating the cooler air from escaping. The City of Copenhagen now requires that all flat roofs (or those under 30 degrees) are vegetated. Why? It helps cool the city and saves the building owners on OPEX.
Traditional practices relative to orienting the building windows against direct afternoon sun, and for maximum cross ventilation are more important now than ever. Artificially intelligent shading devices will also help, as recently built in the Al Bahar towers in Abu Dhabi.
Related Talk: Watch Michael Kimmelman
Any strategies cities should think about?
Cities can take very specific actions to curb the use of fossil fuel by changing transportation and mobility patterns, which of course contributes to climate change and the high temperatures we experience in cities. Stockholm is determined to be a fossil fuel free city by 2040, which has spurred huge investments in electro mobility, car sharing and bike sharing. Copenhagen has created Europe's first carbon neutral zone in order to put a cap on CO2 release into the atmosphere. Adequate green space and the right ratio of trees also help reduce urban temperatures by nearly 3.6 C, with more dramatic temperature decreases in parks and heavily planted streets. This can also save millions of lives in cities by reducing the fine particles in the air, allowing us to breathe easier. Finally, it has financial benefits to owners. Real estate in the heart of cities that is adjacent to green space, or on green streets, are valued at 20% or more than those not abutting or adjacent to parks.
Erion Veliaj: Inspiration from Tirana
What technologies will become a usual part of our homes?
Artificial intelligence. It will be built-into our homes to help us control the temperature, cook our food, clean the house and shade the windows.
We have two robots in our home now, and I expect we would have a lot more if we lived in Asia or America. A few weeks ago, while on a flight back to Prague we turned on our robotic vacuum cleaner so we'd have clean floors when we got home. We also use our Google Home device for answering some questions and playing music. In other countries, where the device is better connected to local services - one could order their groceries, or anything they want, simply by asking their device for it.
My family regulates the temperate and monitors security remotely in real time at our family house in New York. In Japan, the toilet and bath/shower room has been "smart" and fully automated since the 1990s, allowing homeowners to turn the bath on remotely at their desired temperature, and have the entire toilet room self-clean and dry itself with powerful hot dryers. It's one of my favorite features in Japan.
Piaggo Group Italy is now developing a robot "caddy" that will follow-us around the city to carry the stuff we don't have enough hands for. These kinds of devices will continue to be more "fringe," but the built-in intelligence that we don't really see will ease our quality of life in ways we might like. Our vacuum has been a game changer in keeping a clean floor with minimal effort, for example.
reSITE Small Talk with James Corner
Will climate change increase the building costs?
Yes, it already is. The costs are increasing all the way down the supply chain because of scarcity of resources and impacts of climate change on fossil fuel policies. All of the things I've mentioned will increase the cost of building, but on the other hand some costs will be reduced as we innovate the way we construct buildings with 3D printed materials and structural systems. The construction industry is perhaps the slowest to innovate amongst all industries so I expect big changes in the coming 20 years to deal with disruptors.
Watch more talks from reSITE