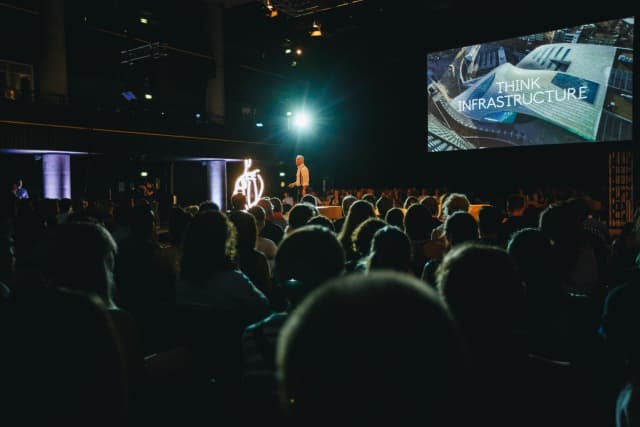 "The Future of Cities Depends on Inno&shyvative Infrastruc&shyture" Conclu&shyded reSITE 2017
The sustainability of our future relies on data sharing, new models of private-public partnerships, quality open space, innovation and soft infrastructure that allow for innovation and creativity.
The Future of Cities Depends on Innovative Infrastructure
The sustainability of our future relies on data sharing, new models of private-public partnerships, quality open space, innovation and soft infrastructure, namely the social networks, human talent and cultural platforms that allow for innovation and creativity. Kazuyo Sejima from SANAA, Deputy Mayor of Paris Jean-Louis Missika and the inspiring and visionary architect Winy Maas, MVRDV, discussed how to improve the quality of life for the next generation, in front of over one thousand visitors at reSITE 2017 in Prague.
Although focused on infrastructure, the conversation wasn't limited to concrete and tubes. We need to invest in green infrastructure, flexible design and multifunctional transit hubs in order to feed the creative and cultural sector that makes our cities alive and magnetic.
Big Impacts of Small Planning
Martin Barry's emotional opening address defined reSITE's sixth event as a generational statement. Paraphrasing Michael Bloomberg, Barry demanded that: "Cities need to be cool, competitive and in control — the infrastructure topic is mainly about controlling our future."
The Mayor of Paris' right hand Jean-Louis Missika presented one of the most ambitious urban projects of the 21st century, Réinventer Paris. He said that the future is driven by local authorities, small-scale projects and innovation. He highlighted the importance of putting the user at the center of the process and how disruptive, temporary architecture can generate excitement and other productive activities. An ambassador of sharing, he stated:
Rui Ramos-Pinto Coelho from Invest Lisboa considers soft infrastructure the most complex part in developing a city. His presentation took place during the discussion panel called "Infrastructure as Catalyst of Urban Development" at reSITE 2017 In/visible City conference.
The importance of collaboration and innovation was highlighted across all presentations. The private, public and civic sector need to come together to be bold in order to tackle the challenges of the future. The point was made repeatedly that there is no other alternative.
Innovation, Flexibility and Multi-functionality
Kazuyo Sejima, the event's most highly anticipated guest from Tokyo-based SANAA walked the fascinated audience through her most recent projects — the word "buildings" doesn't seem fit to describe her architecture when speaking of places like the Lausanne Rolex learning center, Grace farms and Louvre-Lens.
Dutch architect and infrastructure expert Caroline Bos from UNStudio went beyond the sustainability concept when she spoke about cities that have to be future-proof.
A city with a circular mobility system can replace excess infrastructure with housing and green spaces — this is her advice on how to deal with the legacy from the past, converting it to create a better path for the future.
Why Dreaming is Important!
Dutch superstars were on full display at reSITE. Winy Maas brought the audience to a dream-like state, stressing the big picture and connections that have peripheral and catalytic impacts — those that are physical as well as social and economic.
Maas went seamlessly between architecture dreams and fantasy to reality. A seemingly simple thing like his external staircase at Stationsplein, outside Rotterdam Central Station had an activating, unpredictable impact that they couldn't imagine. Infrastructure is activating not only mobility, but also a destination. This is why dreaming is extremely important as projects can take 5 to 7 years to come to fruition. Winy Maas underlined that architects cannot stay out of political questions. Politics is making cities and we need to engage in that — urban policy and politics are the new democracy. During the final keynote lecture, Teddy Cruz inspired the (still) full audience to think of the city as "a political project".