Marianthi Tatari on High-Tech, Human-Centered Cities
Associate Director and Senior Architect for UNStudio, Marianthi Tatari, says that technology is the driving force behind the design for uncertainty and the future of our cities.
Technology is the ever-evolving variable changing our cities. From more efficient management of resources to сreation of safe, sustainable environments for improved quality of life, technology is here to stay. Parking lots with sensors that notify drivers of free space; street lighting that starts to work with the appearance of the passersby; apps that signal in case of emergency or allow you to obtain a license to establish a business. Smart cities are nothing new, and when integrated into existing infrastructure, it has the potential to raise the floor on our shared quality of life.
Marianthi Tatari on Building the Smartest City in the World
Building with the future in mind is at the core for UNStudio's projects. This knowledge-driven architecture and design practice is well-known for their novel applications of innovative technology and methods in architecture, design, urban development, and infrastructural projects.
Founded by Ben van Berkel and Caroline Bos in 1988, it has now evolved into an international architectural design network, engaging designers and architects from 27 countries, with offices Amsterdam, Frankfurt, Shanghai, and Hong Kong.
Their iconic Erasmusbrug (Erasmus Bridge) and Arnhem Central Station were designed to to create real-life integration solutions for what was challenging their respective environments. Marianthi and her colleagues from UNStudio look at smart cities with optimism, believing that technology will improve our lives, the way we live, work, move, and learn. To bridge the gap between architecture and technology to create human-centered cities, UNStudio founded arch-tech daughter company, UNSense.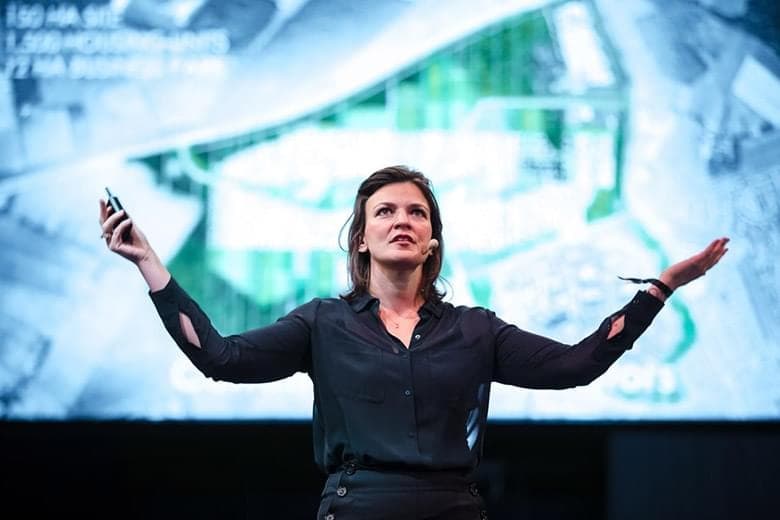 At reSITE REGENERATE, Marianthi Tatari, presented UNStudio's smart-city integration used an ongoing UNSense project, the Brainport Smart District in Helmond, Netherlands. Crowned as the "smartest city in the world" where residents produce their own resources, control the use of their data, and aim to eventually become its own economy.
The studio's vision is to create a circular district with 1500 housing units, where all residents are encouraged to participate in the kind of communal way to the shared systems of energy, production, and mobility. Marianthi noted that technology will be used there to create efficiency within the buildings, the landscape, and the public space.
Listen: Marianthi Tatari on Designing Human-Centered Smart Cities
100 Homes for Helmond- another innovative project within the smart district, is a real-life urban lab, examining how digital data can be utilized for the creation of the ultimate living environment while enabling the residents to take control of their own data. The living environment in this project consists of three layers. "The physical layer, which is what we all know best - architectural public space infrastructure. The data layer, whose biggest kind of strongest backbone is the consent, the informed consent of every resident in the district. And the value layer where actually the residents can exchange their partial data or whatever they give consent to with services."
Related: Caroline Bos on How to Design Future-Proof Cities
What is striking about Marianthi, and UNStudio's approach, is the sheer optimism that drives all of their projects—of using design for a higher purpose of improving the collective quality of life. In a time when smart cities have become a controversial topic in how this sort of technology should and should not be used in public space, Marianthi presents the other side of the coin on it how we can utilize its power for positive impact.
Marianthi also noted that she hopes that with upcoming projects, they will create links and grow across cities. Their goal is "actually to experiment and test and, in this way, learn." with the "ambition is to create a district that is never finished, but actually adapting to technology and the wishes of the residents and the people that live in the area."
More Ideas on Building Smarter Cities