Dezeen Documentary Elevation to premiere at ACCOMMO­DATE
Dezeen is a media partner for reSITE 2018, with Founder and Editor-in-chief Marcus Fairs joining several discussions
How Drones Will Change Cities
Drones will transform cities, revolutionising how people travel, how goods are delivered and how buildings look and are constructed, according to a documentary produced by Dezeen. The full 20-minute documentary will air during reSITE's Annual Conference, ACCOMMODATE this June in Prague. The director Marcus Fairs and one of the featured artists Liam Young will be present for a Q&A at this occasion. Marcus Fairs will also moderate several talks.
"Aerial highways" will relieve pressure on roads as deliveries and human transportation take to the skies in unmanned electric vehicles. Architecture will change dramatically as the ground floor entrance is replaced by rooftop landing, parking and recharging zones and deliveries arrive via specially constructed portals on the sides of buildings.
This vision of the future is set out in Elevation, a new documentary created by online architecture magazine Dezeen. The documentary includes exclusive footage of Dragonfly, a new concept for delivery drones by PriestmanGoode that will see items delivered direct to people's apartments by a swarm of drones.
Leading figures from the worlds of architecture and technology have been interviewed exclusively for the movie: Sir Norman Foster, Paul Priestman, Mark Dytham, Hans-Ulrich Obrist, Liam Young, Anab Jain, Marina Otero Verzier, Ammar Mirjan, Clemens Weisshaar and Ed Reeve.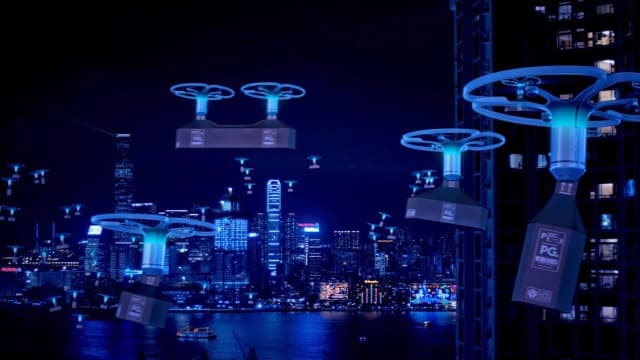 A footage from Liam Young's futuristic In the Robot Skies movie - the fisrt production created only by drones - also features in the documentary.
Have you entered Dezeen Awards yet? Meet some of the judges at reSITE 2018
Dezeen Awards is a new annual awards programme organised by Dezeen, the world's most popular and influential architecture and design website. It will identify the world's best architecture, interiors and design, as well as the studios and the individual architects and designers producing the most outstanding work.
Dezeen Awards are different from the other architecture and design awards. The low entry fees are designed to attract smaller studios, and the judging criteria have been carefully considered to ensure that winning projects are not only beautiful and innovative, but also benefit users and the environment.
The awards include categories for architecture, interiors and design and will be judged by leading figures from the design world. Judges include Dara Huang and Michel Rojkind, who will also be speaking at reSITE 2018.
The final entry deadline is on 30 June 2018. Start work on your entry now on www.dezeen.com/awards