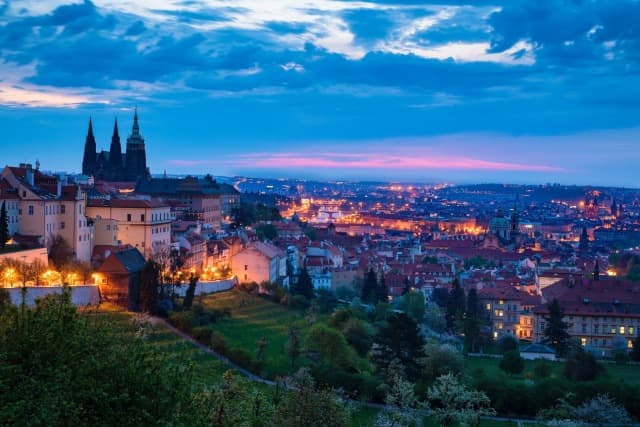 Four Talks on the Integration Between Architecture and Nature
How does the relationship between architecture and nature inform design in urban environments? Can we utilize natural ideas to inform our city planning? These four talks make the case that architecture and nature should not just coexist, but find a symbiotic relationship.
Cities are "man's greatest invention." A bold statement made by Edward Glaeser in Triumph of the City. We aren't here to argue against that, but one can also make the case that the way our cities have been designed over the past century is objectively unnatural. They dominate the nature of the spaces they occupy, acting as a kind of parasite that is ever encroaching on greater swaths of nature. Today, we've come to understand the need for that to be in balance, to see our cities and our humanness as part of that nature—that nature exponentially impacting the health of cities and their inhabitants. It tasks urban planners and architects alike with the integration of more greenspace and nature into the urban environment.
Nature nurtures connection—an element some people struggle to find in cities. It is no secret that exposure to the natural world positively affects our mental and physical health. Cultivating ecology in cities creates diverse ecosystems that support plant and animal life that have existed in the area throughout human inhabitation. An interesting example of how animals have adapted to living in the metropolis is found in the Cities: Planet Earth II episode which chronicles the life of species living in cities worldwide. From hawks in New York City to leopards in Mumbai, this episode chronicles how animals have adapted to sharing urban environments with humans. Just as humans have to adapt to the unstable environment as the climate changes, animals and plants in cities face the same challenges of learning to thrive in more extreme conditions.
Through these inspiring talks about the merging of architecture and nature, we can see different approaches from architects and designers as they grapple with how to merge the natural world and design for more diversity, ecology and harmony.
Yosuke Hayano on Architecture's Emotional Connection to Nature
Yosuke Hayano, principal partner at MAD architects, shares the core tenet of MAD's philosophy: connecting humans to their natural surroundings through design. Through selected projects, Hayano presents the "radical" idea that nature supports emotional connections to design. When we care about our built environment, we respect it with greater awareness and a sense of responsibility. Hayano makes the case that we can nurture cities, humans, and the natural world through connecting these three factors as integrated parts through architecture, altogether responding to the threat of climate change that rapidly encroaches.
Chris Precht on Connecting Nature and Architecture
A passion for the outdoors cultivated by his childhood in Austria inspired architect Chris Precht, of Studio Precht, to incorporate nature into his award-winning designs. Criticizing the commonality of leveraging economic systems over respect for the natural world, Precht flips the idea on its head, arguing that we can reconsider what we place at the heart of our city centers. Whether he is propagating gardens on the sides of skyscrapers or defining our food landscapes to individuals inhabiting cities, Precht makes the case for preserving our declining environment through honoring and integrating the natural world into urban spaces. Reuse, renewal, and self-sufficiency are paramount as our climate changes rapidly. Precht shows that we do not have to retreat rurally to incorporate food production, nature, and ecology into our daily lives.
Enric Batlle on Building Biodiversity into Urban Infrastructure
Co-founder of Batlleiroig, Enric Batlle has focused his entire career on using infrastructure to rehabilitate nature. From transforming a garbage dump into an agricultural landscape to creating urban parks atop city highways, the innovation of Batlleiroig is the leveraging of natural processes and integrating them into the built environment. To Batlle, urban gardens, ecological recovery–even clean air–are obtainable through smart infrastructure. At the heart of the practice is building connection through beautiful spaces that are both sustainable and functional.
Sou Fujimoto on Reinventing the Relationship between Nature and Architecture
By transforming hard materials into ephemeral designs, Sou Fujimoto founder of Sou Fujimoto Architects, reimagines the connections between man-made and natural. By adapting structures to their natural environment, whether that be in the arid Middle East or humid Japan, Fujimoto crafts a narrative of experimental, natural design throughout his architectural practice. Even in projects that feature no plant life, Fujimoto is able to incorporate the ambiance of nature through a forest-like library design whose labyrinth resembles a plot of trees or balconies that mirror branches growing out from the frame of the building within.
Climate change has developed from the imbalance densely populated cities pose to the natural world. If we continue on this destructive path the consequences will only be greater inequality, suffering, disaster. Adapting our already inhabited environments to the current obstacles, creating infrastructure to lead us into a more equitable, livable, and connected future. To keep our cities green and liveable, the inspiration provided are but pieces to the puzzle that can drive us towards a more sustainable future. Nature is a healing force—and that applies to our cities, too. When plants and people connect, our built environment becomes part of the roots that sustain us.