Four Things We Can Learn from the World's Most Livable Cities
The list for most livable cities of 2019 from The Economist Intelligence Unit's Global Liveability Index has kept Vienna in the top spot for the second year, kicking out the previous first place holder, Melbourne out of its seven-year-long reign as the most livable city in the world.
Other cities in Australia, Japan and Canada make up 8 of the the top 10 spots while Denmark's capital city and the new queen bee in Austria represent the top in Europe. Other metropolitan areas that have previously made the list, such as Auckland (New Zealand), Helsinki (Finland) and Hamburg (Germany) have now fallen in rank. They have not ceased development rather, the other aforementioned cities have emerged with more modern growth.
The report takes factors like healthcare, education, stability, infrastructure, culture and environment into consideration, giving each city a score out of 100. The index favors mid-sized cities with relatively low density, turning away cultural hubs like London, New York and Paris who have become victims of their own success due to higher crime rates and strained infrastructure.
With that in mind, we have to ask⁠— what is it that these cities are doing so right? What do they have in common? And, what can we learn from them?
Well-designed infrastructure promotes healthier lifestyles
A city that provides inclusive opportunities for all residents access to green spaces, abundance of public spaces, efficient public transportation systems and healthcare availability are hallmarks of a healthy, livable city.
It's no secret that long commutes have effects on our wellbeing. Recent studies have shown that long commutes have negative impacts on mental health as well as worse productivity amongst employees, thus cities with inefficient or inaccessible transport systems tend to create more stressful commutes. Cities like Tokyo and Vienna regularly find themselves in the top 10 for best transportation systems in the world, known for its accessibility, efficiency and safety.
We know that effective public transportation has domino-effect like impacts on public health as well, contributing to less pollution and more fuel efficiency, while encouraging healthy habits simply from walking to one destination to another.
It also makes accessing recreational activities easier. An idyllic example⁠—50 percent of Vienna is covered with green spaces. From forests and parks to vineyards and gardens to the Danube river, giving residents plenty of ways to connect to nature within the Austrian capital city limits.
Housing and amenities should be accessible and inclusive
Having a decent space to call home is a cornerstone of a livable city - no matter your status. Viennese apartments are known for their stunningly bright and airy rooms, parquet floors, stunning façades and most importantly, reasonably affordable rents.
The Austrian capital also boasts a notable social housing system with 60% of the city's population residing in subsidized flats. Some of the most remarkable structures were designed by Austrian architect, Harry Gluck. He focused on implementing a vision of creating homes for the working class with features favored by the wealthy.
Arguably, creating spaces where one feels a sense of pride creates responsibility and care amongst tenants and promotes a more secure environment.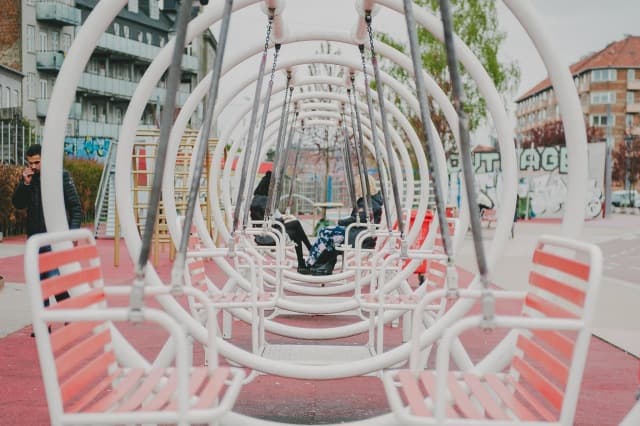 Urban settings should encourage connection
How we shape urban spaces matters. Social connections are constructed based on the number of shared spaces around us. A perfect example of the impacts such spaces can make on a community takes us into the densely-diverse Nørrebro neighborhood of Copenhagen, Denmark that lacked a space with a sense of community.
Bjarke Ingels, founder of BIG Architects in collaboration with landscape architecture firm, Topotek 1, created a canvas for social connections where there wasn't before in the form of a public park⁠—Superkilen.
The architects aimed for heavy civic involvement, asking various cultures of the communities that live in the neighborhood what they would like to see in their shared space. You can find installations from over 60 countries such as chess boards from Bulgaria, a Japanese octopus slide for children, or a two-sided swing from Iran. The designers wanted to foster a sense of familiarity and comfort through design for the foreigners who have found a new home in this Scandinavian city.
Liveability requires a broad definition of well-being
One criticism to surface about the The Economist Intelligence Unit's Global Liveability Index is that it is created for companies who are sending employees abroad to gage how much hardship allowance the company should provide to its expats.
That being said, the question arises ⁠—livability for whom? While the cities that made the list inarguably offer some incredible amenities, we must also address this question of liveability and inclusion.
A prime example would be the previous crown-holder, Melbourne. It has been argued that the Australian city has become "a two-tiered city, with cosmopolitan Melbournians living near transport and cultural facilities, and the neglected fringe dwellers sitting in traffic for hours to get to work" (The Guardian). This city is revered as being highly-livable, but if infrastructure is not accessible to all, we are still far from creating a city of inclusion.
More ideas on creating livable cities from reSITE