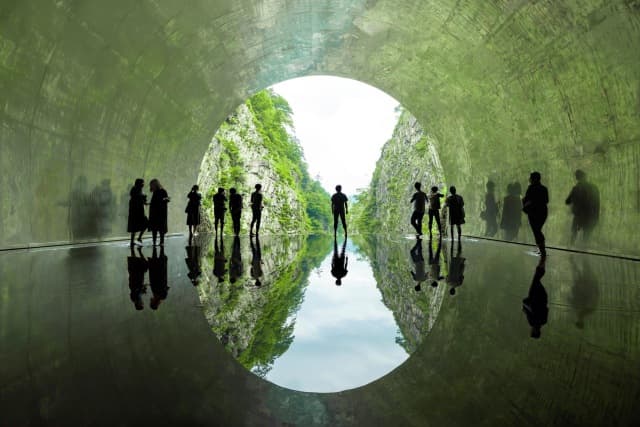 Yosuke Hayano on How Architecture Can Create Emotional Connections to Nature
Principal architect for MAD Architects, Yosuke Hayano says the studio strives to connect architecture to nature through the creation of emotional and spiritual spaces for everyday life.
"How do you bring modern architecture into the future and connect humans with nature?"
That is the question at the heart of Beijing-based MAD Architect's ethos behind their projects. They believe that in the process of development in contemporary Asian cities, the logic of the unique connection between nature and humans has been distorted on the way.
Established in 2004, MAD aims to create a vision for how the future city can be a better place where we can live together. The collective's vision of a futuristic city that remains congruent with nature is best embodied in its coined concept of a "Shan shui" city which informs all the MAD's developments. Shan shui is a Chinese word for the kind of harmony found between human beings and the natural environment.
But, as they've put it, MAD Architects has been "committed to developing futuristic, organic, technologically advanced designs that embody a contemporary interpretation of the Eastern affinity for nature". Although the idea of re-establishing a connection with the environment might sound retroactive, in MAD's understanding it doesn't contravene the advancement of technology.
In the studio's architectural practice there's a bottom-up dynamic that informs the projects in which nature and the needs of community shape the built environment, as opposed to an individual creator. And they seem to cultivate that at every scale. While they are known for their exquisitely monumental projects such as the Harbin Opera House, Absolute Towers or the Huangshan Mountain Village, perhaps their idea is communicated best on a micro-level.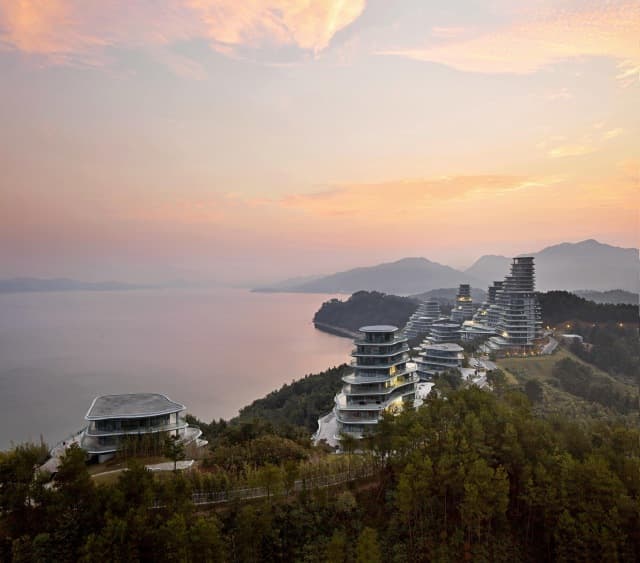 That spiritual space and emotional connection is illustrated in an installation designed by the studio as part of the Echigo-Tsumari Triennale 2018 called the 'Tunnel Of Light', found at the Kiyotsu Gorge Tunnel in Niigata, Japan. The 750-meter long tunnel itself offers sweeping panoramic views, overlooking a valley formed by hardened lava rock formations and the river that runs through it. Yosuke Hayano,, the firms principal architect discussed the ideas and intention behind the installation at reSITE.
The studio managed to strike a balance with the already-stunning nature surrounding its location by regenerating the path into "a journey for people to meet nature in another way." The five installations draw upon major elements found in nature. One of which Yosuke described in detail at reSITE.
In the 'Tunnel of Light', the floor is flooded with very shallow icy water straight from the river, perfectly mirroring itself. The chilly temperatures are a deterrent for too many people to enter, yet those who really want to experience it - or capture it - will power through. In order to capture that near-perfect reflection, stillness is also needed, stimulating contact with one's senses to the cold water and the stillness in body, and mind.
Ultimately, it is how Yosuke Hayano described the studios' intention as he spoke at reSITE - that "the people aren't going to remember who designed this space, but they are going remember the day they came, the day they filmed this space and nature and the emotions they had. They are then going to go back to their daily life, but I think this will make a difference for their tomorrow."
It's small interventions like these that bring architecture and nature together to change our world and our connection to it. Yosuke Hayano spoke at reSITE 2019 REGENERATE in Prague.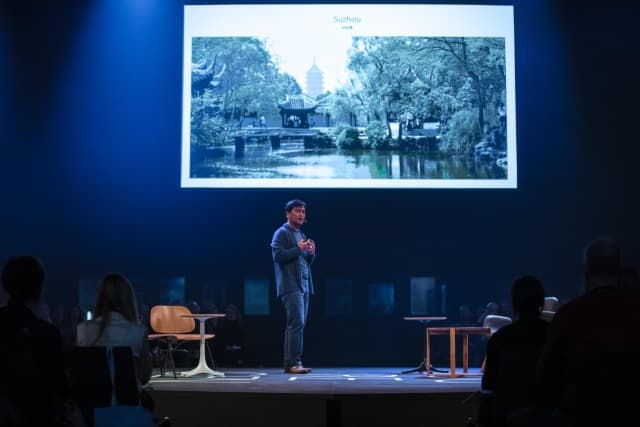 reSITE is a global non-profit acting to improve the urban environment.
Cities are the sum of designers, developers, artists, citizens, public officials, entrepreneurs, and the displaced, but rarely do each of these constituencies gather in the same room or even speak the same language, and cities suffer for it. But, reSITE is literally that room. Our events, stories and talks frame the future of our cities through as many lenses as possible and convenes them in one place. All to to make our cities more livable and lovable.
"Dull, inert cities, it is true, do contain the seeds of their own destruction and little else. But lively, diverse, intense cities contain the seeds of their own regeneration, with energy enough to carry over for problems and needs outside themselves"
Dara Huang is an award winning architect and founder of Design Haus Liberty, a architectural firm that often works with clients to design high-end buildings.
In its most diverse edition yet, REGENERATE hosted a rich and interdisciplinary conversation about the future of life in cities, attracting twelve hundred participants from 25 countries to 3 stages, side events and parties.