Venice Architecture Biennale: There Are Walls That Want to Prowl, Lukas Feireiss + Leopold Banchini
reSITE is back with a special two-part Design and the City episode covering the long-awaited Venice Architecture Biennale to explore the question "How will we live together?" with curators Lukas Feireiss and Leopold Banchini to discuss their definitions of shelter, application of wood structures, degrowth models and retrospectives to rethink how we will live together.
The postponed 17th Venice Architecture Biennale asked its 112 participants to consider the question, "How will we live together?". A question originally posed in 2019 by curator and architect, Hashim Sarkis far before our collective 2020 experience. Sarkis originally asked participants "to imagine spaces in which we can generously live together" Answers from 46 countries materialized into the exhibition of 2021. After a year spent living apart, the theme is both hauntingly fitting and reifies our disconnection.
It has signalled something, a community eager to reconnect and a deeper understanding of just how interwoven we are with our spaces spanning the full spectrum of human existence. The exhibition explores that spectrum across five scales: Among Diverse Beings, As New Households, As Emerging Communities, Across Borders, and, As One Planet.
reSITE got the opportunity to attend the preview to speak with some of this year's contributors on site. In this episode we'll hear from the U.S. pavilion curators, Paul Anderson and Paul Preissner; exhibitors Lukas Feireiss and Leopold Banchini; curator from Luxembourg, Sara Noel Costa De Araujo; and finally exhibitors for the Nordic Pavilion, Siv Helene Stangeland and Reinhard Kropf–all whose work shares a common thread–wood.
These wood-based installations make cases for their egalitarian and democratic nature. They offer a particular simplicity, humility, flexibility and familiarity coupled with considerate retrospectives, to not only answer the pressing question, "How will we live together?" but "how will we thrive together?"
How will we thrive together?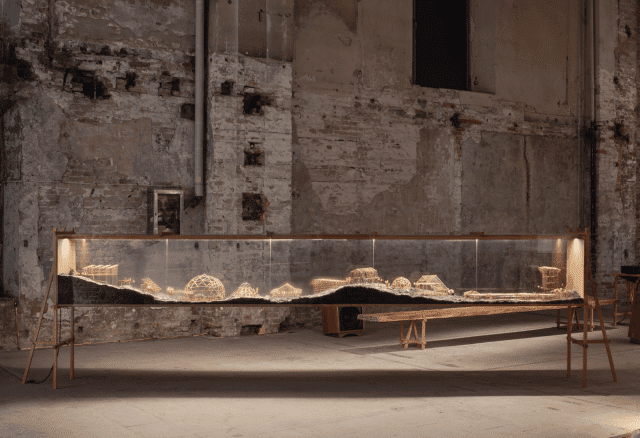 There Are Walls That Want to Prowl: Lukas Feireiss + Leopold Banchini
Previous reSITE speaker and Venice Biennale exhibitor, Lukas Feireiss collaborated with architect Leopold Banchini to create an installation entitled There Are Walls That Want to Prowl that was featured in this year's exhibitor hall in the Arsenale. The project accompanies their retrospective Shelter Cookbook, a homage to Lloyd Kahn. The pair describe him as not just a publisher whose texts have inspired them deeply, but a pioneer who shaped the green, self-build movement in the U.S and beyond, like no other.
Lukas and Leopold stress how Kahn's texts were revolutionary, launching a counterculture movement focused on de-growth. These alternatives to conventional forms of building and living together have deeply influenced Leopold's practice. They emphasize a conscious, connected and liberated way of life. Citing that Kahn's work was not necessarily about the use of wood in his building, but the use of local resources. In Shelter Cookbook, Lukas juxtaposes his building practices with a curated section on mycology, serving as a symbolic metaphor for our own entangled existence.
We caught up with Lukas and Leopold in the gardens of the Arsenale to discuss their definitions of shelter, application of wood structures, degrowth models and retrospectives to rethink how we will live together.
Lukas Feireiss, Venice Biennale Contributor, There Are Walls That Want to Prowl: My name is Lukas Feireiss. I'm a Berlin based curator and writer at the intersection of Arts, Architecture, Design–both theory and practice. Next to me is Leopold Banchini.
Leopold Banchini, Venice Biennale Contributor, There Are Walls That Want to Prowl: I'm Leopold Banchini, and I'm an architect based in Switzerland at the moment, and we collaborated together on this installation.
Lukas: Shelter, to me personally, means home, and shelter, to me personally, means a safe place in a safe space.
Leopold: I think [they are very similar]. But for those who don't know, it's also the name of the book that was very inspiring to us by Lloyd Kahn. We call the book this way, I think not necessarily referring to emergency shelter, but rather, to the idea of the shelter as a self-built place where you could live in, and as [Lukas] said–make a family, develop, make love, heal, etc.
Lukas: Well, the book–the publication–that Leopold just referenced, Shelter by Lloyd Khan, is very much on self-building practices, and they are mostly with wood. So this is something that Leopold can talk more about, but it is a concept of lightweight construction and local material that seems, to us, still very appealing as a way of working in building your own environment, your own house, your own shelter.
Leopold: I think in the case of the book, Shelter, it actually speaks about a lot of different construction material. It focuses on wood because Lloyd was living in Northern California, where there's clearly a very strong wood presence. In this area, it was probably the easiest way to build for someone who doesn't have the experience of the builder.
I don't think that he was specifically only interested in wood. Of course, we all know that wood is a very easy material for nonprofessionals. It's an easy material to start, and it's a very, as you can see, it's a very lightweight material.
I think probably the degrowth model, and probably from what we understand from Lloyd Kahn, once again, is not linked directly to wood. It's rather linked to local resources, to a certain economy, an economy of means, and economy in terms of material. So I think wood is only one technique that comes out of it. What I think we see today is that wood is just another large-scale material produced all around the world, which falls under the category of highly processed materials. I would not say that today wood is necessarily an ecological material. I think this is probably a misconception. But it is still a very sustainable material if it's used in the right way and locally. And, of course, with attention and care.
Lukas: Maybe what we were attracted by–are attracted by–is this kind of more organic and holistic look at the manmade environments.
Lukas: We really liked the curatorial question, but it's one that's directed to the future, how *will* we live together? And our approach was, well, in order to answer the question, maybe we have to look at models of the past or question preconceived ideas of how we can live together and learn from examples that still inspire. Hence, we are very deliberately said we're not going to talk about our own practice, but look at ideas that were thought of half a century ago, and they're still relevant.
Leopold: I think I could say that. What I find very inspiring in the book of Lloyd Kahn's is that, first of all, they were extremely avant garde at the time. They were proposing highly different models that were not only about a way of building architecture, but really about a way of living in a new relation with the environment, with the economy, and between people. And I think for me, that's still extremely inspiring about this period in the 60s and 70s, and we are specifically focused on that.
Still, today, in my opinion, the answer has to come rather from that side, rather than from highly technological answers that might save us. I still believe that degrowth is an interesting model, and probably the way out of the crisis we're in, and it's only going to get worse in the future, I believe, if we don't find new models.
Lukas: It's actually very interesting that you make this connection because the publication that we're talking about, they were published in the late 60s, early 70s. So this is actually the time of space exploration. Even the cover of one of the magazines that Lloyd was co-editor of, the Whole Earth Catalogue, has this famous history that on the front cover of the catalogue, he saw for the very first time that humanity saw the earth as a planet as a picture. This was from the Apollo missions. So this connects my moon interest now: same year, back to the Whole Earth Catalogue, back to Lloyd Kahn, back to shelter, back to the Biennale 2021.
We have loved getting to create this podcast, and we hope you've been enjoying it just as much. Reaching a new audience, on a new platform with the same mission—elevating people and ideas to improve the urban environment—in the middle of a pandemic has been what we feel to be an important action. Also important to us is that these ideas remain accessible and free.
As a nonprofit, we are only able to produce this podcast thanks to the generous support of the City of Prague, the Czech Ministry of Culture, corporate sponsors, private philanthropists, and our network of passionate architecture and city lovers, like you. If you would like to support us as a patron, sponsor or strategic partner, please get in touch with us at podcast@resite.org. Your support allows us to continue sharing ideas to inspire more livable, lovable cities.
This episode was directed and produced by myself, Alexandra Siebenthal and Radka Ondrackova and with support from Martin Barry, Nikkolas Zellers, Weronika Koleda, and Anna Stava, as well as Nano Energies and the Czech Ministry of Culture. It was edited by LittleBig Studio.
More Venice Biennale curators featured in this episode:
More from Design and the City