We Cannot Keep On Building at the Expense of the Environment
In the "East Meets West" panel discussion, WallaceLiu's founders Jamie Wallace and Jee Liu join MAAT executive director Beatrice Leanza and editor of Wallpaper* China Yoko Choy to discuss trends that will define the future development of our cities across the Eastern and Western hemispheres.
Popularly seen as the world's biggest construction site, China's urban boom is now old enough that many of its cities are in need of regeneration themselves. The panel discussion at reSITE REGENERATE "East Meets West" regards the avenues on fixing the mistakes of the world's longest, most furious building boom.
Watch: East Meets West Panel Discussion at reSITE REGENERATE
With a desire to create places where architecture and landscape, new and old, are connected and celebrated, Jee Liu and Jamie Wallace founded WallaceLiu in London in 2014, soon acquiring a global reputation for its innovative and creative approach to the adaptive reuse of buildings and landscapes.
Before Beatrice Leanza joined the Museum of Art, Architecture, and Technology (MAAT) in Lisbon as executive director in 2019, she was based in Beijing for over 17 years. There she worked as the creative director and co-founder of The Global School, China's first independent institute dedicated to design and creativity, and B/Side Design, an organization developing strategies related to urban and social impact in China.
Together, with Wallpaper* Magazine editor, Yoko Choy, they dicussed how the East and West can learn from each other in order to revitalize themselves.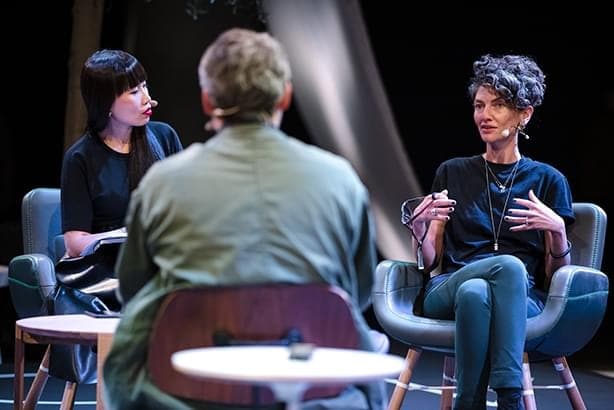 Regeneration is a relatively fresh concept for China. In the past couple of decades, the common practice of Chinese urban development was to overhaul the existing built environment for new construction. Nonetheless, China has recently shifted from demolition to preservation and restoration.
As noted by Beatrice Leanza, such a transformation of paradigm happened due to the realization that to keep on a building is neither financially nor environmentally stable. Moreover, the Chinese government has placed new limitations on building height and design plagiarism.
There was a theme during reSITE REGENERATE, with most cities struggling with the same issues: congestion, density, depletion of the environment, etc. During the discussion, Beatrice made the case for crafting methodologies over generating models with a reinterpretation of scale that can be exported to tackle these universal urban issues.
From her groundwork experience, Jee Liu (WallaceLiu) defined another determinant for the shift – growing nostalgia among the people who were born in China in the 1960s and 1970s in the wake of the Cultural Revolution. In her opinion, this generation of politicians, CEOs, and other stakeholders that will be supporting the next generation of architectural practice in conservation and renovation.
Jamie Wallace (WallaceLiu) noted "There's this kind of value change in society where places value their heritage. But I also think there's a kind of value change in development as well. In the vast majority, if not all of China's cities, are procured speculatively and there's money in heritage now. That kind of draws people to it, people are interested in it. And when that's the case, people will keep it."
Moderator Yoko Choy who has built her career on connecting and integrating the two spheres of design, poses an important question:
What do we build? What's going to be built, and what do we preserve? How are we going to do it? Who is driving the direction of how the communities or cities are developing?
More talks on urban regeneration